Gdansk

Architectural Interest
One of Sopot's most loved attractions, this place is a fantastic example of abstraction in both...
Architectural Interest Sopot
Business & Spa
A refurbished former marzipan and cocoa factory turned hotel, catering for business folk & and...
Business & Spa Gdansk
Goldwasser liqueur (literally 'gold water' in...
3 min read
26 comments
Every since medieval times Gdansk (known as Danzig...
2 min read
Leave a comment
Tri-City Triumphant!
Gdansk is back! The Baltic's golden oldie has a new spring in its step, and what's more, her two brothers Sopot and Gdynia are making sure that Poland's coastline has more than one ace up its sleeve. If you're curious about branching off from the Prague - Krakow - Budapest route, then the Tri-City has much to offer the traveller. Known historically as the powderkeg whose spark (lit by Hitler) ignited the Second World War, it was also in Gdansk where the flame that signalled the collapse of communism was raised (by native son, Lech Walesa). Shedding the stigma that the city is little more than a bunch of battered cranes in a dingy shipyard, Gdansk's Old Town has been scrubbed clean, shined up, and stocked full of hotels, restaurants, cafes, clubs, bars and amber shops amidst the picturesque Burgher houses that line its streets.

Prefer in Polish? Gdańsk po polsku.
Beyond Gdansk's Old Town, a gamut of wonderful destinations await travellers: the suburb of Oliwa hosts numerous parks, a zoo, and a spectacular cathedral en route to the hedonistic atmosphere of Sopot's beaches and nightlife. Venture into Gdynia and you'll find some of the area's finest restaurants, a number of lively bars and more beautiful coastline. But don't stop there. Daytrips to immaculate Malbork Castle, the dunes of Leba and the hot sands of Hel are mandatory stop-offs for those with a little more time on their hands.
Whether you're booked to travel or you're already in the Tri-City, Gdansk Life is here to help you make the very best of your stay. We look forward to passing on all the best information and advice about Gdansk, Sopot and Gdynia with our guides to accommodation, entertainment, drinking and dining, as well as tips on culture and travel, the latest news and events and a fully interactive map. Our language intro may also come in handy if you're keen to have a go at that tricky Polish grammar! We really value your feedback, so let us know if there's anything you think we've missed along the way.
Finally there's no need to stop at discovering Gdansk, Sopot and Gdynia. Explore the rest of Poland with us in Wroclaw, Warsaw and Cracow, or head down to Zakopane for some mountain mayhem!
Spring may just be the best time for visiting the Tri-City. As the sun burns brighter and lingers longer, Gdansk's Old Town is filled with a renewed vitality and Sopot's main drag begins to come to life again. Hit the beach before the tourist season really kicks off and you can still find a place to put a towel down. Or use the longer days to enjoy an excursion out to Leba, Hel, or magnificent Malbork castle. Now is the time. You see that ice cream shop that just reopened? Droves of marauding Polish tourists are only days away... So nobody's going to tell you that now is the best time of year for visiting Poland's Trojmiasto; not with beach bikini season an insurmountable number of months away... But that doesn't mean there's not still plenty to do in the Tri-city this winter. Klub Zak keeps it real, with their January Dance Festival being the highlight of the cultural calendar and a sure-fire way to raise your body temperature. Malbork Castle under a crust of snow is an exquisite sight to behold, or visit Stutthof Concentration Camp which is at its most compelling and bleak this time of year. Alternatively, there's always the warm kiss on the lips of a hot beer in one of Gdansk's bars and cafes. In March, make certain to head to Sopot for 'Topienie Marzanny' (the Drowning of Marzanne) festivities, whereby a witch is drowned to mark the end of winter. Tradition demands it.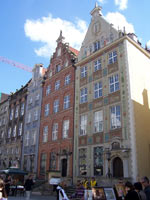 Three cities, three times as much to see and do! Gdansk of course is the most famous of the triumvirate, thanks to its long legacy as the prosperous German port of Danzig, and it is here you will find the cobblestoned streets, medieval quayside and Gothic churches that make the guidebook front pages. But just up the road is sexy Sopot - it had its heyday during Soviet times, but now this 4.3km stretch of sandy beach is once more Poland's premier summer resort. And what about that neglected younger sister, Gdynia? Built in the interwar period, this youthful city is making a steady climb on the Polish cultural scene.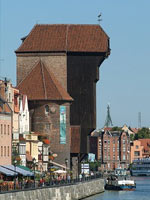 Quicklinks