Kashubian Culture and Extreme Sport!
Hel, both the town and the peninsula, provides Tri-City urbanites with the perfect getaway. Sandy beaches, sweet ryby (fish) restaurants, and seaside charm combine for a summer's worth of fun or a few hours escape from the school of hard knocks.
Just click your heels and you're almost there! 22 kilometres as the crow flies and you're at the base of the peninsula. From there, you can just meander about, covering the length of the land at your own pace. The strip of land is so thin that you can be in the Baltic one second, lace up your running flats, and be swimming in the Bay of Puck in under a minute. Any faster than thirty seconds and you might find yourself getting blood tests with Barry Bonds and Marion Jones, so just take it easy for the last few metres.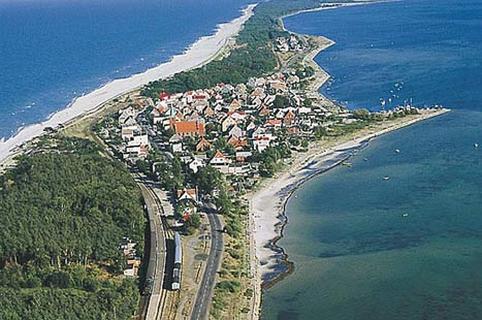 You can catch a train all the way into the main town, straight from Gdansk Glowny (the trip takes an hour and a half) or if you've got a sweet ride of your own, just put the pedal to the metal, blast some Beach Boys, and leave some rubber on one of Poland's nicest highways.
Another option is to hitch a ride on a ferry from Gdynia. Head to the Joseph Conrad memorial for some maritime inspiration then get onboard one of the regularly departing vessels headed for Hades!
When you arrive in Hel, be sure to spend some time in the Maritime Museum, which can be found inside the Church of St. Peter. Most of the exhibits focus on the local lifestyle (ie boats) but if you tire of historical observation, just climb the stairs to the viewing tower for some aquatic observation! There is also a whole slew of bars, eateries, souvenir shops, and all the other fixings of a quality beach resort. A must on any Polish Beach is the 'Gofry' which is a type of waffle covered with whipped cream and chocolate syrup. A hand-held pizza called 'Zapiekanka' is another summer must! You knew that Hel would be full of tasty temptations!
One of the biggest draws is the notion that Hel's ocean is the best windsurfing spot on earth! The water is so shallow, for such a long way out, that it allows wind-surfers to go way out onto the water where the wind is best, and yet have their feet touch bottom if they fall from their boards! Can you hear the music from 'Hawaii 5-0?' Wipe out, bro!
If you didn't expect that you'd have to pack your sunglasses and some tanning lotion for a trip to Poland, think again! Hel has long been a destination for the Polish faithful, but more and more visitors discover its charm every year. As an added bonus, a trip to Hel comes complete with two weeks of free puns for when you get back to the office! Who could say 'no' to that?!?!
Comments
GETTING TO HEL from GDANSK: You go to the ticket window for the train run by SKM? (something like that) and buy a ticket from Gdansk to Gydnia. At Gydnia glowna you get off and find the passage to buy a ticket from Gydnia to Hel, after that you walk through the corridor that takes you to the Polish rail train to Hel. *** I just got back from Gdansk and did the Hel trip. However it was made more complicated as they were doing track work on the peninsula. I still bought the ticket from Gydnia to Hel, but had to get off at Wladyslawowo (Vlad is sla vo vo) and go out the front door, turn right and find the bus station 300 ft. on the left. But the stop with sign "HEL" is obscured by bushes, so find it and wait, IF they are working on the tracks. The bus will have Polish train personel checking tickets and you will be let off at the train depot in Hel, so get a photograph of the depot sign before walking the path to town.
Reply
My Friend is in Hela right now He was born in Hela and we lived there with his family from 1944-1945. I was to young to remember but somehow I have a connection with Hela Hope my dream comes true for a visit next year. Dreaning, Elfriede Meadow Vista, California, USA
Reply
Hel is a unique place. I caught the hydrofoil from Gdynia which was a quick smooth but fast and exciting ride. But I caught an ordinary ship back, the same waters felt really choppy and I got sea sick! It's interesting to read that the waters are shallow because I 'felt' rather scared at the tip because I felt like I was on the edge of an abyss with no sides to hold onto. Next time I would really love to go to Hel by the land route. Hel feels spiritually like a place in a desert. It is truly fantastic and unique.
Reply
I always wanted to go to Hel... and back. Just for vacation that is. It looks enchanting.
Reply
"As the crow flies" is also well used in the USA, and I never thought of it's origin being from Britain, but being Britain was my origin, it is not surprising. Many of our towns and cities have British names: Bangor, Leeds, Birmingham, etc. Perhaps it has been lost to the younger generations?
Reply
Hier du, ist Deutschland!
Reply
The text above is written is such poor english. It would be preferable to use proper english and not slangs on a official website of such a beautiful place. Reading the text above gives me a feeling of rowdy brats destroying the calmness of a beautiful place.
Reply
Arriving in Gdansk Monday 27.10.08. How do I get to Hel? I know there is a train but advice on price, time of journey and also accomodation when I arrive at Hel. My plan is birdwatching which I think should be good there. Thanks for any help Cheers, Jono
Reply
As the crow flies my American friend is a traditional English saying which means: The shortest direct route (pronounced root) between two points. The same way that a crow would fly it. Paul.
Reply
My g/f and I spent a week in Poland June 07 and made a small day trip out of Hel from Gdansk. On the Baltic side the beach is one of the most beautiful I have ever seen. We loved it and highly recommend it. The walk from the Puck side through a forest made this beach trip very different and even better than just a regular trip to the beach.
Reply
who wrote this story? as the crow flies??? what the hell...
Reply