Kashubian Culture and Extreme Sport!
Hel, both the town and the peninsula, provides Tri-City urbanites with the perfect getaway. Sandy beaches, sweet ryby (fish) restaurants, and seaside charm combine for a summer's worth of fun or a few hours escape from the school of hard knocks.
Just click your heels and you're almost there! 22 kilometres as the crow flies and you're at the base of the peninsula. From there, you can just meander about, covering the length of the land at your own pace. The strip of land is so thin that you can be in the Baltic one second, lace up your running flats, and be swimming in the Bay of Puck in under a minute. Any faster than thirty seconds and you might find yourself getting blood tests with Barry Bonds and Marion Jones, so just take it easy for the last few metres.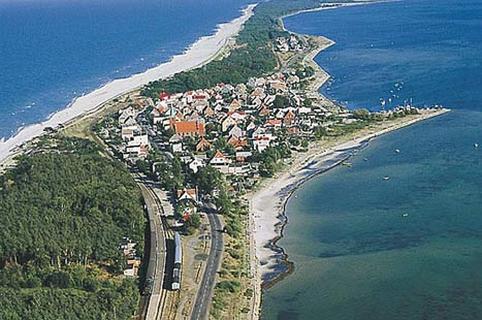 You can catch a train all the way into the main town, straight from Gdansk Glowny (the trip takes an hour and a half) or if you've got a sweet ride of your own, just put the pedal to the metal, blast some Beach Boys, and leave some rubber on one of Poland's nicest highways.
Another option is to hitch a ride on a ferry from Gdynia. Head to the Joseph Conrad memorial for some maritime inspiration then get onboard one of the regularly departing vessels headed for Hades!
When you arrive in Hel, be sure to spend some time in the Maritime Museum, which can be found inside the Church of St. Peter. Most of the exhibits focus on the local lifestyle (ie boats) but if you tire of historical observation, just climb the stairs to the viewing tower for some aquatic observation! There is also a whole slew of bars, eateries, souvenir shops, and all the other fixings of a quality beach resort. A must on any Polish Beach is the 'Gofry' which is a type of waffle covered with whipped cream and chocolate syrup. A hand-held pizza called 'Zapiekanka' is another summer must! You knew that Hel would be full of tasty temptations!
One of the biggest draws is the notion that Hel's ocean is the best windsurfing spot on earth! The water is so shallow, for such a long way out, that it allows wind-surfers to go way out onto the water where the wind is best, and yet have their feet touch bottom if they fall from their boards! Can you hear the music from 'Hawaii 5-0?' Wipe out, bro!
If you didn't expect that you'd have to pack your sunglasses and some tanning lotion for a trip to Poland, think again! Hel has long been a destination for the Polish faithful, but more and more visitors discover its charm every year. As an added bonus, a trip to Hel comes complete with two weeks of free puns for when you get back to the office! Who could say 'no' to that?!?!
Comments