Gdynia
With a population of over 250,000 and one of the most buoyant economies in the whole of Poland, Gdynia is certainly going places, and it can no longer be dismissed as the grey counterpart of neighbouring Gdansk and Sopot. Certainly, it has none of the flamboyant sweep of its neighbours, (although fans of Bauhaus won't be disappointed by much of the architecture). Gdynia has plenty of tricks up its sleeve. And belying its reputation as a business hub, Gdynia is certainly no pauper when it comes to cultural attractions. The city can boast one of the country's top film festivals (often dubbed the 'Polish Cannes') as well as a lively Summer Jazz festival. Aficionados of both film and jazz will need no introduction to Poland's marvellous legacy in these arts.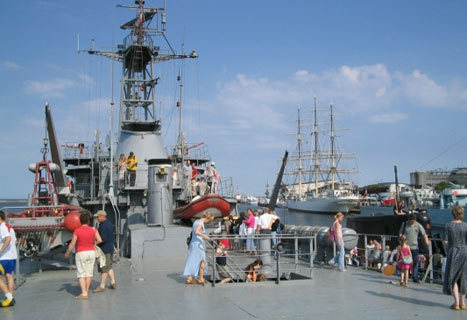 Gdynia's rise, or indeed catapult to fame is certainly unusual. For centuries it was little more than a humble Kashubian fishing village. However, with Poland's rebirth after the First World War, the newly resurrected country was in need of a port on its northern seaboard. The decision by the Allies to make nearby Danzig (Gdansk) a free city, had complicated matters, and the Poles were obliged to build afresh. Gdynia was ear-marked for development, and progress was rapid.
Two ports within such close proximity of each other led to predictable rivalry, with business in Danzig - a predominantly German city - suffering an unavoidable blow. It was the 'Danzig Corridor', a major bone of contention for the Germans, that eventually sparked the war, following Hitler's appropriation of Austria and Czechoslovakia. Although the ports themselves were destroyed (they were carefully rebuilt afterwards), Gdynia survived the war, and like Gdansk, many new settlers came here from the lost eastern cities of Vilnius and Lwow.
Gdynia today is poised at an interesting stage in its development, riding on the crest of Poland's economic reforms. The harbour area remains a diverting part of town to start your exploration, with a good smattering of museums, restaurants and other attractions, not least the popular Teatr Muzyczny (Musical Theatre) which has one of the liveliest repertoires in the north of the country.
Comments