Gdansk's Goldwasser: Alchemic Elixir
Goldwasser liqueur (literally 'gold water' in German), has been a popular Gdansk tradition since 1598. And though other brands and distilleries have tried to copy it, Goldwasser continues to be inextricably linked to Gdansk.
A strong (40%) root and herbal liqueur, Goldwasser's famous feature is the small flecks of 22 karat gold flake that float in the beverage. Though the posh prestige of the alcohol has historically made it a favorite drink of such darlings as Russia's Catherine the Great, the rather diminutive gold flakes suspended in Goldwasser fail to make its price inordinate or its health effects negligible.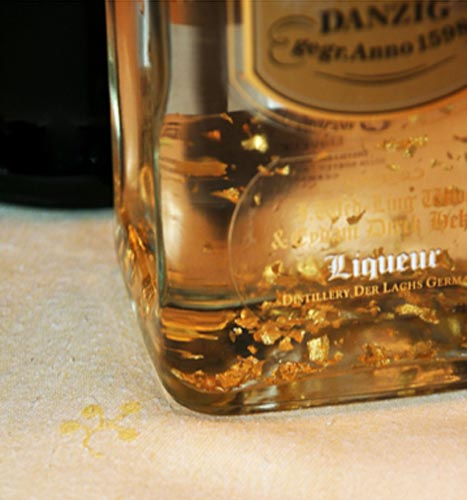 The mystic pursuit of alchemy was at its height when Goldwasser premiered in the 16th century and must have had its influence on Dutch Mennonite inventor Ambrose Vermollen when he concocted the gold-dappled drink, as gold was believed to have many desirable (though vague) medical properties at that time. The two most famous pursuits of alchemists (though they had many) were the attempted transmutation of lead into gold, and the creation of a "panacea" - a medical elixir that would cure all diseases and prolong life indefinitely. The ineffectual results of both these pursuits earned many alchemists the reputation of being charlatans and hoodwinks, though we can certainly accept Goldwasser as one of the advantages of their cultural leverage.
Local legend (which abounds in Poland) states several murky tales about the invention of Goldwasser, mainly revolving around the god Neptune bestowing the delectable drink upon Gdansk's citizens. In one he is so sick-and-tired of residents throwing coins into his fountain on Dlugi Targ that he strikes his mighty trident splaying shrapnel everywhere, and this, inexplicably, is why you'll find gold pieces in the vodka. The other, even more inherently suspicious, claims a Neptune overjoyed by the coins he was being lavished with decided to reward residents with an archetypal water-into-wine manoeuvre by turning the fountain water into vodka. Greedy merchants and landlords hauled it away by the barrel, but not the virtuous owner of restaurant Pod Lososiem - oh no; his vodka is filled with gold forever after for his good stead. Seems a bit of sly marketing on the part of the upmarket restaurant where the distillery once operated has entered the local psyche...
Back to Vermollen, believe what you will, but he invented Goldwasser in what was at the time known as Danzig upon earning citizenship in the German city in July of 1598. His distillery on ulica Szeroka featured a salmon ('lachs' in German) on its facade and his brand thus took on the name 'Der Lachs zu Danzig.' The rich, syrupy, gold-bespeckled liqueur proved incredibly popular and was soon being served in royal courts throughout Europe, Louis XIV purportedly being one of the beverage's greatest early connoisseurs. To create Goldwasser, some twenty roots and herbs were combined to give it its unique taste, among them cardamom, coriander, juniper, cinnamon, lavender, cloves and thyme. The recipe was kept in strict secrecy and passed down through the generations; today, Carl Graf von Hardenburg of Germany is the sole possessor of the original Danziger Goldwasser recipe. When Danzig was separated from Germany in the aftermath of World War I, Der Lachs opened a second brewery in Berlin to supply its western markets. Today the Berlin factory is the only to still produce genuine Danziger Goldwasser, though there are many similar Polish brands like Gdanska Zlotowka ('Gdansk gold') or Zlota Woda ('gold water').
The uber-exclusive Pod Lososiem restaurant now operates out of the building of Vermollen's famed historic distillery, which is still intact, though no longer in operation. Fans of Goldwasser may want to visit the charming riverside Goldwasser restaurant, where proper Goldwasser souvenirs can be purchased, though the place for the cheapest prices may be the airport's duty-free shop.
Comments