SKM Rapid Urban Railway
To make the most of your time in Gdansk, the SKM trains are a must. Essentially a commuter line, the SKM trains go from Gdansk Glowny (the main station) all the way to Wejherowo, much further north. The trains make stops in Sopot and Gdynia, as well as a number of smaller districts in between so you can use these bad boys to get almost anywhere you need to go. However, using the trains can be a bit tricky until you get used to the system, so use this guide to make the most of this valuable travelling tool!
First! There are really two train stations at the Gdansk Glowny stop. If you arrived in Gdansk by train from another city than you probably used PKP train services. These are the trains for getting to Gdansk, or leaving to another fabulous Polish Destination! But if you just want to get around the Tri-City, SKM is the way to go! Their platform is to the north of the main station, but you don't need to walk anywhere...just turn your head in that direction and you'll see where these trains depart!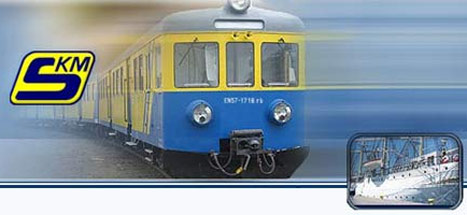 Tickets! In some other cities you may have travelled to, people get away with not buying tickets and 'riding black.' Don't try it in Gdansk. There are almost as many people checking tickets as there are passengers and they are even on the trains late at night, dutifully tossing those without some important scraps of paper. Tickets must be validated after purchase by stamping them on the platform. Large yellow boxes with three small slits serve as the stamping stations.
Tickets can be bought in a number of kiosks near the train stations or in the official ticket windows. The ticket windows are usually queued up, so the kiosks are usually your best bet and since it doesn't cost anything extra, there is no reason not to! However, not every kiosk sells tickets, so make sure you give yourself enough time to find one that does. A third option is to head to the first car and buy a ticket from the conductor for a little extra. The conductors don't speak English and are often in a rush, so this is the worst option for most travellers. A ticket for traveling between Gdansk and Gdynia will cost 3.50zl one way and the trip takes about 40 minutes. A ticket for traveling between Gdansk and Sopot will cost 2.80zl and the trip takes under half an hour.
If you learn one bit of Polish, learn how to buy the SKM train tickets! For an English speaker, it's pronounced:
Poe-Prussia Bee-let Normal-na Dough (and then the city name... ie Sopot)
SKM is the best and only way to efficiently get to Gdynia or Sopot from Gdansk, and the trains stop in each of the smaller districts along the way. Gdansk Oliwa and Gdynia Orlowo are two incredible places that are often overlooked by travellers, but are easily accessible with SKM. Trains appear at each stop every 15 minutes during the day, but if you're out for a bit of late night fun, make sure you know when trains leave late at night, or you might be stuck for quite a while. Once on the train, just find the diagram above the doorways and you can easily see where the train stops and when! If you need help, there are tourist offices within a few meters of the main train stations in Gdansk, Gdynia, and Sopot where you can ask for assistance.
Finally, most of the drunk old geezers riding the trains are actually pretty funny, especially when they are in a group. They particularly enjoy making fun of the police officers and singing songs. However, there are people you need to worry about and the train stations are not the safest places, so exercise caution both on and off the trains, especially at night. Keep that mobile phone out of sight and if you can't speak any Polish, sometimes its best to keep quiet. Honestly, the trains aren't the danger they are often made out to be, but better to exaggerate when it comes to your safety because violence and theft are not unheard of.
Comments