Gdansk Beaches and Castles
It can't be denied that half the fun of being in a city seems to be in escaping to the country, (or if you're really lucky, to the sea), and thankfully, Gdansk has plenty of options for fugitives.
A popular choice is the Hel Peninsula, a thin strip of land that juts out from the coastline like one side of a wishbone. The peninsula lies about a half an hour north of Gdansk, and it's renowned for its beautiful beaches, as well as the congenial town of Hel itself (you really couldn't find a better location for a heavy metal concert), which retains a good smattering of traditional fisherman's cottages.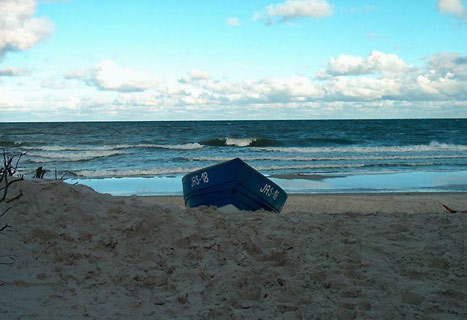 Another popular seaside option is Leba, which lies to the north west of Gdansk in the direction of Slupsk (fans of Witkacy's cosmic art should press on after Leba to Slupsk, which has a marvellous collection of his portraits). Leba itself is a sleepy, beguiling little village with a jumble of quaint old buildings. It can get pretty choc-a-bloc during the peak season, but the glories of the Slowinski National Park should balance things out.
Leaving the coast behind, those with a penchant for the swashbuckling side of history will be captivated by Malbork Castle, a vast, sprawling medieval complex that for over a hundred years was the headquarters of the Teutonic knights. The knights were a formidable force in medieval Europe, and Malbork remains the greatest relic of their presence in the region. Justifiably, the whole citadel is now protected by Unesco.
A little further to the south is Torun, a laidback university city that is often overlooked by travellers. Like the smaller town of Frombork (which is well worth stopping at if you're in the area) Torun is famous for its links with the Renaissance astronomer Copernicus. Its one of Poland's finest (and least visited) cities.
Finally, worth visiting, although not much fun, is Stutthof Concentration Camp. Lying 35km from Gdansk, it was the first such camp built outside Germany. 127,000 prisoners were registered there during WWII, with many more estimated to have been killed.
Comments