Getting to Gdansk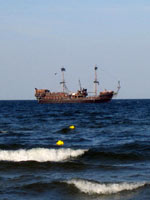 Above: Baltic pirates of the seas
Left: Pink barons of the sky
Below: Polish lords of the deep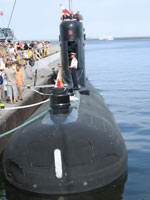 By Air
These days, travelling to Gdansk by air is an increasingly good option with new budget airline Wizz flying direct from London to Gdansk, and Polish Lot airlines flying regularly from Frankfurt and Hamburg, whilst Lufthansa jet in from Munich. With the budget flights, book well in advance for the best deals. The airport itself, which is named after the redoubtable, moustachioed hero of Solidarity, Lech Walesa, has its own website, which is worth a look as many new flights to and from European destinations are planned.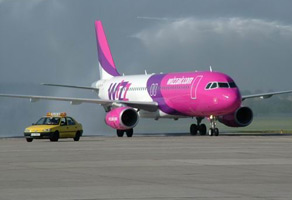 By Rail
The main train station is a ten minute walk west of the historic city centre. If you're feeling bleary eyed after your journey (and it's a long seven hour haul from Cracow) then watch out for the speeding cars on the road immediately in front of the station - head straight for the underpass! You can also catch a tram from here, whilst for buses, the bus stop is just behind the main station. If the budget airlines continue to flourish you may be tempted to just jump on a plane from Warsaw - there's often not much in it price wise. Still, if you want to give the trains a go (and why not?) you can check out timetables courtesy of the Polish Rail Network (PKP). Just remember to use the Polish spellings (ie Krakow for Cracow, Warszawa for Warsaw).
By Car and Coach
There's no doubt that with the new EU expansion, driving across Europe is an increasingly inspirational experience - the lack of passport controls lends the driver an unparalleled sense of freedom. However, whilst there are multi-million pound investment projects in the pipeline for the Gdansk region, the Polish leg of the journey remains the most intrepid stretch of a trip from the west. Poland has the highest accident rate in Europe, so only travel by car if you know what you are doing! You will need an international certificate of insurance cover, and possibly proof of exhaust emission control on your car. Another option is to come bus, which is a good value option. Airpolonia have a trip from London to nearby Slupsk planned in Mercedes minibuses, whilst lonstanding companies Jordan and Orbis organize buses from many European cities, including Frankfurt, Amsterdam and Rome.
By Ferry
What with Gdansk being one of the great historic ports of Europe, arriving by sea is a not inappropriate option. So if you're travelling from Sweden, why not take the ferry? Polferries sail regularly from the Swedish port of Nynashamn, and prices are very reasonable. Gdansk port itself - Nowy Port (New Port) is located six km north of the city centre. You can walk half a mile to the port's train station and jump on a local train into town. As in other Polish cities, taxi drivers may well 'take you for a ride'!
Comments