Monte Cassino Street
Sopot's Bohaterow Monte Cassino Street is home to the best Poland has to offer for a wide cross section of its citizens. Whether you're an artist, aristocrat, tourist, or partier, Monte Cassino has the best of what you're into. Running downhill from St. George's Church to the Sopot Pier, every inch of this boulevard is covered with impressive architecture, fashionable shops, inspired restaurants, and eager people. Named after the heroes of a battle in Italy between Germans and Poles in the Second World War, the street has a lot to be proud of.
Historically, the 'Heroes Street' was a simple, utilitarian path that linked farmlands, fishing docks, and the summer homes of wealthy visitors. The calm Baltic waters were legendary for their healing properties and many a statesman forgot the pressures of imperialism while relaxing in a therapeutic spa. While many of the mansions and summer houses are located to either side of Monte Cassino, there are a number of fountains in the middle of the way that are certainly capable of restoring the weary traveler. The Spa Square and a 20 meter high fountain just a bit further down the street are the best examples of Sopot's historic purpose on Monte Cassino itself.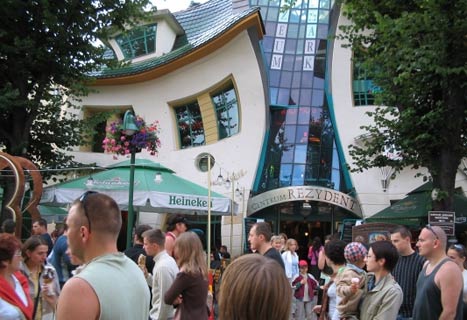 Other attractions include the Kzywy Dom and there is no lack of eateries, ice cream stands, and pubs along the way. As you make your way down towards the Sopot Pier, it's impossible not to stop for some type of tasty treat, whether it's a fresh seafood dish or a fattening Gofry (like a waffle with whipped cream and toppings). The Pier itself is summer encapsulated: a warm wooden surface, stretching out into the ocean, where you can feel the breeze coming in off the water as you walk with friends or family out into the Baltic.
For your evening entertainment, there are a number of fine art galleries and musical theaters, hosting everything from accordion concerts to Shakespeare. Some of the best antique shops are found here and you're never limited to just looking if you've got the green to back up your priceless tastes!
Given its history, attractions, and entertainment options, I'm sure you're already on the train to Sopot. However, you should know that what really makes this place special are the people. Every evening, the Sopot platform is flooded with people as train after train dispenses excited young students and eager families ready for a night on the town. Street performers provide the perfect soundtrack for an evening stroll and genuinely talented artists offer incredible portraits for you to take home. Fashion hounds show off their latest finds and there is rarely a face not frozen with a smile. Monte Cassino is the inspiration for all this energy - you can strike sparks anywhere and everyone is willing to join in the fun.
Comments