Gunter Grass and Gdansk
Born in 1927, in what was then the German Danzig, Gunter Grass became the voice for the generation of Germans who grew up during the reign of Nazism. His stated goal, the goal of all writers, was to provide 'mouth-to-ear' resuscitation for a humanity that would be lost without it. In 1999, Grass won the Nobel Prize for literature and is most known for his 1959 novel 'Blechtrommel' or 'The Tin Drum.'
Grass' father was German, while his mother was Kashubian (a distinct Slavic ethnic group from the region around Gdansk). As a young man, he was a member of the Hitler Youth and in 1945 he was wounded in the Second World War. After being released from an American POW camp, he worked in a potash mine and as a stonemason, before enrolling in art schools in Berlin and Dusseldorf. 'The Tin Drum' was actually his first novel and to this day it remains his defining work. It was the first part of the 'Danzig Trilogy' which was completed with 'Cat and Mouse' (1961) and 'Dog Years' (1963). Due to his personal experience and its historic legacy, Gdansk was the setting for these novels and his works are celebrated by Germans and Poles alike despite the tension and bitterness that still exists as a result of a debated history.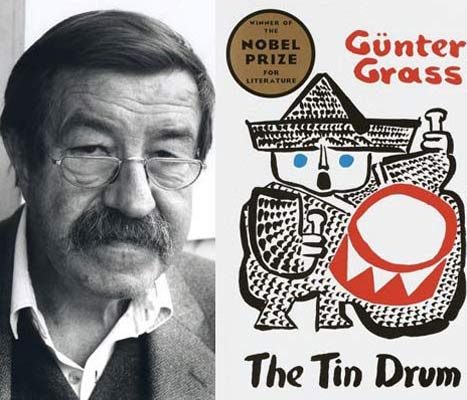 'The Tin Drum' tells the story of a young boy born in Danzig named Oskar, who, at the age of three, refuses to grow in protest of the adult world. Oskar communicates only through a tin drum, but through his eyes the reader becomes a part of the tumultuous world of Danzig/Gdansk in the 1940's.
Following the publication of a number of novels, plays, and poems, Grass became active in German politics as a ghostwriter for the Social Democrats and Willy Brandt. A collection of his political works entitled 'The Citizen and His Voice' is available for purchase. Grass made huge waves during the revolutions in 1989 and 1990 by opposing the unification of East and West Germany, maintaining that a unified Germany would become militant and threatening to world peace.
When he was awarded the Nobel Prize in 1999, his speech was one for the ages. Covering ground from Danzig to genetic engineering, our ancient ancestors to mass media, Grass held no punches. "I had the irreparable loss of my birthplace. If by telling tales I could not recapture a city both lost and destroyed, I could at least re-conjure it." Although references to Danzig and war were inspiring, Grass's comments on capitalist dogma and the hope that writers (or story tellers) were the only powers to check this force, were perhaps the most stunning. He spoke of the need for subversive, yet imaginative and thorough writing, for without it, the 'crush' of the worlds starving poor was inevitable.
Today, Grass is still active in politics, voicing his concern and shock at what is happening around him. He can often be found in Gdansk, as a guest at the university or for a presentation or premier of some sort. If you are travelling through Gdansk, make sure to make a stop in Gdansk Wrzeszcz, where you can visit the street where Grass was born (13 Lelewela Street) or have a seat on Grass's bench in Jozef Wybicki Square. A bronze representation of little Oskar and his drum will keep you company! Also, be sure to check out the new film 'Wrozby Kumaka' (Call of the Toad) which was based on one of Gunter Grass's novels. It was part of the XXX Gdynia Film Festival.
For more on Grass's confessed involvement with the SS and the surrounding controversy, click here.
Comments