Sensational Sopot!
Sopot has a reputation as the hip brother of Gdynia and Gdansk, and if it's nightlife you're looking for, and not to mention shops, cafes and a cracking seaside location - you should jump on the train to Sopot without delay (it's a twenty-five minute journey from Gdansk's main station).
Sopot's image as an affluent destination with a bubbly social scene dovetails well with its pre-war reputation. Zoppot was a highly fashionable resort during the late nineteenth and early twentieth centuries, when a colourful, and often rather louche international crowd of aristocrats and artists descended on the resort. Originally it was the magnificent baths and seaside air that kickstarted Sopot's popularity. The baths were in fact created by an energetic former doctor of Napoleon, who fell in love with the location - as well as with the daughter of a local Gdansk patrician!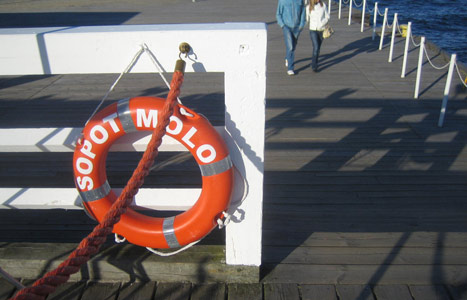 However, there were soon plenty of other attractions to hold peoples' attentions. Indeed, with its splendid seaside setting and flambuoyant architecture, Sopot was a fine place to have a flutter at the races, hang out at the casinos and, if one was really keen to keep the doctor happy, pay a trip to the baths. Many of the old fin-de-siecle villas of the pre-war crowd have survived, some of which have been reborn as hotels, whilst the splendid old pier still provides marvellous views over the Baltic.
The liveliest part of Sopot today is the area around ul. Bohaterow Monte Cassino, where you'll find many of the most enticing bars and shops. This leads down to the sea front, with its well-maintained beaches and the long pier itself (at 640 metres, its the longest in the Baltic). It's a fine place to kick off, (or round off) your day.
If you want to make the most of your time in Sopot you've certainly come to the right place. Gdansk-life.com is a guide to the delights of all three members of the Tri-city, so use our eat, sleep, drink, shop and play buttons to find the best Sopot and friends have to offer. Meanwhile our Sopot travel section and interactive Sopot map will make sure you don't get lost and end up roughing it on the beach, and our news and events sections will keep you in step with the Baltic beat.
Comments