Krzywy Dom
Just relax! The mushrooms on your zapiekanka weren't 'magic'... The building really does look like that. And as for the Cheshire Cat sitting at the bar, sipping a Martini and talking with Sopot's young and beautiful people... Wait, where did you say you bought that zapiekanka?
The Krzywy Dom is a beautiful building torn from the pages of your favorite fairy tale and cemented onto Monte Cassino Street. You often see tourists taking pictures in front of it and then, in all seriousness, hesitating to actually step inside, fearful that they might actually find themselves running from the Queen of Hearts. While you won't actually transcend space or time, the Krzywy Dom is certainly an experience apart from what you might ever expect!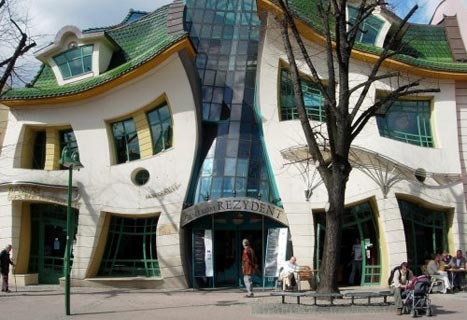 Inside the Dom, which you can enter from both Monte Cassino and Morska Streets, you'll find the best concentration of shops, restaurants, and drinking establishments in all of Sopot. Each and every store is classy, sophisticated (but not too posh), and unique. If you are a fan of Polish cuisine, then be sure to eat at Classic Restaurant, where the ambiance and polite service will remind you of what dining out is meant to be. It wouldn't be missed here in Sopot.
If you're a night owl, whose plumage is brighter than most, then the Krzywy Dom is the place to perch! Here, style and comfort are one, and you can enjoy any number of deliciously mixed drinks, or simply enjoy a beer without being pounded by techno or the rowdy screams of football fans. Caipirinka has a lively vibe, or if you prefer a glass of the red, red vino, than Vini Sfere has the label you're looking for.
The Krzywy Dom has some shining stars of the Sopot restaurant scene and its drinking establishments are pure class. But the Dom is greater than the sum of its parts! It's a one-of-a-kind building, both inside and out - so after you get that perfect picture of its exterior, drop the camera and join the fun inside. We'll be there sipping our drinks, waiting to wish you a very happy unbirthday indeed!
Comments