Money Matters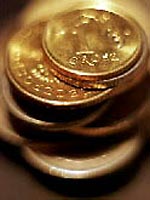 Don't assume that your hotel will take credit cards, though things are steadily improving in this area. Cash is still king in Poland, so make sure you have discussed payment with your hosts before you head for the plane. Most shops and restaurants are switching to plastic - look out for Visa/Mastercard stickers (or lack thereof) on restaurant doors.
Money matters can be a little confusing for visitors to a new country. But we can help! Here are some suggestions to help you avoid the common pitfalls.
ATMS (Cash Machines)
Usually advertised as "Bankomats" these automated tellers are a good option almost all of them offer services in English. Rates are by and large fair, though your home bank will probably charge you a commission per transaction. As in any major city, use normal precautions when taking out money in a public place.
Travellers Cheques
Travellers cheques, meanwhile, are a huge mistake! The Kantors will not exchange them and there are no American Express offices in the area. If travellers cheques are all you've got, you can go to a bank and stand in line for an incredible amount of time. Just show the teller a slip of paper with the phrase "Poprosze zerealizowac czeki podrozine. Dziekuje!" and you might be lucky enough to get some cash. In addition, you normally have to have your details checked at one desk, and collect your money from another. Best avoided.
Bureaux de Change (Kantor)
Bureaux de Change (Kantors) in the Tri-City centres are notorious for giving hopeless rates. The age old trick is to insert an extra zero on their list of rates. A rate of 5.0889, is easily read as 5.889. Visitors fall for this time and again. Once you are wise to this, have fun spotting all the scammers! In general, rates improve the further away from the centre you go, and there must be a hundred of these "Kantors" so with a little patience, you're sure to find a fair deal. Be careful, however, as most Kantors are closed on Saturday and Sunday!
Comments
Whatever you do, Poland - DO NOT JOIN THE EURO! My guess is the currency will eventually be withdrawn, and countries will return to their original denominations. Just watch what is happening in Greece - do you want to support a tax-evading state like that?
Reply
The short answer is no. There have been several target dates over the years. In 2008 it was 2010. The latest announcements in the last quarter of 2009 were talking about 2014/15. With 2015 more likely, however Deputy Minister of Finance Ludwik Kotecki would not give a target date. Depending on which poll you read about 50%are opposed to joining. To join the Eurozone the country has to reach 5 financial criteria and Poland only qualifies in 1. So they will not be joining any time soon.
Reply
Is the Euro coming to Poland soon?
Reply