Getting around Gdansk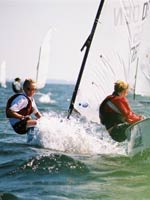 Above: Plane sailing
Left: Few know about the Bangles' other hit 'Kitesurf Like An Egyptian'
Below: Feelin' seasick? Take the trusty SKM!
By Taxi
The notices on the back of the headrests (which tell you to fasten your seatbelts or suffer the consequence) are well-merited. Have a stiff drink before you get in (your driver probably has already), and enjoy the fun. Polish taxi drivers don't have the greatest reputation when it comes to fare charging, particularly from the airport. The big trick is to avoid taking a taxi from a rank directly. You will pay at least 30 percent less if you order one by phone. City Plus Taxi employs a number of English and German speaking drivers, so they're a logical first choice for visitors to Gdansk. If you dread the thought of trying to phone one of the multitude of taxi companies, ask someone to do it for you - its free!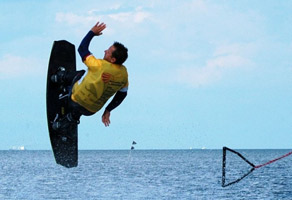 By Car
You can hire a car to get around, and if you're thinking of heading to the Hel Peninsula or elsewhere in the countryside its not a bad idea. However, if you plan to spend most of your time in Gdansk itself, think carefully. Apart from the difficulty of driving on the right, there are trams to contend with, boggling one-way systems, and signs that even native Poles struggle to comprehend. Parking is severely restricted in Old Gdansk, and there are three different enforcement agencies (Parking, Municipal and National Police) to watch out for. The alternative, public transport, is a far better bet.
Public Transportation
A good setup here - safe, efficient and cheap transport, through a network of trams, buses and metro. You can catch regular local trains via the SKM to Sopot and Gdynia, right into the early hours (the highest frequency is naturally during the day though). Buy your tickets from the local station before you get on the train, (ticket machines are also available). Buses connect all corners of the Tri-City, and like trams (these only operate within Gdansk proper) you buy your tickets from any of the little kiosks that are dotted around the town. All journeys cost the same (2.45 zloty), irrespective of distance. Jump aboard the bus or tram and punch your little ticket in one of the little orange and brown boxes that are located all around. Keep the stamped stub for the not infrequent checks by plain-clothes inspectors - you'll be kicking yourself if you have to shell out for a fine!
Comments