Travelling to Eindhoven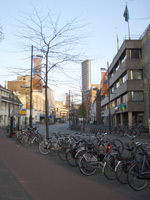 Above: It helps to bring a bike for getting around the city.

Centre: Fly into Eindhoven's modern airport.

Below: It's easy to get to Eindhoven by train from anywhere in the Netherlands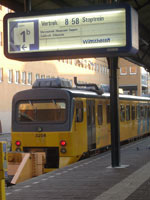 By air
Eindhoven Airport is the second largest airport in the Netherlands, serving over 1.6 million passengers yearly. The airport serves Air France flights (operated by CityJet), as well as budget airlines Ryanair, Transavia.com, and Wizz Air. You can also arrive by charter via Corendon, Pegasus, Sky, Sun Express, and Tailwind airlines. From Schiphol Airport in Amsterdam you can get a direct connection by train which takes you to Eindhoven in one and a half hours.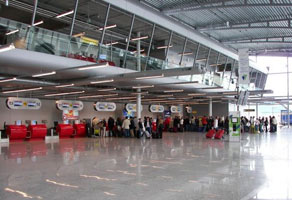 By rail
The main Eindhoven railway station is located in the heart of the city, just 900m from the Philips Stadium. As the city is a major interchange station for the region, it can be reached from every major city in the Netherlands. From Amsterdam, Eindhoven is just one hour 20 minutes away by non-stop train.
The operator of Dutch railways is Nederlandse Spoorwegen (NS), which carries over a million people around the country per day. For schedules, booking, and prices, see the official NS website.
Comments
Hi nice job! Thanks
Reply
Good Morning (at least it's morning here!),I am a F.I.R.S.T. Robotics coach for both FTC and FRC teams. My teams are very inttsereed in getting a 3D printer for prototyping their robot parts. Since we are in the USA , I need to know the shipping charges and if there is any chance of an educational, or F.I.R.S.T. discount.Thank you for your consideration.Sincerely,Magi
Reply