Free Printed Guide Maps by Eindhoven Life
20/09/12 update: The third edition of the Eindhoven Life Guide is out now! With new additions Strijp-S, coloured markers on the map, a bright white cover, extra attention for cultural institutions and again more businesses represented, we're proud to bring this to you. The Guide will be distributed at places across the city this week, so you should be able to get your own copy soon!
15/05/12 update: It has only been published 2 months ago, but already 10.000 copies of the second Eindhoven Life Guide have gone out! We're happy to see that so many of you like to use our map as their guide through Eindhoven. We continuously receive positive feedback from both users and companies that are represented on the map, so we'll keep up the good work and have started preparations for the third edition of the Eindhoven Life Guide which is scheduled to be published after summer. Stay tuned!
05/04/12 update: The new Guide was published 3 weeks ago and already over 5.000 copies have been distributed! The second Eindhoven Life Guide, edition Spring - Summer 2012, covers a wider selection of places to sleep, drink, eat, shop and play, together with an overview of useful services and worthwile cultural institutions. On the back there's information about travelling, culture, Dutch language, a city guide and a diverse list of events happening in Eindhoven in the next couple of months. The news column is about the High Tech Campus this time. Did you get your copy already? Check below for distribution points.
11/01/12 update: The number of distribution points of the Guide has increased to over 150! Several places in the city offer the Guide to their clients, guests, customers, students and employees. For an overview of the most important spots where you can find the Guide, see the list below.
23/11/11 update: The Guides are a huge success and the preparations for the second edition have started! The new Guide will be published in March 2012. Want your company to be represented on our Guide? Let us know!
27/9/11: Eindhoven-Life.com in the news! Our Guides don't go unnoticed, check last week's Eindhovens Dagblad article.
1/9/11: Since July 2010 Eindhoven-Life.com is bringing you loads of information on everything that's going on in our city, a city that's attracting more and more international attention over time. Looking at the response we get from you, our users, Facebook fans, Twitter followers and the monthly increasing visitor numbers, we can tell that our initiative is being appreciated and therefore we are enthusiastically continuing our efforts to make Eindhoven Life the most useful resource for (English) information about Eindhoven. We offer you suggestions on hotels, restaurants, pubs, clubs & bars, cool shops, entertainment options, cultural hotspots and useful services, which you can check out on your computer or on your phone through our iPhone app.
But when do you need it most? When you're walking through town! So how about an actual hardcopy map to hold in your hands? And what would you say if we add an event calendar to it as well, and some travel, cultural, language and sightseeing information? Well, it's there! The Eindhoven Life Guide is a clear, straightforward, up-to-date, beautifully designed map printed on high quality gloss paper, easy to put into your pocket, and, we almost forgot, it's completely free! The Eindhoven Life Guide appears every six months and the first edition 'Autumn - Winter '11/'12' is now available.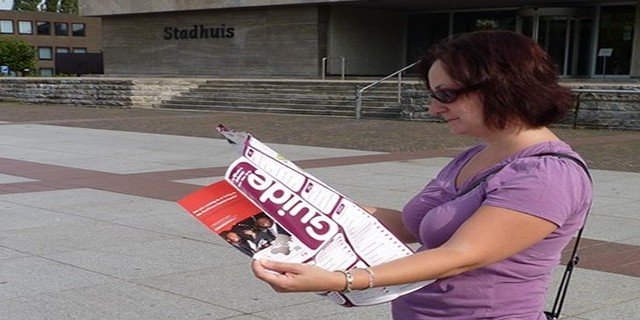 Get your FREE Eindhoven Life Guide!
So where can you find the Eindhoven Life minimap? Look out for our silver display in hotels, pubs, restaurants, museums, shops, international companies, the tourist office and other places in the city. An overview of some premium collection points:
Hotels, hostels & B&B's
3BE
Allicht Stadshotel
Auberge Nassau
B&B Jacob Cats
B&B Juliana
B&B Jan Luikenstraat
B&B Sycamore
Boutique Hotel Lumire
Campanile
Crown Inn
Eden Crown Hotel Eindhoven
Eindhoven2Sleep
Hampshire Hotel Parkzicht Eindhoven
Hotel Benno
Hotel 040
Hotel van Neer
Mercure Eindhoven
Novotel
Park Plaza
Hampshire Hotel Parkzicht Eindhoven
Pullman Eindhoven Cocagne
Queen Hotel
Sandton Hotel Eindhoven City Centre
Woonhotel
Restaurants
Allicht Brasserie
Bar & Restaurant Vestdijk 47
Berlage Grand Caf Restaurant
Boon Restaurant
Brasserie FLO
Chang Thai restaurant
Chomicha
De Karseboom
Dzjengis Khan Mongolian Grillbuffet
Gusto-040
Iris
Jiu.nu
Leefcaf Het Spiegelbeeld
Ons eten en drinken
Oriental Green House
Queen Restaurant
Seora Rosa
The Prince
Pubs & Clubs
Berlage Grand Caf
Caf Wilhelmina
Carrousel
De Bierprofessor
Hoogste Tijd
Leefcaf Het Spiegelbeeld
O'Sheas Irish Pub
Shops
De Heremiet
Design Daily's
Doortje Vintage
Dutch Design Year
Jannissima Concept Store
Jolie Spellen
Marlous Hoefsloot jewelry
Timeless
Cultural hotspots
5Mm (5 minute museum)
DAF Museum
De Ontdekfabriek ('Discovery Factory')
Dynamo
Effenaar
Klokgebouw
Library
Onomatopee
Parktheater
Van Abbemuseum
Yksi Expo & Winkel
Services
Cosmo Hairstyling
Hermes desk, info point local bus company at bus station
Dekker/Meurs Driving School
EasyNL
Expat-Assistance
Forefront International
Goeth Vastgoed
HousingXL
P. Heerings Bicycle Rental
Rots-Vast Groep
StudentEindhoven.nl
Studio Zuid for Pilates training
Vrijwilligerspunt ('Volunteers Office')
VVV, local tourist information
Woonbedrijf
International companies, educational institutes & others
Brainport International Community
Eindhoven University of Technology Department for Personnel & Organization
High Tech Campus
International Office Eindhoven University of Technology
International Office Fontys University of Applied Sciences
Holland Expat Desk
Holland Expat Services
Philips Healthcare Academy Best
The Hub Eindhoven for Expats
TNO
Undutchables
Unique Multilingual
And many more...!
If, for some reason, you prefer to use your computer screen, you can of course still use our online Eindhoven map. And if you don't like walking around with a map while in town, make sure you get our Local Life iPhone-app if you have an iPhone, enjoy!
Comments