Getting around Eindhoven
3Getting around Eindhoven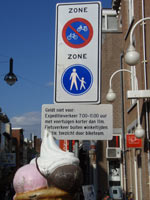 Above: Some zones in the centre are pedestrian-only Centre: Spare your legs and take the bus. Below: UFO parking available!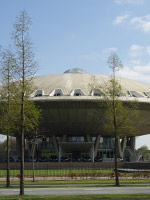 By Public Transport
Since Eindhoven has no trams or an underground, buses are the way to go as far as public transportation within the city is concerned. However, the bus network is very comprehensive, with most places outside of the city centre being accessible by bus. In addition, a bus runs directly from the centre to the Eindhoven Airport. If you want to plan your route (door-to-door!) automatically you can use 9292. Extensive information about public transport in Eindhoven, put together by a local (Dutch only), can be found at OV Eindhoven.
By Taxi
The Dutch taxi market is liberalised, meaning drivers can set their own prices and you're never obliged to take the first taxi on a taxi stand, but (in theory) you can negotiate with the taxi drivers to get a good deal or service. Taxi stands are positioned at the usual places, with the main ones being at the Central Train Station, the Airport and behind the Stratumseind at the 'Begijnhof'. You can also call a taxi, but this is more expensive, because you have to pay for the fact that they have to come especially for you.
By Bike
The best way to travel around Eindhoven is to go Dutch - get a bike! There are several bike hire shops in the city centre, including one right next to the train station. As the city centre is compact, you can easily get anywhere you'd like to go by bike, and the comprehensive network of bike lanes mean you'll never be dodging traffic - or stuck in it!
By Car
Let's just say, we don't recommend it! However, if you've arrived in the city by car, the best idea is to park it by your hotel and travel by bike or bus during your stay. Not only will you save petrol, but you'll get the full Dutch experience!
Comments