Student Life in Eindhoven
Since there's a lot of opportunities for people from abroad to study in Eindhoven, it's very likely that you're one of the many foreign students in our city, that you're going to be one or that you're thinking about coming over here to study. In any case; you're very welcome and we're pretty sure you won't regret your decision!
Higher education options
Eindhoven was elected the world's number 1 intelligent community of the year in June '11. Where do all those smart people come from? There are quite some options if you're interested in studying here. First of all there's the Eindhoven University of Technology, where you can study for a Bachelors, Masters or PhD-degree in many technical areas. The Fontys University of Applied Sciences is another university, which offers Bachelors, Masters and Exchange programs in several areas, such as economics, healthcare and teacher training. If you're more the creative type, the Design Academy is the place to go. Apart from being an intelligent region with many developments going on in technology and IT, Eindhoven is also known for its creative scene, the Dutch Design Week, taking place in Eindhoven in October each year, is a great example for this.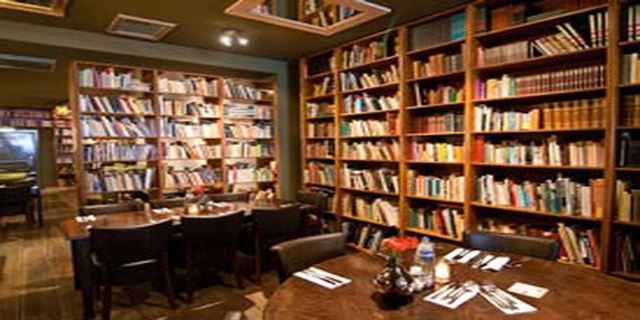 Book café to inspire you to go studying
International offices
Most of the educational institutions have special international offices for foreign students. If you have questions about anything related to studying at their institute, get in touch. There is the STU / International Relations Office of the Eindhoven University of Technology, the Fontys International Office and the information page of the Design Academy Eindhoven.
Official stuff
The international office of the institute you'll be studying at will be able to advise you on all official arrangements you need to make, whether you should register in the city or not, how to do this, paperwork you need to get done before and after coming over to Eindhoven and other things that occur.
Accommodation
Although the rental accommodation market in Eindhoven is quite tight, you should be able to find a comfortable place to live in one of the areas in town. For more details on accommodations options and details on the areas Woensel, Gestel, Strijp, Stratum, Tongelre and city centre, check out our page about accommodation in Eindhoven. You can also use our Eindhoven map to look up addresses and see facilities around.
Finding a place to live in Eindhoven might seem like a challenge in the beginning, and affordable rooms at the best locations do go quickly, but if you use the right channels, you will succeed. There are several housing agents in Eindhoven that offer you all the help you need in finding a place to live.
Daily life
Once you're settled in Eindhoven in your new room, apartment or studio, you'll need some useful shops. The main Dutch supermarkets are Albert Heijn, Jumbo (both more high-end), C1000, Plus (both average) and cheaper ones are the well known Aldi, Lidl and Nettorama. If you're looking for items for your new home there's an IKEA in Son, next to Eindhoven, and HEMA is a useful and affordable shop for all your household items. A good one for health and beauty items is Kruidvat.
Getting around the city
Getting around the city is fairly easy. Eindhoven is not a big city and most distances are very well doable on a bicycle, as most students do. You can ask other students for tips where to buy one, or you can check out Heerings bicycle shop, who have bikes available for rent and for sale. Public transport is also very well organized, there's several ways to get where you need in Eindhoven.
Finances
Another important point is money. It's wise to check out before what you'll be spending roughly and how much you have available. For estimates on what you can expect, check out the information on cost of living available online. If you have a regular ATM card you can use it in the many ATM machines across the city to get money from your own account, but you might also be eligible to open a bank account at a Dutch bank. More money advice is available on our website.
If you're looking for a job to cover your expenses, options might be available at Undutchables, a recruitment agency for internationals.
Nightlife
When you've figured out your finances and made sure you'll have some money to spend each month, you'll be able to enjoy the great nightlife options in Eindhoven. There's a vibrant student scene and you'll find out soon enough where your personal favourites are. Check out our page on Eindhoven Nightlife for more details on where to start!
Sports
Enjoying the Eindhoven nightlife won't keep you fit, but doing some sports once in a while will! There is the Student Sports Centre Eindhoven, available to all students and staff of Eindhoven University of Technology, Fontys University of Applied Sciences and Design Academy Eindhoven, and there are many private sports clubs available as well. And if you're into something different, why not do some English Pilates classes in Eindhoven?
Comments