Carnaval celebrations in Eindhoven in 2018
Carnaval (Carnival) in 2018 takes place from Friday February 9th until Tuesday February 13th. It is a Catholic tradition celebrating the week before the fasting of Lent. Carnaval is mostly celebrated in the Southern areas of the Netherlands (and in some Catholic villages in other parts), the Northern areas being predominately Protestant. Despite its roots as a religious festival, you will be hard pressed to find any religious overtones here.
Every town celebrates Carnaval differently, just like every Dutch town has its own unique personality. Every town has a different name, during Carnaval and Eindhoven is called 'Lampegat', which loosely translates as 'light bulb village', and refers to the history of the city as the first ever producer of light bulbs. The city focuses its attention on music, dancing, and fun. It can get pretty rowdy but if you know what's going on where, Carnaval is fun for every member of the family.
The entire city is decorated with bright colours. The Eindhoven colours are orange and blue. Streamers and confetti cover the streets and music plays from everywhere. Although a costume is not required, it is greatly encouraged. Costume shops can be found all over the city and the focus is always on silly. If you feel uncomfortable in a costume you can buy a funny hat or a wig. You may think you are going to be uncomfortable dressing up but we promise you will fit in better wearing something fun and outrageous and the locals will go out of their way to make you feel at home.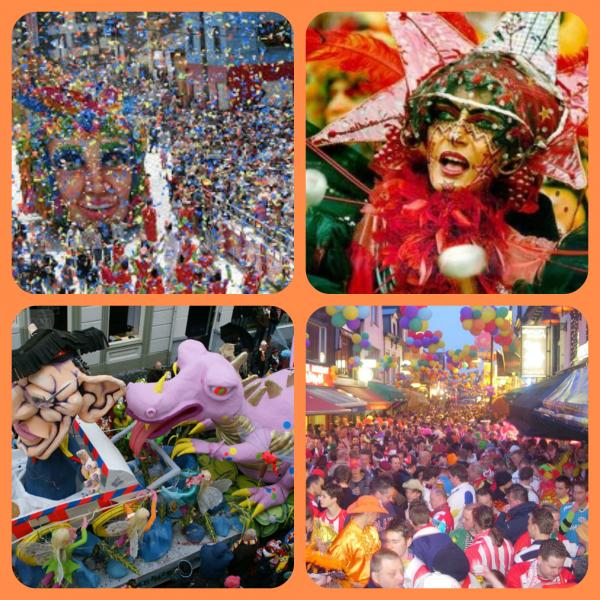 During the days before Carnaval there are lots of fun activities. For example. On Thursday night you can visit 'Pekske Pronken', which translates as 'Show off your costume' at Pullman Eindhoven Cocagne. Friday evening before the official start of Carnaval you can go to 'Drie uurkes vurraf', which means 'three hours before', also at the Pullman Eindhoven Cocagne hotel. Or you can go crazy among the crazy Dutch people at another buzzing Carnaval party. To see what parties are going on and where check the here (Dutch only).
The official Carnaval starts with the parade. You will see floats line the streets, bands march in unison and colourful costumes fill the city. The parade starts at 12.41 at the Dommelstraat and snakes its way through Stationsplein, Vestdijk, Ten Hagestraat, Catharinaplein, Kerkstraat, Wal and, Bilderdijklaan to Geldropseweg (+/- 14:50). Watching the parade is a wonderful way to start the weekend. If you don't know the streets just find a metal barrier, pick a spot with a lot of people and join in.
Anything goes for the rest of the weekend. To figure out where to go just walk around and you will find the perfect spot to celebrate. Stratumseind is always a young and crazy place, you can head to Wilhelminaplein for a more mellow crowd, and Market Square is the best of both worlds. The better the weather the more outside options, but in or out there is always music and plenty to drink.
Comments