Double Dutch!
One of the things the Dutch are famous for are their language skills. The majority of the people speak English quite well and even a bit of a second or a third foreign language is not an exception, often German and French. This can make it hard to practice your Dutch skills on the street if you want to learn the language properly. When they hear you're not native, people will switch to English to make it easier for you. However, don't give up; it's always handy to know a few phrases, and since all official communication is in Dutch, it'll help a lot to understand some of it. For a proper course we refer you to a Dutch Language School in Eindhoven.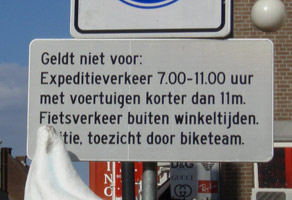 Correct pronunciation is not always easy, even for the Dutch! Some famous tongue breakers for native Dutch speakers are: De kat krabt de krullen van de trap. (The cat scratches the curls off the stairs.) De koetsier poetst de postkoets. (The coachman cleans the coach.) De meid snijdt recht, de knecht snijdt scheef. (The maid cuts straight, the servant cuts crooked.) Foreigners can have difficulties with certain sounds like the 'sch'; have you tried Scheveningen and Schiphol? Actually, it depends a lot on where you are, strong differences exist in the dialects spoken in the Netherlands. Last but not least; how to pronounce our very own Evoluon? You can either stress the first 'o' or the last 'on', so don't worry, even the people from Eindhoven pronounce it all differently, so you can find your own way!
The Dutch language is a West Germanic language and is closely related to German, but also has a lot of English and French influences. It's the official language in the Netherlands, but is also spoken in Flanders, the northern part of Belgium, and Brussels, along with French and German. Other places where Dutch is the native language are former Dutch colonies like Suriname, Aruba and the Netherlands Antilles. Afrikaans, spoken in South Africa, has its origin in Dutch too and these languages are still pretty similar.
Here are some phrases and beginners' vocabulary to get your tongue around, below.
Comments