Long Live The King!
King's Day (or 'Koningsdag' in Dutch) is a national holiday in the Kingdom of the Netherlands. It's celebrated on April 27th, the birthday of King Willem-Alexander.
This year marks the second edition of King's Day instead of the former Queen's Day. In 2013 Queen Beatrix stepped down as Queen of the Netherlands and her eldest son Willem-Alexander became King. So since then (as long as he's King) we celebrate King's Day in the Netherlands.
The slogan for King's Day in Eindhoven is: "Eindhoven=King", and this means there's something for everyone. With over 200.000 visitors our city is a real hotspot this day, mainly focussed around dance and other music. Every available spot has live music - from a guy and his guitar playing to a small crowd on a patio, to a massive stage with a popular DJ. Every square will have its own unique vibe so half the fun is wandering around and finding the scene that suits you best. There are also flea markets, where people from all over the area set up tables or lay down blankets to display used goods for sale. Anything and everything is available and the streets are mobbed with people looking for a bargain. The one rule of the day: wear orange. The more (and brighter) the better - the locals will love you for sharing their national pride!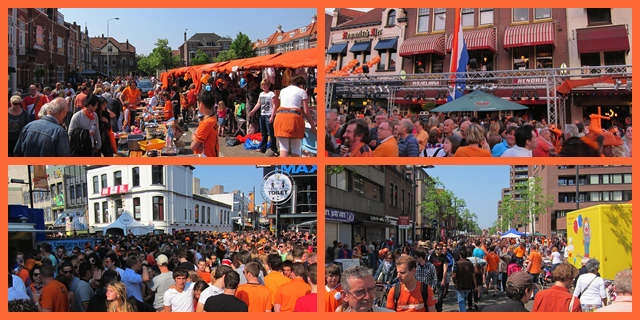 Eindhoven King's Day celebrations 2015
There's so much going on in our lively city, both on King's Day and the night before, it's almost impossible to give a complete overview of all performing acts and activities. Visit the 'Eindhoven=King'-website for more info and check out your favourite places for their own program. You can find our recommendations here, all of which are free to attend (unless mentioned otherwise):
Dance:
Former Philips area / Lichtstraat: Electric Orange. The largest orange party in Eindhoven takes place here, organised by Lakedance, 7th Sunday Festival and Extrema Outdoor, 12-11pm
Dynamo: Royal Block Party. Hip hop, trap, funk and soul dance music, from 2pm-12
Paterskerk: Techn040 with several DJ's such as DJ Sneak, Michel de Hey, Gabriel Ananda and more, 12-11pm
Stadhuisplein: Majestic Dance Event with (inter)national DJ's, from 12-12
Music:
Markt: King's Party. Party music all day long, with spectacular light show
Stratumsedijk: Kings & Queens Day. Add a little pink to your orange, assortment of live acts, drag queens and DJ's, from 12-11pm
Stratumseind: Koningsfeest. Celebrate together with all the pubs, different kinds of music and several DJ's: party guaruanteed! 12-2am
Clausplein: Latin Kingsday. Live Latin music, DJ's, world market, food & drinks and much more. 12-10pm
Family:
De Bergen area: children activities, terraces, live music and market stands, from 10am
Wilhelminaplein: Orange market, open stage and several live bands, 8am-11pm
Stadswandelpark (park next to Parktheater): Open market for everyone, adults and children, 100 stalls, a dj and dance performances by and for kids, from 11am-6pm
Strijp-S:
At King-S in the Strijp-S area you can find 10 different stages and a very diverse program, there's surely something you like. There's a € 2,- fee for adults (18+) for which you'll get a wristband (you'll need this to buy alcoholic beverages) and an interesting, varied program.
Acid Orange with with acid, techno, drum & bass and tekno, from 12-11pm
PACT-festival, local modern electronic music; techno, dubstep, drum'n bass & funk, from 12-11pm
Klok Rock Orange with metal, punk, speedrock & roll, from 11am-11pm
PopEi, relaxed music on the terrace and fun for kids, from 10am-1am
Eindhoven 'King's Night' celebrations 2015
The night before King's Day traditionally also is a night of celebrations, called King's Night (Koningsnacht). Some of the highlights:
Dance:
Dynamo:Hoezo? Koning Acid and techno, from 8pm-1am
Stadhuisplein: Majestic Dance Event with (inter)national DJ's, from 7.30pm-1am
Music:
Markt: King's Party, large stage with a DJ, act and light show from 7pm
Stratumseind: Orange Party, enjoy a wide variety of music at the longest pub street of the Netherlands, from 5pm-4am
Wilhelminaplein: Orange Party, from 5pm
As you can see, there's so much to do! We have no doubt you'll have a great two days!
Comments