Warm Welcome
Eindhoven is probably not the first city you would think of exploring when coming to the Netherlands, but it's definitely worth a visit. The city will show you a side of the country that's different from Amsterdam, Utrecht or the Hague. No canals and old canal houses but modern architecture with a touch of industrial history, the unique combination of technology, art and design in museums, galleries and events, a musical and cultural buzz in several concert halls, theatres and music venues and a lively nightlife with loads of pubs, bars, cafes and restaurants spread over different areas, each with its own character.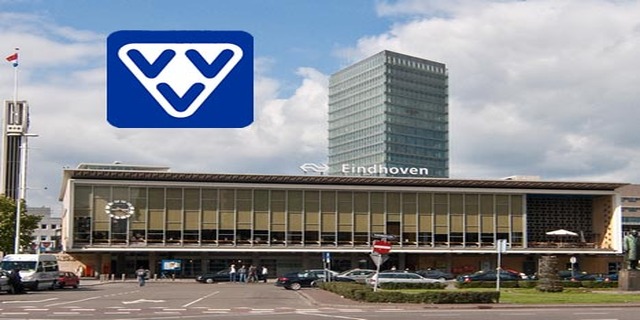 Look for the VVV-logo on the square in front of the Central Train Station

Tourist Information & Tours

Since you're reading this page at our website, you've probably found all the online information available here at Eindhoven Life already. A first stop for tourist information in the city itself is the VVV (official tourist info). This is the place to go if you're looking for personal contact, recommendations or help or if you want to join a guided tour or other activity. You can find the VVV in the heart of the city centre at the square in front of the Central Train Station. The VVV is also present at several events with their DAF33 green car with the Eindhoven skyline on top. Go check them out if you see this historical Eindhoven car.
Group Activities

When you're visiting the city with a group of people of 10 of more, the VVV can arrange activities for you. There's something for everyone; art, culture, architecture, history, action, outdoor and cuisine. You can find more info here and you can get in touch for a personalised program.

Souvenirs

What's a tourist without souvenirs? Of course you want to take all those beautiful Eindhoven memories back home. The VVV sells souvenirs of all kinds at their location in the city centre. There's also an 'Eindhoven Winkel' in the basement of shopping centre Piazza, where you can get all sorts of items related to Eindhoven. But even if you forgot to get something in town, you can still order online at the VVV! Visit the VVV webshop to get the coolest Eindhoven gadgets, t-shirts or other hip souvenirs.
Comments