General Information
6Info about Krakow & Poland
The capital of Poland until the end of the sixteenth century, Cracow has been superseded by Warsaw, and is now the fourth largest city in the country, but is often still referred to as the country's cultural capital. The world-renowned Jagellonian University, Wawel Castle and one of Europe's largest market squares are all contained in one of the best-preserved medieval city centres in Europe. The largely unspoilt Old Town has now been declared a World Heritage Site.
Laid out in 1257, the Rynek Glowny (Main Market Square) is one of the largest medieval market squares in Europe - the centrepiece of a town plan which was, and remains, a remarkable piece of town planning. The grid-like pattern of streets surrounded by a tree-lined pedestrian avenue (once the limit of the city walls) makes it easy even today to walk around the city. To the south, and connected to the Market Square by the long, straight Grodzka street, lies Wawel Castle, the seat of Polish kings from the eleventh to the early seventeenth century.
A few minutes walk south of the Old Town, and separated from it by Jozefa Dietla street, lies the old district of Kazimierz. Until 1880, Dietla was a tributary of the Vistula river, and Kazimierz an island. Best known as the old Jewish Quarter of Cracow, it is in fact divided into two distinct halves, with Jewish Kazimierz occupying the northeastern part and Christian Kazimierz the southwestern part. Jewish culture flourished here from the 15th century until World War II, when the Nazis forced most of the remaining Jews into a specially created ghetto across the Vistula river, where they were either killed or transported to nearby concentration camps, including Auschwitz. At the end of the war, only 6,000 returned, but few could settle. The vestiges of this once prosperous Jewish world cover Kazimierz, and numerous synagogues have been preserved and restored and now house exhibits depicting pre-war life.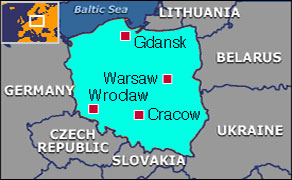 Population: 39 million Capital: Warsaw Major language: Polish Major religion: Christianity Life expectancy: 68 years (men), 77 years (women) Monetary unit: 1 zloty = 100 groszy Main exports: Machinery and transport equipment, foodstuffs, chemicals Average annual income: US $11,300 Internet domain: .pl International dialling code: +48
About Cracow
Positioned at the centre of Europe, Poland has known turbulent and violent as well as prosperous times. There have been periods of independence as well as periods of domination by other countries. Several million Polish people, half of them Jews, died in World War II.
In 1989 Poland became the first of the eastern European countries to overthrow Communist rule, following years of demonstrations, strikes and underground political movement led by the Trades Union movement Solidarity. Despite strong Russian objections, Poland joined Nato in 1999 and in 2004 became a member of the EU.
Poland has achieved some success in creating a market economy and attracting foreign investment. However, unemployment is high and incomes and growth low. The huge farming sector is unwieldy and very inefficient, many farms still retaining their medieval land divisions into inefficient, long strips. In spite of this, Poland's agricultural output is greater than that of Great Britain, France and Italy combined, which is why future EU subsidy levels have been a major area of controversy. Corruption has been singled out by the European Commission as a particularly major problem which must be urgently addressed, as well as the necessity to improve border controls.
The Roman Catholic church, a very strong force in Polish life, has expressed concern that modern lifestyles are corrupting moral values. The church has been involved in heated debates over issues such as worship in schools and abortion.
Comments