Travel - Getting to Cracow
Above: Everyone looks sexy in a pair of cycling shorts...

Left: The Sky's not the limit - Easyjet, Ryanair, BA, Lot and Germanwings fly here too! Below: Of course there's always Poland's modern railway system...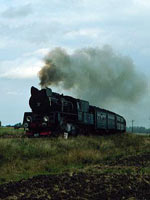 By air
If you plan to fly to Krakow, you have two options: Cracow or Katowice. Cracow has its own (small) airport, appropriately named after Pope John Paul II, who was born near the city. Most locals and a few signs, though, still refer to it as Krakow Balice or simply "Balice," which is the name of the little town nearest the airport. Many major airlines such as Lufthansa fly to Cracow, albeit often with codeshare partner airlines. In recent years, though, the budget airlines have been appearing in greater and greater numbers with their super bargain rates. If you're up for no-frills flying, the biggest budget operators include EasyJet and Ryanair, to name just to name a few! A fair number of routes also land at nearby Katowice airport, such as the ones offered by Wizzair from London, Paris and Barcelona. Katowice is a perfectly acceptable location to fly to, but it's a bit like Luton is to London, so be prepared for a 90-minute bus or taxi ride into Krakow. If you're flying into or out of Krakow's John Paul II (Balice) during the winter, be prepared for frequent delays due to fog or ice, or the occasional impromptu diversion to Katowice.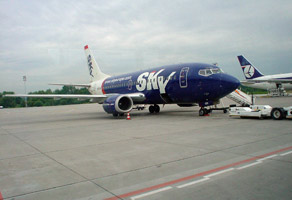 Assuming you've arrived at Cracow Balice you shouldn't have any trouble continuing your journey. Taxis are relatively cheap in Poland and you can book one online or grab one from the rank for around 70PLN into town. Alternatively hike 200 metres (or grab the free shuttle bus) to the airport's small train platform and take advantage of the fast and cheap shuttle service to Cracow's central station. Tickets are 8PLN onboard (7PLN if bought at the automated kiosks in advance) and the service runs about every 30 minutes taking about 20 minutes to get there. Bus service into the centre costs the same as a usual fare, about 2.50 PLN one-way from a kiosk, but you should buy a ticket for your larger baggage as well. Make sure you validate the ticket in the orange ticket box onboard in case of a random check by plain-clothes inspectors.
By rail
The main station is in walking distance of the city centre, so you may be tempted to go all Dr. Zhivago and come by rail. However, the romance will soon wear off once the reality of the Polish rail system sets in, and you find yourself travelling at near-walking pace at times. Prepare for a five-hour journey from Wroclaw, seven hours from Poznan and eleven hours or more from Gdansk. The express between Cracow and Warsaw is the exception with modern intercity trains taking about three hours to complete the 300 kilometres distance. Find precise details by checking out the timetables courtesy of the Polish Rail Network (PKP). Just remember to use the Polish spellings (ie. Krakow for Cracow, Warszawa for Warsaw). Backpackers will be interested to know that there are also overnight trains to and from Prague and Budapest.
By bus
You may not be over-endeared at the thought of 24 hours in a bus from London to Cracow for example, but it is actually not too bad - no smoking is allowed aboard the comfortable buses, and Poles, as ever, are impeccably behaved. Watch the landmass of Europe slip past, as you are treated to Hollywood movies dubbed into Polish. For around 60 (USD 100) return to London, it can't be beaten price-wise. Internal trips, on the other hand, are normally aboard old buses with a distinctly retro feel. Ok in small doses. And be warned, often there are no toilets aboard the old buses and seats can be smaller than you're accustomed.
By car
Only for the intrepid. Poland has the highest accident rate in Europe, mostly because of carelessness on congested roads and a slow-to-change mindset about drink-driving, so only travel by car if you know what you are doing. That said, we've been driving for years and enjoy seeing the country from ground level. If you drive or rent, you likely will need an international certificate of insurance cover, and possibly proof of exhaust emission control on your car. Spot checks on vehicles do happen, and if you plan to stay in central Cracow, remember that much of it is pedestrianised, or has difficult to interpret parking signs and special day/night restrictions.
Comments