Krakow Airport
Throughout your stay, monuments and buildings dedicated to Krakow's most famous son will be inescapable, so what better way to begin your initiation than by touching down on the runway of John Paul II International Airport?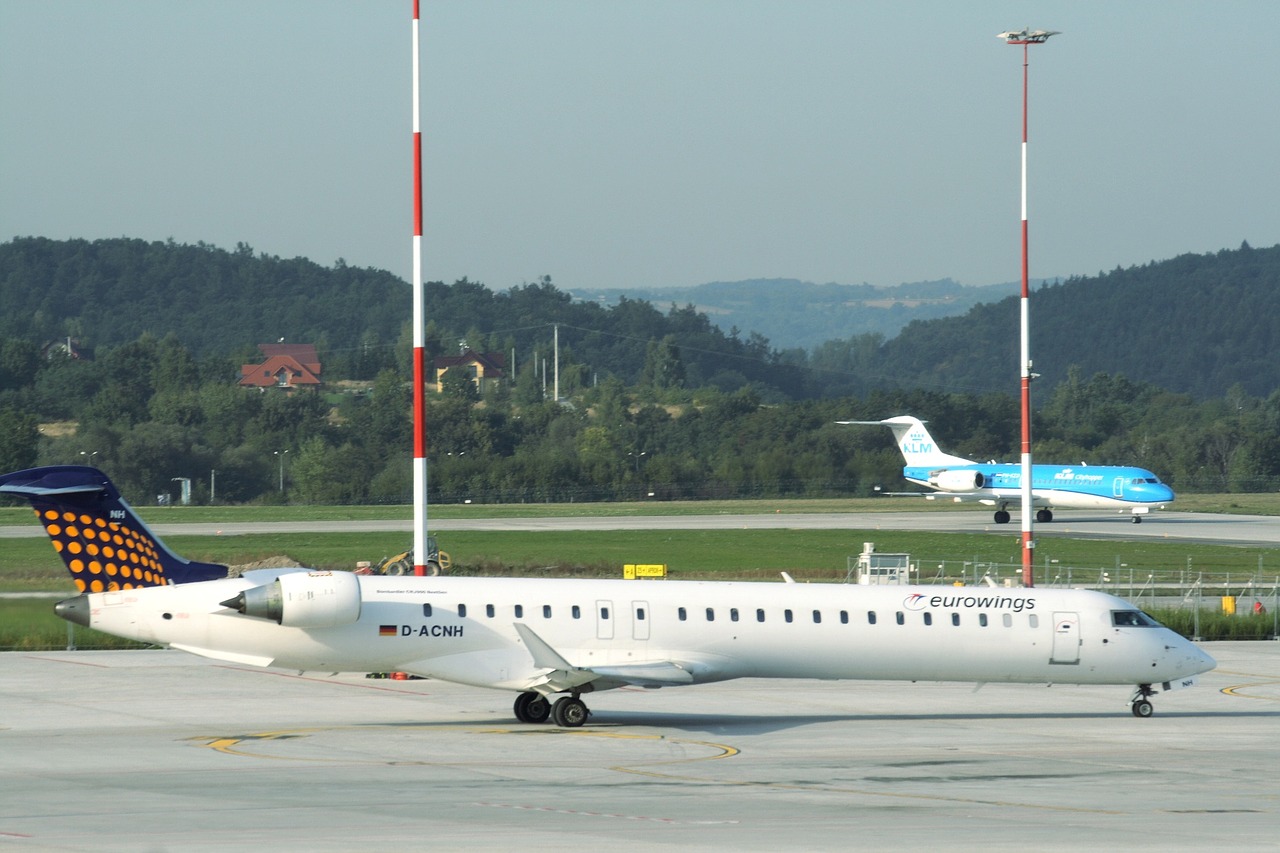 Recent expansion and renovation of the former military airbase has increased the annual capacity of passengers to 12 million, at the same time turning what was once a rather scruffy (charming?) and offbeat airport into yet another soulless but functional glass-and-steel passenger processing machine that looks and feels just like every other one in Europe. But you're coming to see Krakow, not the airport, so here's all the information you'll need to make your transit time as painless as possible.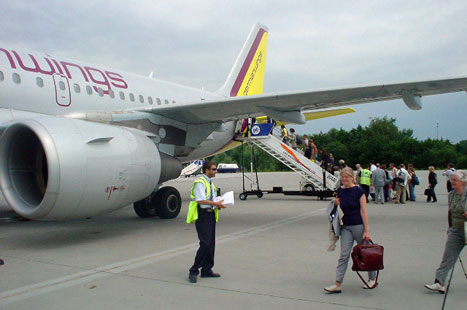 Getting to and from the airport
ByTrain
Krakow Airport has a fantastic train service that is excellent value, reliable and easy to use. The train station at the airport is just a few metres from the passenger terminal, at the back of the multi-storey car park and you can easily walk to and from the departure terminal via a covered footbridge, so a lot better than the old station at the airport where you could get rained or snowed on hauling your luggage to and fro. All the trains have air conditioning (yes, it gets hot in the summer), power outlets, WiFi and ticket machines onboard. Obviously, there are dedicated spaces for disabled passengers and people with reduced mobility (PRM).
Timetable
You'll need to check the exact timetable (here), which changes depending on the time of year, but in general, the airport train runs about every half hour from around 5 in the morning until just after midnight. The train goes to the Krakow Main Station (stopping at a few places on the way), but the journey takes less than 20 minutes, which is faster than any other option. In fact, the train then goes on from Krakow to the incredible salt mines in Wieliczka, so it is something you could think of visiting as well using the same route.
Tickets
OK, the ticket costs only 12 PLN, about as much as your morning latte, to get from Krakow Airport to the city centre, and just 16 PLN if you want to go all the way to the Wieliczka salt mines. There is no extra charge for luggage, but there is for a man's best friend (dogs cost 3 PLN) You can buy your ticket either in the passenger terminal (look out for the machines) or at the station itself, and in each of these cases you can pay with cash or card. there is an option to buy from the train conductor on board, but for this you can only use cash.
By Bus

Krakow Airport is served by the regular bus network, so there is no expression bus directly to the town centre. The bus lines you will need are 208, 209 and 252 (or the night line, number 902). When you buy your tickets (and this goes for your whole time in Krakow), you basically pay depending on how long your journey will last, not for the distance. so you can by either a 20-minute (4 PLN), 60-minute (6 PLN) or 90-minute (8 PLN) ticket. If you are travelling from the airport to the main train station (or vice-versa), go for the 60-minute ticket and that will cover the journey, which should take about 35 to 40 minutes all told. One thing to remember - as the buses are used for regular local passengers, not just those going to or from Krakow airport, they can get a bit crowded, especially in the morning and at evening rush hour, and it can be a bit of a squeeze especially if you have lots of luggage. In these cases, think about taking the train (see above) or a taxi instead.
By Taxi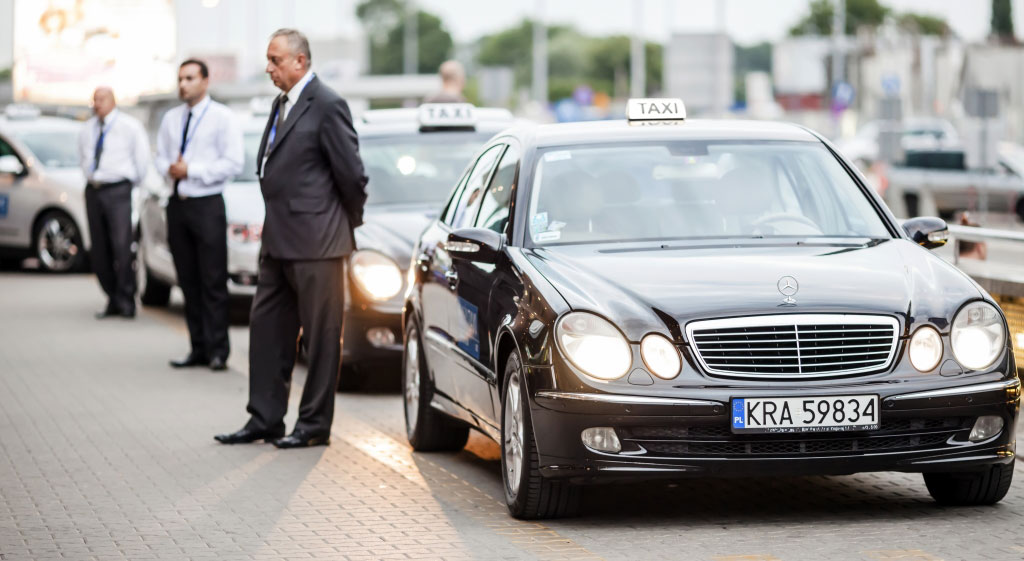 Give the "official" airport taxis a wide berth.
If your idea of a great start to your holiday is a overpaying for a ride in a dodgy Merc with Wonderbaum hanging from the rear-view mirror and driven by an extra from the Sopranos with too much cheap aftershave, then simply take a taxi from the queue right in front of the airport terminal. Voila! You've literally been taken for a ride. The "official" airport taxis are basically a cosy stitch-up between various powers-that-be which means that only one company has the rights to park in front of the terminal. All the decently-priced taxis are parked just out of sight in nearby carparks, so all you need to do is either use your normal taxi app (Bolt or Uber are good options), then wait 2 minutes for your ride to arrive. Another good option is to book a ride in advance with GetYourGuide, who provide a great option. Just choose your dates and so on in the box below and you can have it all taken care of right away.

Alternatively, you can book your taxi online in advance here. Either way, give the "official" airport taxis a wide berth.
---
Coronavirus Testing
If you need to take a COVID test before flying, the good news is that this can be easily done at the airport. There are a couple of private medical companies which provide this service, and they are located in the P2 car park, about 100 metres from the main terminal. You can get PCR or antigen tests, but remember the PCR tests may take a couple of days to get results, whereas the antigen tests take just 20 to 30 minutes, so check exactly what is required for your carrier / destination before booking this. A step-by-step guide, including online registration and payment, is available here.
---
Krakow Airport Hotel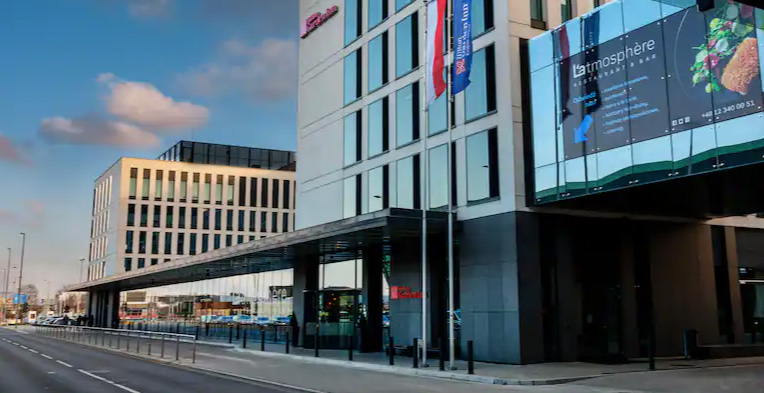 There is one hotel located right next to the main terminal, with the short and pithy name of The Hilton Garden Inn Krakow Airport. To be honest, there's not a garden in sight, but being a Hilton the place is pretty smart, extremely clean and comfortable, and very convenient especially if you have an early flight. The hotel, like many other airport hotels, is mainly aimed at the business traveller, with excellent conference facilities on site.
---
Though much of Krakow airport is brand new and, despite the holy name, they haven't yet found a miracle way of curing the problem of flight delays both in and out of Poland. For those times when the inevitable strikes, it's good to know help is on hand and Balice (as its otherwise known) is fully equipped and handicap-accessible. Here's a run down of the essentials...
Info Desk Can't miss it, slap bang in the middle of the main terminal. All English speakers to boot.
Mother and baby Open 24/7 and found on the upper floor of the terminal. Free of charge.
Chapel Say a pre-flight prayer or attend Mass on Sunday (10am). Mezzanine.
First Aid Ground floor of the terminal area should you need it.
Cash Two bureaus de change, a Polish bank and a cash machine await you at arrivals for all your monetary needs.
Post Office Run out of stamps and still have postcards to send? Don't worry, the post office is on hand Monday - Friday, 8:45am - 2:45pm.
Tickets Further trips planned or made a boo-boo with your e-ticket? The ticket office is located alongside the bank, change bureaus and car rental outlets.
Executive Lounge Feel like being pampered? Foreign newspapers and magazines as well as serve-service buffet are on hand in a luxury environment all for little more than a tenner. Internet connections and foreign TV channels provide a home away from home.
VIP Lounge Capacity for 14, equipped with facilities to make you feel extra special before take-off. Prior booking required (+48 012 639 30 54)
Food and Drink No McDonald's or Starbucks, but a handful of snack bars and cafes on both floors as well as an outdoor caf during the summer months. In a rush? Various vending machines will happily eat up the last of your Polish shrapnel. Once you're through passport control, there are more cafs on hand should a frisking reveal a previously undiscovered wad of Polish zloty.
Shops Whether it be reading material, Polish-themed souvenirs, alcohol or jewellery, shops on the upper floor of the passenger terminal are ready and waiting to relieve you of any remaining zloty. Didn't buy enough amber or vodka while in Krakow? Think of this as last chance saloon.
Duty Free Located after ticket/passport control, have your boarding card at the ready to take advantage of cheap cosmetics, alcohol, sweets and souvenirs. This really is your last chance.
Travel Agencies On hand if necessary but the smart and savvy will know Cracow Life already has the answers!
Rent a car Can't miss these guys. All your international friends plus their Polish counterparts are waiting by arrivals in the main terminal.
Parking Should you need it, you'll pay 5 PLN (1, $1.25) for cars per hour on short stay, longer stay works out at 40 PLN for days 1-2, 20 PLN thereafter.
I'm here. Now what?
Krakow airport actually lies 11km west of the city but getting to the centre and to the haven of your Krakow hotel or Krakow apartment is pretty straightforward. Outside of hiring a car and driving yourself, you've got three options:
BUS Cheap, cheerful and by no means a bad option, MKS provides a frequent bus service from the airport to the city centre. The bus stop is just to the right on exiting the airport and tickets are available either from the ticket machine (2.50 PLN) next to the information point in the passenger terminal or on board (3 PLN). Be aware that if you have any baggage larger than a rucksack, you'll be expected to purchase an additional ticket for this. Stamp tickets immediately after boarding to avoid fines.
The 192 service runs approximately every 20 minutes from 4:45am to just after 11pm. Alight at the main station, Dworec Glowny, where you'll find maps, info points, public transport connections and you'll be a mere 5 minutes walk from the main square. An alternative 208 service runs slightly less frequently though this is for those staying near to the Nowy Kleparz district. For both services, it's worth remembering that these services are not exclusive airport services and are normally pretty packed by about the halfway point of the journey. Journey time 25-35 minutes. Check out the MPK website for exact times and routes.
TAXI If the thought of busing it with luggage after your flight doesn't appeal, taxis will be on hand immediately upon leaving departures. A trip to the centre shouldn't cost more than 70 PLN (about 17 GBP, 22 EUR or 33 USD). Much more than that and they've seen you coming...
If you're looking to take the hassle out of the final leg of your journey or don't fancy being taken for a less pleasant ride, why not use our Krakow taxi transfer service and we'll take care of it! For 70 zloty we'll put your name on a board, wait for you at arrivals and take care of your baggage for you - the stress-free way to arrive in style.
TRAIN Bit of a locomotive enthusiast? A recently opened service connecting the main rail station, Dworec Glowny, with Krakow airport runs approximately every half hour from 4am until midnight. Tickets are available on board for 6 PLN (1.50, 2 Euros). The platform is approximately 200 metres from the passenger terminal though a free shuttle bus is on hand for the weary. Journey time is approx. 15 minutes.
Other Polish Airports
Here's some great information about the airport in Warsaw from our top sister site, Warsaw Life.
Hopefully your plane won't get diverted due to fog or snow, but just in case, you can find out a lot more about other airports in major Polish cities on our sister sites, including Wroclaw Airport and Gdansk Airport.
---
Krakow flight arrivals and departures - LIVE
---
Comments