John Paul The Great
There is something of a syndrome that great Poles are cut down in their prime. There was Napoleon's dashing marshal, Jozef Poniatowski, who drowned in the River Elbe, and World War II Commander General Sikorski, who died in a mysterious plane crash in 1943. And then there are the legions of artists from Chopin to Wyspianski who all fell before their time.
In May 1981 it looked like the same fate was due for Karol Wojtyla, Pope John Paul II. He had just ascended the throne of St. Peter's, and his visit to Poland in 1979 had provided the catalyst for the heroic Solidarity protest movement. Moscow was tearing its hair out. Of all the people in the world who might have been elected Pope, Wojtyla was their nightmare choice.
Then the assassin's bullet struck.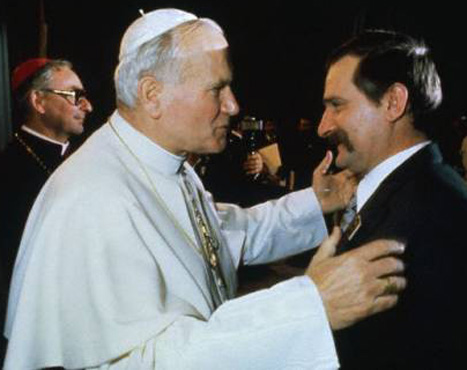 Perhaps we'll never know whether the attempt on the Pope's life was organized by the KGB. A new inquiry has just been prompted after Bulgarian Cold War files relating to the case were found sopping wet in an old storeroom. But either way, Poland's best-loved son survived. Not only did he survive, he went on. In fact he went on and on and on - seeing out the collapse of the Iron Curtain in 1989 as well as Poland's accession to the EU in 2004. In the meantime he zoomed back and forth across the world with all the energy of a twenty year old.
To the Poles he was a hero. Certainly, it would be wrong to claim that all Poles agreed with every policy of their Pope. But this did little to diminish their pride and affection for him. He is remembered here in Cracow (where he eventually became archbishop for 15 years) as an extraordinarily warm and caring soul who always had time for his flock. Cracovians called him Uncle. He was a keen sportsman, who hiked, canoed and skied at any given opportunity, often with groups of loyal students. And his sense of humour rarely failed. When he was awarded the Cardinal's hat, someone suggested that it was inappropriate for a man in such a position to ski. He replied with typical wit: "It is unbecoming for a cardinal to ski badly!"
The news that Pope Benedict XVI had begun the process for the canonization of his predecessor was warmly received by the Poles. For many in the West, the concept of sainthood is a somewhat peculiar one. However, given that millions of Poles are already praying to John Paul, this is a most natural step. Pope John Paul II will join an elite group of Cracow saints, the first of whom, St. Stanislas, was canonised in 1253. Cracow has been a destination for pilgrims since its earliest days, a tradition that will only strengthen with the canonization of John Paul. Cracow's 'Uncle' may not have been buried here in the end, but the echoes of his presence can be witnessed all around, from statues to churches to his former home itself, the centuries old Archbishop's palace.
Comments