Auschwitz
To an unsuspecting motorist, the sleepy, slightly run-down town of Oswiecim might seem like many others in this part of southern Poland. Yet seventy years ago the German occupying forces opened a concentration camp here. Soon afterwards they evacuated the nearby village of Brzezinka and created a much larger camp, covering some 425 acres. What was to go on there was to be veiled in the utmost secrecy and a forty kilometre zone was enclosed to make the area inaccessible. As a matter of course, the two places were then given German names, Auschwitz and Birkenau.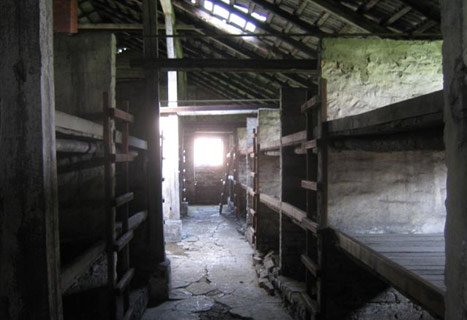 Today, from amongst all the horrors of the Second World War, it is the name of Auschwitz that has come to symbolize the nadir that 'civilized' Europe sunk to in that era. And whilst the Nazis tried to conceal the worst aspects of the business that was done there - frantically dynamiting crematoriums and execution walls as the Allies closed in - such efforts proved futile. The evidence is plain enough for all to see.
Many visitors come to Poland with the intention of trying to connect with the worlds that vanished during that era. The experience of visiting Auschwitz and Birkenau can vary incredibly depending on the time you come, and this is an important factor to bear in mind. An afternoon in July, (when the museums are packed with visitors from around the world) can seem faintly unreal. However, a snowy winter's morning in February can bring home the ghastly truth of what happened here in a very powerful way.
But before the Second World War, Oswiecim was a thriving centre of Polish Jewish culture for over 500 years. The history of the Jews in the area, from the before the terrors of the Nazis to the present day, is chronicled in the Auschwitz Jewish Centre, a museum well worth seeing in addition to the actual camp museum.
Click here to Book a tour of Auschwitz
Comments