Krakow Nightlife Guide
What happens when you take an ancient Polish capital, fill it to the brim with cafs, bars and clubs, mix in roughly 120,000 students and then shake this up with a generous measure of ex-pats and young tourists on holiday? The explosive cocktail that is Krakow's nightlife: that's what!
And where can you sample this heady and hedonistic brew? There's no better place to start than in Krakow's splendid Old Town where, underneath a faade of ancient architecture, are housed countless dens of vice and inequity all eager to cater for your ill-advised pleasure. Those of you that have spent any time in Krakow will agree with me when I say that there are few greater experiences in life than following your nose down a dark alleyway or into a cloistered courtyard to discover yet another fantastic bar that you'd never been to before. But if you are new to the city, or are planning just a short visit, then you needn't worry, you don't have to be Keith Richards to track down a good watering hole - we at Local Life have done the hard work for you! In addition to our complete caf, bar, pub and club listings we would like to proudly present to you our specialist section, Local Life's very own Nightlife Guide.
PS: This one is a little old - for a more up-to-date article, please read "Where to go dancing in Krakow"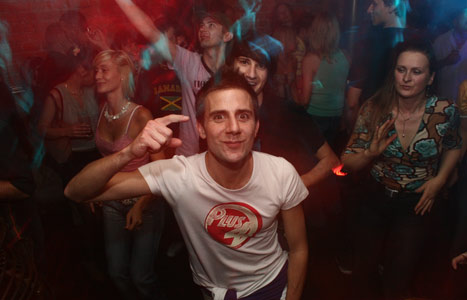 Pubs
Let's start with the pubs. Now whereas many a young Pole feels that it is perfectly OK to rock up to a club at ten o'clock and make themselves comfortable for the night, the English amongst us know that this nefarious practice is in fact illegal. All nights out, by orders of Her Majesty The Queen (whose authority bypasses such frivolities as international borders) must start in a bar and no later than eight o'clock! Luckily for those of you who share this Anglican ideology, Krakow proves to be something of an alcoholic's paradise. There is a fantastic selection of pubs and bars, often housed in attractive subterranean cellars, which will serve you their finest piwo (beer) for around eight zloty a time (that's about a pound and a half, or two euros). One such cellar bar (or 'piwnice' as they are known in Polish) is Piec Art. These types of places attract a young academic crowd, relatively free of tourists, and are great places to savour a pre-club beer and build up the excitement before the carnage begins in earnest. Piec Art also hosts the occassional jazz night. If though you prefer something a little less studenty and a bit more swanky, then Boogie Bar and Shakers Club are the upmarket joints that are aimed at the money crowd. But then again why not chill out in the relaxing confines of the Budda Drink and Garden, or watch the world go by from any of the many cafes in the main square? When it comes to drinking this city simply spoils you for choice!
Clubs
If Krakow isn't short of a bar or two (about two hundred in total by all accounts), then you don't have to go very much further to find a club. The roads leading onto the main square are chock full of doorways, which, unnoticed during the day, sprout big burly doorman at night and entice you in with the powerful thump of a familiar bass-line. Although there are clubs that cater for every taste, the vast majority of venues plump for the lowest common denominator soundtrack of house and techno, splash out on a nice bit of decor and succeed in attracting a mix of tarted-up girls and the usual suspects trying to pull them - or get dead drunk trying. Frantic on Szewska features very palatable house and the girls are tops. There's a second room for hip-hop, and usually the entire place is ram-packed from Thursday to Saturday, whilst Goraczka next door plays cheesy party music and is lively every night of the week, even on Sundays (and if all the good girls are at church that leaves only the bad girls, right?).
Whereas you can enjoy full-scale carnage at any of the above if (like the author of this guide!) you are a something of a 'club snob', then don't despair - there are a few genuinely great places in Krakow hosting serious music nights for the more discerning party-goer. Near the top of the list is Rdza, which has welcomed drum and bass acts as famous as Andy C on back-to-back nights with Makoto feat. MC Deeizim, whilst Ministerstwo is another good alternative to the generic tourist traps, and a worthy addition to the Krakow nightlife scene. But of course, when it comes to the big players no guide to Krakow's nightlife would be complete without mentioning Krakow's most wayward child, Prozak. With its shameless (and yet not entirely without merit) door policy of letting in only fit Polish girls and rich foreign men you might expect the worst, but it regularly stumps up stunningly original house and techno sets that are surely wasted on some of the clientele. Needless to say that if you feel differently please keep us informed by posting a review!
Did someone say they don't like dance music? Shame on you, but fear not - when the thought of yet another night of 130bpm blasted at your poor lugholes gets too much, then you can visit one of Krakow's 'alternative' venues, for 'alternative' people. Carpe Diem I and II and the Tower Pub dish up the metal to the rock kids; and, if you want a truly Polish experience, check out a ragga party at Art Klub Bledne Kolo, which by the way also hosts some pretty wild electro parties, normally on Saturdays. Finally, housed in the same building on Wielopole street, Caryca, Lubu-Dubu and Kitsch add further diversity to the Krakow nightlife experience, and each come complete with their own cult following. Kitsch is one of the only gay bars in town and is famous for throwing a riotous party until the very early hours. (Editorial note - these 3 clubs on Wielopole are currently CLOSED due to buillding regulations, but we will keep this page updated should they re-open)
If all that isn't enough to keep you entertained in Krakow then you will be pleased to know that this is just the sand in the city's bikini, and there's plenty more left on the proverbial beach. Besides the Old Town the reinvigorated area of Kazimierz is rapidly enlarging its reputation as the place to be right now. A bevy of bars and cafes and a couple of clubs are pulling the arty crowd away from the tourist hordes in the main square and preserving a genuinely sophisticated drinking scene in the unique Jewish Quarter. The majority of the best venues can be found in and around the Plac Nowy, the funkiest of which is surely the ultra-hip Alchemia. Worth its weight in gold on any day of the week, it also hosts various concerts and performances in the shadowy depths of its downstairs. More upmarket, Le Scandale is the name on the lips of those in the know. But if you are looking for romance (viz. a cheap lay) be warned, the Kazimierz crowd wouldn't look out of place in Hoxton's finest and the chat up line 'do you speak English?' doesn't guarantee the same sort of success that it does in the tackier joints around the Old Town.
One more thing you should remember about Krakow's nightlife is that it is heavily influenced by the seasons. As summer rolls on and the Polish students finish their exams and jet off to man the bars of London and Dublin, or to venture even further afield, the scene will change considerably. Their number will easily be replaced by the high season's tourists and it's a safe bet that anywhere with seats in the sun, plus all the clubs around the Main Square, will be doing a roaring trade as excited young hedonists on holiday hustle at the bar to be the first to spend their zloty. It's not real money after all!
So now that you know a little about Krakow's nightlife, don't you think it's time you checked it out for yourself? There are hundreds of places besides those mentioned here to try out and we suggest you use our pub and caf directory to get a fuller flavour of what's for you. We are just the few and you are the many, so don't let your opinions of a venue you have visited go to waste. Keep us and our users informed by posting a review and help us make Cracow Life the most up-to-date and accurate guide to the city's hotspots. Remember the best and most informative annual review wins a weekend trip for two back to beautiful Krakow with all expenses paid - that includes flights courtesy of Local Life, tours courtesy of Krakow Tours and accommodation courtesy of Krakow Apartments!
Comments