Discover Katowice
Many people come to Katowice by chance - their low-fare flight happens to fly to the Katowice Airport, or they have a few hours to kill between trains at the Katowice Central Train Station. But we have a wild suggestion: don't just think of Katowice as a stopping-point on the way to Cracow or other larger cities, but take the time to discover this little city in south-western Poland - you might just be pleasantly surprised!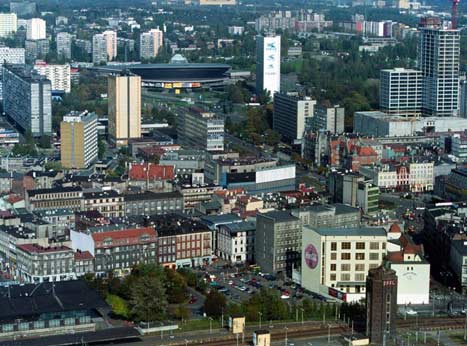 Getting There
Polish rail (PKP) has a good connection to Katowice (the train to Wroclaw, not to mention Prague and Vienna, goes through there), and the journey takes an hour and a half. You can check their timetables here.
The Town
Katowice is located in Upper Silesia, which means it's changed hands many times in its long history. Originally inhabited by ethnic Silesians, it was ruled by the Polish Piast dynasty before falling into Czech hands in 1335, and then into the Hapsburg domain in 1526. The city of Katowice was founded in the 19th century, gaining city status in 1865. The city has a long history of being a multi-ethnic city, and its inhabitants consisted mainly of Poles, Germans, Jews, and Silesians. After the Industrial Revolution, the city became one of the largest centre of coal and steel production, and to this day is known as an industrial centre of Poland.
What to See
While it's not the cultural mecca Krakow is, Katowice still has several cultural centres, including the Wyspianski Silesian Theatre, Silesian Philharmonic, many museums including the Silesian Museum and the History of Katowice Museum, and is the site of numerous festivals and music concerts year-round.
Despite its industrial background, Katowice has plenty of green spaces and parks to relax in, particularly in the warmer months. Silesian Culture and Refreshment Park, Tadeusz Kosciuszko Park, and Zadole Park are just a few of the larger ones, and dozens of others lay hidden throughout the city.
The city centre itself displays a good contrast of modern skyscrapers and Modernist and Art Nouveau buildings from the turn of the century, notably the Cathedral in Katowice and Drapacz Chmur, one of Europe's first skyscrapers. Katowice's Rynek is getting a facelift soon as well, though today you'll find a nice promenade with many shops and restaurants. Other historic buildings worth seeing include St. Stephen's Church, Silesian Insurgents Monument, the Silesian Library, and the Goldstein Palace.

Fun in Katowice
Even though the city is much smaller than Krakow, Katowice gets a surprising number of good live music acts that play on its stages. Perhaps it's the quality of the larger venues it offers, whereas in Cracow you'll mostly find bands playing in smaller underground clubs. Here's some of our favourite venues for catching a great live show (or having a few beers on regular nights).
Cogitatur is Katowice's premier concert venue, featuring a spacious stage upstairs and a full bar with a tasty menu on the lower level. Our favourite Jekyll and Hyde type of club is Hipnoza Jazz Club and Electro, another spacious bar with high ceilings and jazz music on the top floor, and a cool basement bar with non-stop electro/lounge music in the basement. Spodek is where all the major foreign acts rock out on, so if you'd like to catch stars like Tool or Depeche Mode, chances are you'll see them here. Chorzow Stadium is another place to catch huge foreign acts, and is an outdoor venue located in wonderfully gigantic Chorzow Park.
For more information, please visit the city's official website.
Restaurants/Pubs: Zloty Oshau (misspelled) - (The Golden Donkey) This is my personal favourite, as it is a great, artsy vegetarian place with great homemade, fresh and healthy food. Also, it is very cheap for a main course complete with the choice of 2 types of salads. COGITATUR - This is Katowice's premier concert venue with the spacious stage upstairs and a full bar with a tasty menu on the lower level. New Century Classics are destined to rock it here someday! Hipnoza Jazz Club/Electro - Another spacious bar with high ceilings and jazz music on the top floor, (Hipnoza), and a cool basement bar with non-stop electro/lounge music in the basement. (Electro) Concert Venues: Spodek - A classic venue for all the major foreign acts to rock out on, including Tool headlining at this year's Metal Hammer Festival on Aug. 12th! Chorzow Stadion - Poland's premier outdoor concert venue in wonderfully gigantic Chorzow Park. Summer acts include PJ (June 13) and Red Hot Chili Peppers (July 7th)
Comments