International Festival of Jewish Culture
This tremendous festival has been held in Krakow for over twenty years now, and the former Jewish district of Kazimierz has itself steadily regained its colours during those years. Kazimierz may still be somewhat rundown in parts, but it's now one of the most spellbinding areas in Krakow, and the Festival of Jewish Culture is undoubtedly one of the brightest feathers in its cap.
Every year in June or July visitors are able to enjoy celebrated Jewish and Jewish-inspired acts from across the globe strutting their stuff in Kazimerz's synagogue, cellars, theatres and cafes. Amongst regular performers, hot names to look out for are Kroke, Brave Old World, The Cracow Klezmer Band and Ukrainian newcomers The Kharkov Klezmer Band.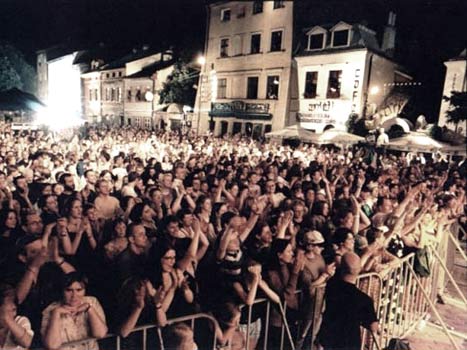 On top of all this music, every year there is an interesting programme of book launches, lectures, tours of Jewish sites with international experts, and even introductions to the weird and wonderful world of Jewish cuisine - in short a unique insight into Poland's rich Jewish legacy. During the Renaissance and Baroque eras, Jews talked of Krakow as a 'Jewish Paradise', such was the extent of their freedoms and of the richness of cultural life in the city.
A key support player in the festival will be the Galicia Museum (ul. Dajwor 18). This recently opened enterprise deserves a special mention, not simply due to its programme of events for the festival, but also for its permanent exhibition, which could not come more highly recommended if you're curious about Poland's Jewish legacy. Their exhibition is nothing short of a masterpiece.
Every year the festival culminates in a huge open air concert on the picturesque Szeroka Street (the aptly named Wide Street). It's a lot of fun and there'll be plenty of dancing and merry-making to round things off.
You can pick up a printed copy of the festival programme from the Cultural Information Office just off Krakow's Main Market Square at ul. sw. Jana 2. Or if you want to keep tabs on the latest news online, check out the Local Life events section, where you'll find up to the minute information on what's going on.
Comments