Universities & Academic Institutions
If your backpacking stop in Cracow really bowled you over, you may want to find out more about the curious country that is Poland. And luckily enough, there are several intriguing options to do so for those with a thirst for knowledge about all things Polish, and indeed the wider orbit of Central Europe.
Cracow is home to a veritable galaxy of academic institutions. The most prestigious is of course the Jagiellonian University itself, founded all the way back in 1364. After Prague's University, it's the oldest university in Central Europe, as no doubt you've been told by all and sundry.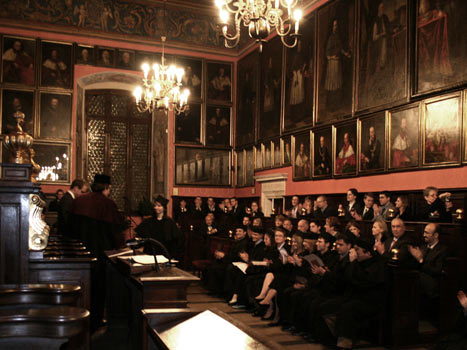 The Jagiellonian offers some interesting MA programmes in the English language, whilst if you're from a Polish family in America, Canada, England or indeed anywhere else on this barmy planet, Cracow is your oyster so to speak - or your pierog if we polonize the expression.
Besides the Jagiellonian itself, several other academic institutions offer courses or exchange programmes for foreigners. These include the long-standing Academy of Fine Arts, the School of Medicine (also joined to UJ), as well as the architectural faculty of Krakow's Polytechnic.
Of course, the old rivalry with Warsaw extends to academia too - and that young upstart of a city does indeed have some superb academic institutions; many are the best in the country. However, in terms of a congenial city to actually live and study in, Cracow, with its laid back charm, may be the more tempting offer. Students are sure to enjoy researching the peculiarities of Cracow's bar scene, as well as the epicurean merits of the leading Polish ales, Zywiec, Okocim and Tyskie.
Krakow Universities
Instytut Fizyki Jadrowej (Institute of Nuclear Physics)
Distinguished Institute founded in 1955.
ul. Radzikowskiego 152
Tel: 662 80 00
Akademia Gorniczo Hutnicza (University of Science And Technology)
Founded 1912. Courses for foreigners.
al. Mickiewicza 30
email: rektorat@uci.agh.edu.pl

Uniwersytet Jagiellonski (The Jagiellonian University)
The grand old man of Polish academia. Ever-improving courses in English and numerous options for ex-pat Poles, the centre now offers an MA in Transatlantic Studies.
ul. Golebia 24
There's also the Institute of European Studies, which offers MA within the Euroculture Programme.
ul. Jodlowa 13
Politechnika Krakowska (Cracow University of Technology)
Prestigious institution. Architectural faculty has popular exchange programme for foreigners.
ul. Warszawska 24
tel: 628 20 00
website: Politechnika Krakowska
email: sekretariat@pk.edu.pl

Panstwowa Wyzsza Szkola Teatralna (Distinguished School of Theatre)
Many great figures have been associated with the enterprise, including former director Jerzy Grotowski.
ul. Straszewskiego 21
tel: 422 81 96
email: sekretariat@pwst.krakow.pl

Akademia Sztuk Pieknych (The Academy of Fine Arts)
Named in honour of the great painter Jan Matejko. Wyspianski, Mehoffer and numerous others taught and studied here.
pl. Matejki 13
tel: 299 20 00

Akademia Muzyczna (The Academy of Music)
Has the best view in Cracow, and the standard of musical excellence is equally lofty.
ul. Tomasza 43
tel: 422 32 50

Akademia Rolnicza (Agricultural University of Krakow)
ul. Mickiewicza 21
Rectors Office
tel: 633 13 36, fax: 663 62 45
rektor@ar.krakow.pl
International Relations Office
tel: 662 42 60, fax: 663 62 45
recint@ar.krakow.pl

Akademia Ekonomiczna (The Academy of Economics)
One of the most distinguished in the country.
ul. Rakowicka 27

Akademia Wychowania Fizycznego (The Academy of Physical Education)
al. Jana Pawla II
tel: 683 10 00

Collegium Medicum (The Jagiellonian University Medical College)
ul. Anny 12
tel: 422 54 44

Akademia Pedagogiczna (The Pedagogical University)
Follow in Copernicus's footsteps!
ul. Podchorazych 2
tel: 662 60 60

Papieska Akademia Teologiczna (The Pontifical Academy of Theology in Cracow)
ul. Kanonicza 25
tel: 421 84 16

Szkola Wyzsza im. Janskiego (Bogdan Janski Academy of Management and Enterprise)
ul. Witosa 9
tel: 654 54 69

Wyzsza Szkola Zarzadzania i Biznesu (The School of Banking and Management in Krakow)
ul. Armii Krajowej 4
tel: 638 38 66

Krakowska Szkola Wyzsza (Krakow Graduate School)
ul. Kanonicza 9
tel: 433 99 00

Wyzsza Szkola Ekonomii i Informatyki (Krakow Graduate School of Economics and Computing)
ul. Filipa 17
tel: 431 18 82

Wyzsza Szkola Zarzadzania (Polish Open University)
ul. Glowackiego 12
tel: 638 57 33

Wyzsza Szkola Europejska (The Tischner European University)
ul. Westerplatte 11
tel: (12) 683 24 00

Malopolska Wyzsza Szkola Zawodowa (Malopolska Vocational Graduate School)
ul. Wincentego Pola 4
tel: 428 24 50
Comments