Travel - Getting Around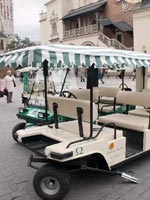 Above: Choose between getting in one, or constantly having to avoid the little menaces... Left: Faster driver, faster! Below: There's only one winner in a Tram vs. Car head to head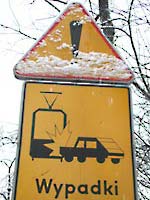 By taxi
The big trick of taking taxis in Cracow is to avoid taking one from a rank on the street. You will pay 30 percent less if you order one by phone. This leads to the bizarre sight of people with mobiles ringing whilst standing next to the taxi they wish to take. A minute later, following clearance from ground control, and the punters are on their way! If you are looking for a reliable taxi service, either to the airport airport or elsewhere in town then you can use Cracow-life.com's online taxi booking to reserve your ride. Alternatively call 9191 when you arrive and tell the operator that Cracow Life sent you! Please note that taxis cannot be hailed from the street whilst they are moving. You will be ignored!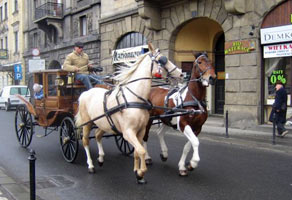 By car
You can hire a car to get around, but if you plan to spend most of your time in the city, think carefully. Apart from the difficulty of driving on the right, there are trams to contend with, a boggling one-way system, and signs that even native Poles struggle to comprehend. Parking is severely restricted in the Old Town, and three different enforcement agencies (Parking, Municipal and National Police) to contend with. The alternative, public transport, is a far better bet.
By public transport
What most cities dream of - safe, efficient and cheap transportation, through a network of trams and buses. Buy your tickets (2.50PLN for adults, 1.25PLN concession) from any of the little kiosks that are dotted around the town. All journeys cost the same, irrespective of distance. Jump aboard the bus or tram and punch your little ticket in one of the little orange boxes. Keep the stamped stub for the not infrequent checks by plain-clothes inspectors.
By bike
Those cobbles aren't very good for your backside, and there's always the crowds and pigeons to contend with, but nonetheless getting around Cracow by bike is a great option. You can whizz round the Old Town in a jiffy and, thanks to the added mobility of two wheels, you can also head further afield.
Comments