Kazimierz
Kazimierz, which lies to the south of the Royal Castle, was once a town in its own right. With its labyrinthine streets and low-standing houses, it feels like a different world to the Old Town, and indeed, you may well get lost here. However, this is not a bad thing, but very much part of the whole experience.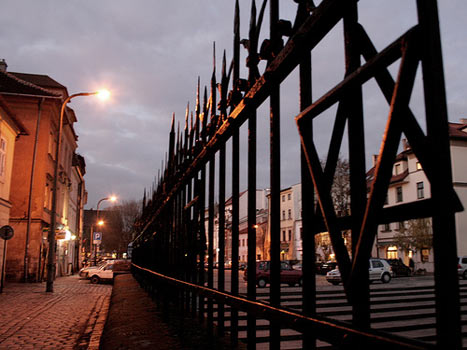 A History of Kazimierz in 30 seconds
The town was founded in 1335 by King Kazimierz the Great, and as its splendid churches and synagogues evoke, it was once a world of prosperity and tolerance. Before the Second World War started, Kazimierz was the centre of a thriving community of Jews (around 65,000), who were - amongst others - traders, bankers, restaurateurs and celebrated craftsmen. Yiddish and Hebrew was spoken and written, and Krakow had no less than 6 synagogues. However, the death-knell for this thriving centre of Jewish Krakow was sounded in September 1939 with the Nazi invasion, and the sweeping away of this whole world. Step-by-step the Jewish community was dehumanised, stripped of its dignity and possessions, moved to a Jewish ghetto in the Podgórze district, and finally, those who had survived were deported to the nearby concentration camps of Auschwitz, Birkenau (and others) to meet their ultimate fate.
As recently as the year 2000 much of Kazimierz was still in ruins, a crumbling shell of its former self. Numerous houses, which initially gave the appearance of a squatters' paradise were, on closer inspection, simply treacherous shells, where whole floors had collapsed, rendering many areas highly dangerous. Kazimierz was known as a dirty, not altogether safe place, inhabited by stray dogs and morose alcoholics. And to add to this there was the highly emotive issue of land repatriation. The former owners, almost all Jews, had had their property confiscated by the Nazis during the Second World War, and most were killed in the concentration camps of Auschwitz, during the horrifying holocaust. With the difficulty in locating any surviving heirs, and the complications of ascertaining the legal owners, many buildings were simply left to rot. However today, out of the blue, Kazimierz is undergoing a major renaissance. Both its Jewish and Christian heritage is being restored, and colour has returned to its alleys and squares. Just wandering about is an experience in itself, but here are our suggestions for the 5 most important things to see or do.
Where exactly is Kazimierz in Krakow?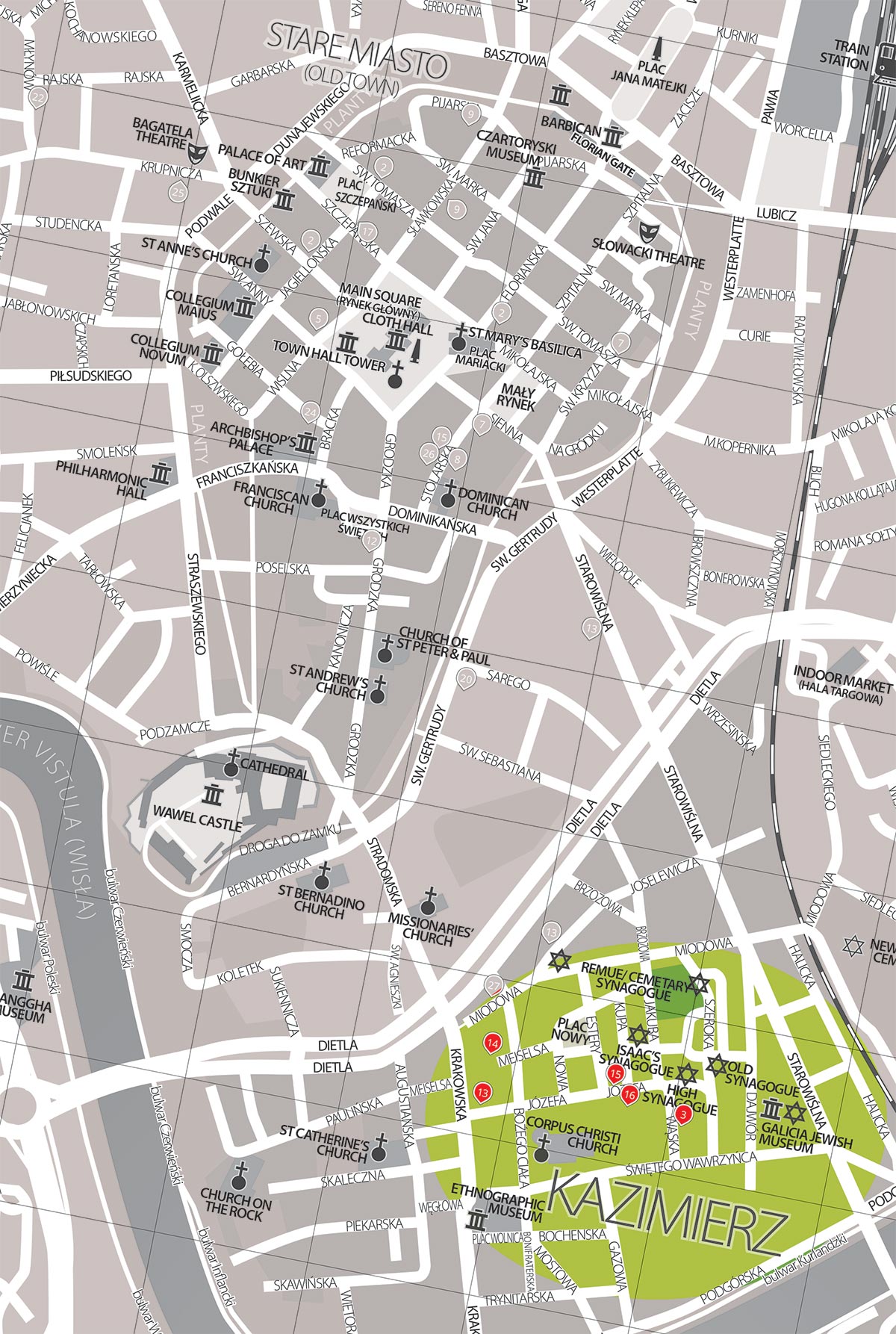 Most visitors to Krakow will start their trip in the Old Town, where most of the more important sights are to be found. Kazimierz is an easy 10 minute walk from there, and a wandering stroll through the network of back streets and tramways will give the visitor a good indication of local life in Krakow.
Top 5 things to do in Kazimierz
1) Grab a 'Polish Pizza' on Plac Nowy
Italy has pizza. Poland has 'zapiekanki'. One of these foods has become a global hit, whilst the other, well, has stayed firmly in its place. But if the latter has a beating heart, it must be here in Kazimierz, and more specifically on Plac Nowy, the old market square in the centre of the former Jewish quarter. Late night clubbers flooding out of the pubs and bars are inevitably hungry, and a roaring trade grew up providing them with, essentially, pizza toppings on a long sliced and toasted baguette - the said 'zapiekanka'. The round building in the centre of the square started out with just one kiosk serving these - Endzior - but now many of the windows serve up their own variations on the theme. The reason why the zapiekanka never became a global food hit? Frankly, because its not as good as pizza. But while in Krakow, best do as the Krakowians do, and give it a try.
2) Hala Targowa Flea Market on a Sunday
We all like a rummage around other people's stuff, right? Now you get your chance to legitimately pick your way through the discarded, unloved or stolen contents of Polish households. What will you find? Perhaps you'll stumble across a Hogarth Press first edition signed by Virginia Woolf? (Unlikely - my father has tried) More likely you'll settle for an 2001: A Space Odyssey poster, which looks oh so much cooler in Polish. Or an Eastern Bloc bakelite radio. Or a set of rusty spanners. Fight your way through the hordes who settle here every Sunday and grab yourself a dust-collector to take home.
3) Second Hand Clothes Shops
Whilst shopping for second hand clothes has been popular for years in many countries, the Poles have turned it into an art form. In the UK, customers drift quietly through charity shops staffed by genteel ladies, with stock neatly priced and racked. In Poland, patrons line up at the front door like its a Black Friday sale, then handbag each other out the way to grab clothes by the armful and buy their articles by weight, the price per kilo determined by the day of the week and thereby the 'freshness' of the stock. Confused? You will be. But you'll also be excited by your chance to pick up a truly unique item or two to impress your fellow hipsters back home. Kazimierz has more than its fair share of second hand clothes shops, so just keep your eye out for them, or read our article here for some more specific advice.
4) ulica Szeroka
A square which looks like a street, or a street which looks like a square? The latter. ulica Szeroka (literally 'Broad Street') is the heart of Kazimierz, home to three of its surviving synagogues, hotels, cafes, restaurants - and the local police station. Visitors can spend half a day here, choosing between guided walks (mostly very good), being driven around the district on an electric golf trolley (universally an expensive and bad idea), enjoying the local cafes and places to eat, and picking up some tourist knick-knacks to take home. Locals, however, may also be found visiting the police station to pick up their wayward teenage children (who shall remain nameless) for breaking the law by drinking beer from cans on local park benches. Yes. In Poland, drinking in public is prohibited. Coming to Krakow for a lads weekend, hen party or stag do? Keep your drinking activities to the pubs and bars. You have been warned.
5) Galicia Jewish Museum
As Kazimierz began its long, slow recovery from the horror of the holocaust, it wasn't until 2004 that the district had a proper place to reflect on everything that had befallen it, documenting life before the Second World War, as well as encouraging and providing a focus to document its rebirth in the context of the whole region. Founded by photographer Chris Schwartz, the Galicia Jewish Museum was launched with his collection of over 1,000 photographs documenting the traces of Jewish culture in Poland. With both permanent and temporary exhibitions taking place in this former warehouse, it is an important place to reflect on Kazimierz's traumatic history and hopes for the future.
Kazimierz Tours
Whilst wandering around Kazimierz on your own is a great way to enjoy the atmosphere of this fascinating part of Krakow, to learn more about its history, taking a local tour with a qualified guide will give you extra insight. Here are some of the best options from GetYourGuide.
A final Word
There is so much to do and see in Kazimierz that you are sure to need a break at some time. Although we have a comprehensive list of pretty much all the drinking holes, here is a shorter list of some of our personal favourite bars in Kazimierz. Kick back at one (or all!) of these places and get the real vibe of the district over a coffee, beer, or something stronger.
Comments