Krakow Rynek Glowny
Krakow's Rynek Glowny is considered one of the most beautiful squares in the entire world. Known as the "Market Square" or the "Main Square" in English, in Poland it is known - strangely enough - by its Polish title, the Rynek Glowny. The Rynek is also the term used by many foreigners and ex-pats who know the city quite well. If you would like to read about Krakow's Rynek Glowny in English head to:
Or in Polish, head to: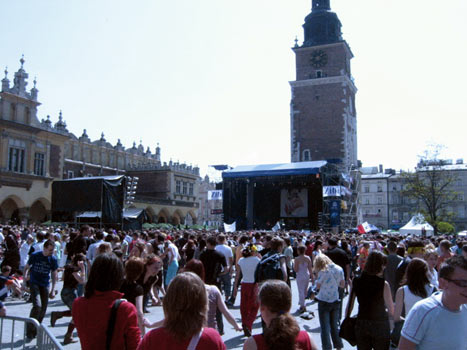 Comments
Krakow a wonderful city, just returned, nice people, great food and drink, lots to see and do, Beautiful at night, make sure you tip everyone, cant wait to return.
Reply
on our way, April 2011! will post reviews when we get there, and back, in one piece.
Reply
I love Krakow. The Old Market Sq is just marvellous with lots of lovely cafes and bars where you can sit in comfort and watch the world go by. The beautiful horse drawn carriages are delightful. Krakow is full of history and colour and its people are sincere and friendly. A visit to the cathedral in the Market Sq and also Wawel Castle is a must. I also took a wonderful tour to Nowa Huta where we could see the apartments where the workers lived during the communist days. Our guide, Piotr, was very informative and full of personality. No trip to Krakow is complete without a visit to Auschwitz. You will never forget this truly awful place where so many innocent people suffered so much under the Nazis. We has a superb guide there. Krakow is a wonderful city and I would never get tired of visiting it. Poland has a rich history and it suffered so much in the past. It has great character, culture and depth. I have been to Krakow a number of times. I am lucky to have some wonderful Polish friends who are kind and fascinating people. I wish Poland and its people the very best. They truly deserve it.
Reply
Krakow is definitely bustling, but beware of parking zone C - the 2 hour limit is not posted, and I got towed!! I pulled in nose first like everyone else, was not sticking out, and could not figure out why I got towed (and the parking police didn't even know). Anyway, this website clearly identified the parking zones A, B and C. Thanks! btw, I parked in the cobble-stone area at the intersection of Krowoderska and Slowianska. Milego Dnia.
Reply
This is what a city centre should be.Visited (in June 07)and you can sit there for hours and watch the world go by.Magnificent place.
Reply