Cracow Life all over town!
Picture this situation: you arrive in Krakow, eager to explore all the museums and churches you've read about on Cracow-life.com (not to mention the clubs and shops), and you know exactly where your hotel is thanks to our handy map. Suddenly, a band of laptop thieves disguised as circus clowns grabs your laptop bag right on the Market Square and runs off (don't worry, this wouldn't really happen in Krakow). OK, so you've lost all your bookmarked places you meant to check out, as well as our printed PDF guide you had in your bag, but no fear - you still have the your handy green printed map with all the best places in Krakow right on it. As you're spreading it out to find your hotel, a flock of confused pigeons mistake it for one of the storefront windows they so like to fly into and fly right through it, tearing it to shreds. What to do?!?
Luckily, after wiping the tears from your eyes you look up to find this bastion of information right on the Market Square: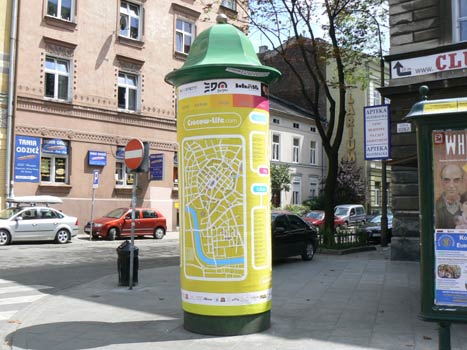 That's right, Cracow Life City Posters have arrived! These green giants will feature the best restaurants, hotels and apartments, pubs, nightclubs and cafes, shops, museums and cultural institutions, and places to have fun in the city. Of course, our famous map of Krakow is included as well, with the above-mentioned places pointed out for you. This summer, we'll have eleven of these bad boys all around the Square, which means you'll never get lost or run out of places to go.
If you are a Krakow business and would like more information on how to be included on our map, please contact us!
Comments
These are a great idea! I saw them last summer and they really helped me find my way around the city as well as give me some great ideas for places to go! I'm coming back to Krakow again this summer, so I hope to see them all over the city like last year!
Reply
GREAT GREAT GREAT !!!!
Reply
This is a very nice project! I think it is nice and colourful for the city - it is modern and also useful. I have made some photographs of these displays to show to my design students at University back home. Well done!
Reply