Travelling to Ljubljana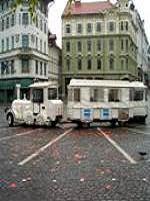 Above: Train-hop to the castle


Below: You should be so lucky!
By Air
Ljubljana has its own airport in name, although Ljubljana-Brnik Letalisce is actually around 25 kilometres from the city. This shouldn't prove a problem as there are numerous ways of making it into town that won't leave the pocket feeling light and also won't take too much time out of your day. The national bus company offers a cheap, regular service to the centre of the city, as does Easyjet. The journey will take no more than 45 minutes, and at certain times of the day no more than 25 minutes. If the bus isn't really your thing, then taking a taxi is the next best way. Be sure to check the price with the driver before getting into his car, and maybe compare a few prices amongst the rival firms. By taxi, the journey should take between 15 and 20 minutes. You can fly from Britain to Ljubljana with either Easyjet or Slovenia's very own national airline, Adria.

By Rail
The chances are that if you're travelling to Ljubljana by train, you are coming from a city outside of Slovenia. Ljubljana has direct connections to Vienna in Austria, Trieste and Venice in Italy, Budapest in Hungary, Zagreb in Croatia, Belgrade in Serbia, plus a whole host of other European cities. So check before planning your journey, but the probability is that getting to Ljubljana by train will be a feasible option.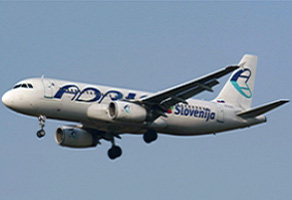 By Bus
Taking the bus into Ljubljana probably also means that you are travelling across international borders, most likely from Italy or Croatia. It may be true that the bus is often the most economical way to get around, but unfortunately international buses into Ljubljana don't run as frequently as you might think. For example, there is only one bus a day arriving from Trieste (Italy). Your best bet is to always check first with the train companies, and if you should find yourself fortunate enough to be in the departing city at the right time to jump on an out-going bus, just count yourself among the fortunate few. Also, bus journeys to and from Ljubljana are often on ancient vehicles driven by moody drivers.

By Car
Getting to Ljubljana by car is painless - and at times even quite nice. The motorways have all been improved recently and the roads are in perfect condition. Ljubljana is easily reached from any one of the four neighbouring countries. A word of warning though; the road tolls are far from cheap.
Comments