Ljubljana Markets
Yet another of Ljubljana's charms is its many public markets. The open air markets of Vodnikov trg contribute just as much to Ljubljana's laid-back, easy air as the endless cafes along the river.
A pleasant peruse through Ljubljana's Central Market is just as much of an obligation for visitors as that imposing castle up on the hill. Infused with colour and fascinating smells, not to mention fabulous architecture in the case of Plecnik's collonade, the city's street markets are a major attraction whether you dabble in the dark art of consumption or not. Undoubtedly you will, as Ljubljana offers everything you could ever want and more without asking you to step foot inside an odious hypermarket.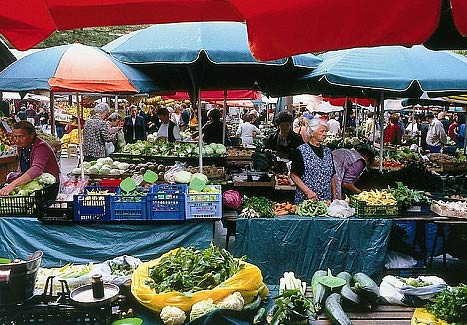 This picturesque public market occupies the entire breadth of the Ljubljanica river embankment from the Dragon Bridge to Triple Bridge. Designed by ace architect Joze Plecnik between 1940 and 1944, the central complex consists largely of elegant Renaissance-influenced arcades that follow the sweep of the river. Plecnik originally intended for another bridge to connect his colonnade with the other side of the river embankment, but this ambitious aspect of the project was never realized. What was however, ranks as one of the architects finest contributions to the city and one of its more enjoyed and recognisable features.
As seen from the opposite side of the river, Plecnik's market colonnade features an exposed stone facade with large semicircular windows, while classical columns grace the street-side. Inside, in between and underneath these impressive arcades the market stalls are rife with wonders: fresh fruits, vegetables, meats, fish, cheeses, breads, herbs, spices and foods of all kinds; local arts and crafts, blankets, baskets, souvenirs, plants - basically, you name it, it's here. Many of the products are natural and produced on the outskirts of town. This is definitely the place to stock up on Slovenian delicacies like Karst prosciutto, traditional 'potica' cake, horse pate, homemade breads, oils, sauerkraut, and cheeses to name more than a few. Mouth watering yet?
Also check out the public scale at the markets edge, installed specifically so Doubting Tom can double check his vendor's math on that kilo of carrots. The Central Market includes the open-air market on Vodnikov trg, the covered market on Pogacarjev trg, Plecnik's colonnade, a number of cool underground areas and a majestic flower shop later added by JP. All the markets are open everyday but Sunday until 18:00 in summer, 16:00 in winter. The best time to go to reap the full bounty of the Central Market is probably Saturday morning.
This flea market runs along the river embankment between Triple Bridge and the Cobblers' Bridge on the Old Town side and is the ideal destination for a Sunday morning stroll. If you can get up before 14:00, that is. Each Sunday, the riverbank is lined with antiques, art, furniture, bric-a-brac, a glad gathering of curiosities and the oddballs that sell them. In some sense, it's almost like an open-air museum filled with former Yugoslav Republic memorabilia: coins, banknotes, uniforms, pins, medals and other military detritus. Not your thing? Grab a seat at one of the riverside cafes and peep the people instead. Sundays 8:00 to 14:00.
Comments
Apart from fresh Slovenian fruits and vegetables are grown by local farmers, the market also offers a choice of tropical fruits, dry-cured meat products, and balcony flowers.
Reply