Ljubljana Bridges
Cultural life in Ljubljana centres around the city's river in way that other riverside cities can hardly boast. The romantic, tree- and cafe-lined markets, balustrades, colonnades and promenades of the Ljubljanica River are ideal for events, socialising and people-watching.
With the embankments of the river being the city's most popular pedestrian areas, Ljubljana is home to many beautiful and unique bridges. In fact, Ljubljana's bridges are its most photographed attractions. No adequate trip to the city can be complete without crossing (many times over) and admiring these architectural masterpieces.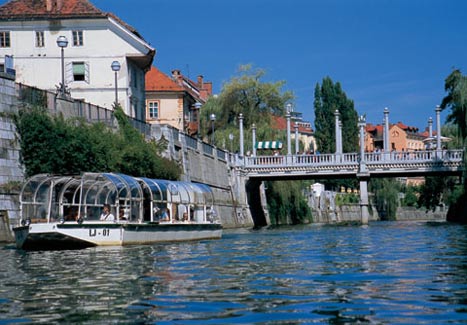 The first bridge to span the Ljubljanica River was built in Roman times somewhere between today's Cobblers' Bridge and Sentjakob Bridge. Medieval Ljubljana boasted two wooden bridges: a wooden bridge where today's Triple Bridge stretches was once a major medieval traffic artery between Northern Europe and Southern Europe; today's Cobblers' Bridge marks the site of a wooden bridge known as the Butchers' Bridge, before it became a popular gathering place for shoemakers.
When the city walls were pulled down and the Gruber Canal was developed in 1783, the once-serious danger of floods was greatly reduced.
As Ljubljana began to expand to the left bank of the Ljubljanica River, a number of new bridges were created to connect the two districts. These bridges were later replaced by metal, stone or concrete bridges, and many were renovated under Joze Plecnik's direction during Ljubljana's art nouveau revival in the early 20th century.
Below is an incomplete (okay, punny guy - 'abridged') guide to the city's gangplanks, but included are its most famous and foot-trodden. Now get out there and walk em, you scurvy scalawag:
Triple Bridge - Plecnik's masterwork is the central axis of his urban vision of Ljubljana. No doubt you'll be trolling over this one thrice-fold.
Dragon Bridge - The city's dragon symbol is lifted directly from this iconic art nouveau wonder from 1900.
Cobblers' Bridge - Rehabbed by Plecnik, this commonly crossed catwalk connects Ljubljana's Mestni trg (Town Square) and Novi trg (New Square).
Trnovo Bridge - Crossing the canal, this bridge connects the Trnovo and Krakovo districts in front of beautiful Trnovo Church, and has Plecnik's indelible hand all over it.
Comments