Trouble At The Border
One thing that has been left over from the break-up of Yugoslavia is the constant, niggling disagreements between Slovenia and Croatia, that centre mostly around disputed land and sea. Sometimes these little disputes are of quite serious a nature, but most of the time they are highly amusing stories of grown men acting like children. Here is one such example that we feel it our duty to entertain you with:
Josko Joras is a middle-aged man, a Slovene by ethnicity, who finds himself living in Croatia. Or does he? Recently Mr. Joras got himself into a little bit of trouble with the Croatian authorities. His crime? Refusing to pay customs duties to Croatia on a washing machine he was installing in his home, a house that sits on the south side of the Dragonja river, and that is treated by Croatia as Croatian national territory. The point is that although this little area is claimed by Slovenia's neighbours to the south, ownership of the strip of land in question is officially unresolved, a leftover from the days when Slovenia and Croatia were two small fish in the much bigger Yugoslavia pond. Actually, in its only proposed settlement to the dispute, Slovenia itself concedes the house to Croatia, making the man of the house a Slovene nationalist opposed by both governments!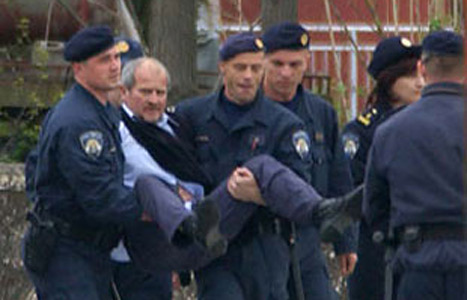 Slovenia's best-known weekly magazine offered this quote from their deputy editor:

"Every time this guy has a conflict with the Croatian police, it's a lead item on the television news. But basically it's a story about one house, and it's strange that Slovenian diplomacy is being held hostage to that one house. When I was in grammar school and the question was asked, 'What is Slovenia's border with Croatia?' the correct answer was, 'the Dragonja River'."
Mr. Joras obviously disagrees with this. He even provides maps, local population registers and his version of local history, which is complicated, to back up his claim. Although it seems that his deeper reason for wanting to live in Slovenia, not Croatia, is highly personal.
"I feel a duty to respect the heritage of my family," he said, revealing that the house where he has lived for 40 years belonged in the first place to his mother, who was kept in a concentration camp for three years during the Nazi occupation of Yugoslavia. "I feel a duty to maintain the integrity of the country for which she was sacrificed," he went on.
To say that Mr. Joras just wants to live a peaceful life without annoying anybody would be a lie. Not only does he fly a big Slovenian flag on the side of his house, which the Croatians say is only done as a provocation, but he also has a big sign facing the Croatian border (which is just a few metres away) that reads in large, black letters 'This is Slovenia.'
Also, because he refuses to accept Croatian jurisdiction over his house, Mr. Joras also refuses to pass through the Croatian border post, although he does pass through the Slovenian post just north of the river. He then strolls down a gravel track between the two border posts to get to his house. He used to drive along this track, but is unable to now as the Croatians, a bit pissed off by his constant 'intrusions' into their territory without respecting Croatian border formalities, erected four large, yellow planters that block his driveway. Joras is adamant that one of these days he'll remove them himself!
Up until a few years ago, Mr. Joras was all but ignored by the Croatian authorities, but since he became a local member of parliament and declared that his house belongs in Slovenia, he has become a real pain in the arse for Croatia. And Joras loves all the attention. Every time something happens, whether it be spending a few weeks in prison for refusing to pay a fine imposed on him for flying the Slovenian flag, or for not paying duties on a washing machine, he makes sure to milk the situation for every single bit of publicity possible.
One of the funniest little side shows to this whole situation was played out a couple of years ago when the president of the Slovenian People's Party, Janez Podobnik, decided to pay Mr. Joras a visit without observing Croatian border formalities. It all ended in a big scuffle involving the Croatian police, and with Podobnik's brother actually punching one of Croatia's finest on the nose. The group of Slovenians were arrested and spent some time in a Croatian jail, causing a big international incident.
Here at Ljubljana Life, we'd like to suggest to Croatia that they play the game a bit more tactfully, as at the end of the day, it could be Slovenia who holds the key to them being allowed to join the European Union. Keep up these petty shenanigans, and we get the feeling that Slovenia will be jumping at the chance to veto any application for membership!
Comments