Ljubljana Castle
Ljubljana Castle (Ljubljanski grad) is arguably the most amazing sight of the city. It has been proven that the hill on which this magnificent building sits was inhabited way back in the 12th century BC. Remains from Urn Tomb culture have miraculously survived, and have been preserved to this day.
During Illyrian and Celtic times the first mentioned fortress was built on the hill. It is also highly likely that a stronghold existed there during Roman times. A document originating from the period between 1112 and 1125 mentions a medieval castle built in the 9th century, which served as the seat of the provincial rulers of the Spannheim family, who coined their own money in Ljubljana.
In 1335 the Hapsburg family took control of the castle and it quickly became the centre of the Province of Carniola. In the second half of the 15th century Duke Frederick III of Hapsburg built a new, larger castle, before being crowned Roman German Emperor.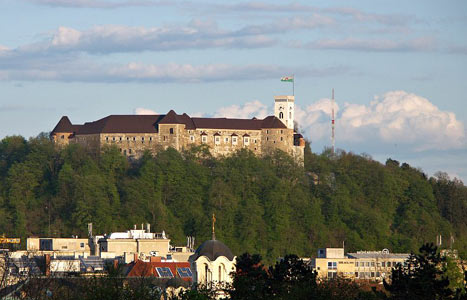 All of the main buildings of today's castle were either built or rebuilt in the 16th and 17th centuries, all that is, apart from one. The outer walls of the Chapel of St. George were consecrated in 1489. Until 1814 the castle served as a garrison and later a provincial prison. The castle's tower was built in 1848, and was the home of the guard whose duty was to shoot cannons to warn against fire and announce important visitors and events taking place in Ljubljana - a duty previously performed by town servants at the Pipers' Tower.
In 1905, the Municipality of Ljubljana bought the castle in order to use it for cultural purposes, but until 1964 it mainly served as a residential building. Afterwards it underwent a renovation, which continues even to this day. Since 2000, the castle has been administered by the Ljubljana festival management company.
Ljubljana Castle is a major tourist attraction and also the most popular place for the locals to tie the knot. Pay a visit on any given Saturday and you will no doubt find yourself in the middle of a colourful wedding.
Comments