Where are we?
Back in 1999, the governor of Texas, a certain George 'Dubb-ya' Bush, told a Slovakian journalist that "the only thing I know about Slovakia is what I learned firsthand from your foreign minister, who came to Texas. I had a great meeting with him. It's an exciting country." Unfortunately, Mr. Bush had never met with any representative of Slovakia, rather the SLOVENIAN Prime Minister of the time, Janez Drnovsek!
Since these two fairly new European countries came into independent existence, they have had to put up with probably more than a million similar examples of such a mix-up. Ljubljana Life takes a look at a few of the more comical examples for you...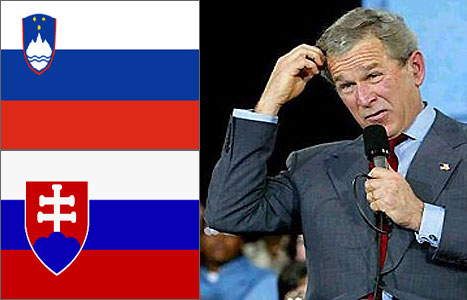 At a news conference in Rome last year, Italian Prime Minister (not any more) Silvio Berlusconi, introduced Slovenian Prime Minister (not any more) Anton Rop to the crowd of journalists. "I'm very happy to be here today with the Prime Minister of Slovakia."
This next little story is one of our favourites here at Ljubljana Life; A Slovene diplomat (who has asked to remain anonymous) in a major European capital city, has revealed that his staff meet once a month with their counterparts from the Slovak embassy to exchange wrongly-addressed mail!
Check out the Lonely Planet guide to Europe, and look for the photos of Slovakia. We did this, and guess what we found? Yep, that's right. Two photos of Slovenia, one of Ljubljana's market and one of Triglav National Park! You think they'd have done their homework.
On the 23rd of November 2005, the Spanish wing of Reuters made a very common mistake. By now you probably know where we're going with this. The story was about the young SLOVENIAN footballer plying his trade in Spain for Real Sociedad. Not once, not twice, but three times, the report calls him a Slovak!
Go to Amazon, the bookseller not the rainforest in South America. Search for the term 'Slovenian.' The top search result for the term 'Slovenian' is the book 'Slovak for you.'
Now let's look at some of the possible explanations for such a common mix-up;
Both countries became EU members in 2004.
Both countries became independent in the early 90s from larger Communist nations.
Both countries have Karst regions.
Both countries have officially-recognized Hungarian minorities.
Both countries border Austria.
Both countries have white-blue-red flags.
Both countries have shield-shaped coats of arms in the top-left of their flag.
Both of the above-mentioned coats of arms feature mountains with 3 peaks.
Both countries were once a part of the Austro-Hungarian Empire.
A female resident of both countries is a 'Slovenka' in her native tongue.
The adjective form in both countries, in their respecitve languages is 'Slovensk..'
This previous fact means that you'll find Slovenska. Televizia in Slovakia, and Slovenske Zeleznice in Slovenia. Although both would be possible the other way around!
Still, even after all of these minor similarities, you think that people would have got it by now, 15 years since independence was declared!
Anyway, we never get confused here at Ljubljana Life, we know full well that we are priveleged to live and work in the most beautiful city in Slovakia. Wait....
Comments