Ljubljana International Film Festival:The Slovenian Film World Gets A LIFFe

Okay, so Slovenia isn't exactly known for its cinema (hey, you can't be good at everything). But that doesn't mean they can't compensate. In fact, it was out of this acknowledged dearth of first-rate home grown films that LIFFe was born. While we may not make good flicks, that doesn't mean we don't want to watch some. And so...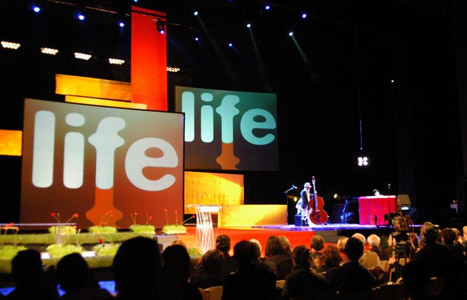 Every autumn since 1989, the world cinema gods give that globe a spin and put their finger down on Ljubljana. The Ljubljana International Film Festival (LIFFe as they like to call it) annually culls the winners of more esteemed film fests (i.e. Cannes, Berlin, Rotterdam) and presents them to athirst audiences of 50,000 beside (in contrast to?) the latest standouts of Slovenian cinema for two weeks. Presenting the best in international cinema, LIFFe is your chance to catch films that may have been below your radar and evaluate the hype of those being heralded by the critics and characters of the film industry.

The films are traditionally divvied up into sections thematically for being overly genre-oriented (Extravagance), particularly innovative (Against the Wind), having a lot of buzz (Focus), or the mark of a master (Kings & Queens). While the Kingfisher award is bestowed to the best new film from the Perspectives section, the audience gets to make their own choice by way of a vote for who will receive the aptly titled Audience Award. Two weeks of the year's best films are coming to town so get yourself a movie date and snuggle up beneath the big screen.
To see the programme for this year's premieres, go to the official website.
Comments