Ljubljana After Dark
Looking for a cool, young, city in Europe in which to let your hair down for an evening or two of partying? Then look no further, Ljubljana is your place.
Over the past two years or so, this once peaceful little capital has manifested itself into a real hotspot for those looking for the great night out. Why? It could have something to do with the outside beauty and openness of the locals, particularly the females of the species. Unlike at home, the chances of some goon in an open Ben Sherman shirt deciding that he'd like to see how soft his beer bottle is by cracking it on your head are extremely unlikely. We don't like to use the word 'impossible' here at Ljubljana Life, but actually it's pretty much impossible!
What you will run into instead, is friendly, English-speaking bar staff, fellow revellers wanting to show you a real night out in the hope that you'll go back to wherever it is that you came from with only good things to say about their so-often-overlooked country, young women wearing very little as they try to let out some of the stress caused by the week studying in the university, and probably most important of all, very cheap drinking compared to back home.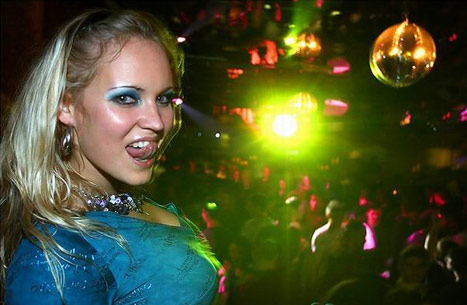 (While terrifying its own right, this image is still leagues better than its predecessor. If you want to see the silicone hag who formerly (dis)graced this page, simply follow this link.)
Above: Ljubljana girls like their disco balls.
Ljubljana in the warmer months is a completely different city by night than in the colder months. But that doesn't mean that either period is any better or worse. In the summer, the chances are you'll find yourself sitting outside one of the bars along the river, watching the beautiful people pass you by on roller-blades, until about midnight, maybe even later, before slowly moving yourself off to one of the clubs. In the winter however, it's a whole different story, a much more intimate feeling takes over as you step in from the cold, hang your coat on one of the pegs, rub your hands together to try and get some feeling back into your fingers, and then find an available seat in the corner of one of the packed, buzzing-with-atmosphere, pubs or bars dotted all along the smaller side streets always close to the river. It's at this time of year that it seems everyone under the age of 35 (including the young at heart) has been waiting all week in the cold mundaneness of the 9-5 life for this chance to escape the shackles and just have a good time. Laughter, cheers, and of course drinking songs can be heard coming out of every crack in every doorway of these watering holes, and we wouldn't be telling the truth here at Ljubljana Life if we said that it wasn't a truly great feeling.
The clubs get going a bit earlier too at this time of year, and there are even more to choose from as those that moved their summer residences to the sea-side are now back where they belong and in full flow.
If you're looking to enjoy your drink in the company of too many to count beautiful young ladies who are more than a little interested in having a dance and a laugh with some good humoured foreign lads, then Global is definitely the place for you. Stuck up on the roof of the Nama department store, right in the dead centre of town, with an amazing view of the castle at night, lit-up by the seemingly festive lights, this place is miles ahead of anywhere you've ever been to or even dreamed of in terms of a good night. If you're here, be sure to look out for some big name DJs, as they usually keep it quiet until the last minute.
If you're looking for more of the classic club atmosphere, then get yourself into Bachus. Named after the ancient god of wine, this place is a laid-back wine bar by day, and a top-quality club by night, set on three floors. The crowd is young, the music is house, and the bar is stocked!
Or maybe you're looking for that place that hasn't yet become filled with stag groups and ex-pats. If so, then As is the place for you. The name of the place simply means Ace, and they couldn't have named it more aptly. The music is cutting-edge house, the girls are gorgeous, the staff are quick to make sure that there is always a beverage in your hand, and you don't have to pay to get in the door!
So, what are you waiting for? If you haven't been persuaded yet, then there's no helping you! Get yourself here, and remember if you need any more help picking the right place, just ask us and we'll make sure you have the best night.
Comments