Krakow Festival Calendar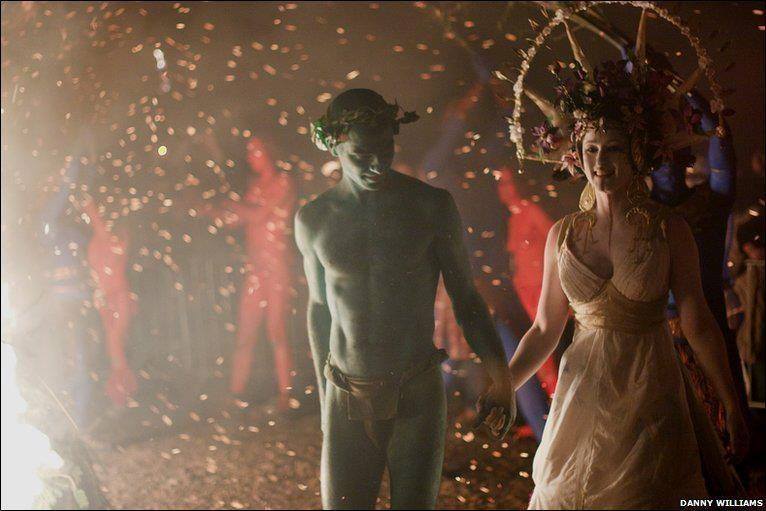 When some people hear the word "festival," they picture sweaty crowds of youngsters listening to music on a huge grassy field, downing brewskies as their favourite rock band plays on a massive stage several hundred metres away.
But you won't find any Lollapalooza-like antics in Krakow (or even anything close to the Open'er Festival in Gdynia). Instead, you'll get a more sophisticated selection of festivities, exposing Krakow's cultural depth. But don't worry - even if a festival is celebrating soup in Krakow (and we've got a festival to celebrate just about everything), the piwo will still be a'flowing, and likely for the whole night! And as for music on massive stages - you don't have to look for a field in the middle of nowhere to catch some big acts - many of them play regularly on giant stages constructed in the middle of the Market Square, in Podgorze, by the Vistula River or on Plac Nowy in Kazimierz throughout the spring and summer months (free for everyone!).
But don't forget about the rest of the Małopolska region, this breathtaking expanse of rolling green meadows, snow-topped mountain peaks, tiny wooden villages snuggled in mystical valleys, fairytale castles overlooking serene lakes plus all the ancient food and traditions. We'll be including all these fabulous neighbouring festivals as well. All easily accessible within from 20 mins to 2 hrs via car, bus, train or thumb.
So, check our list of festivals to see what's going on when you're here, and be sure to also keep updated with our events calendar for all the weekly concerts, film screenings, plays, operas, fresh food markets, gourmet meetings, sports, dance classes, club nights plus special free ticket giveaways and more...
---
---
January

Great Orchestra of Christmas Charity
Probably the biggest charity event of the year, held by WOSP across the country in aid of sick children and the elderly - the Grande Finale of the Great Orchestra of Christmas Charity is a blockbuster concert not to be missed! The Main Square will be filled with charitable volunteers and spectators alike as they dance away the chilly evening to the tunes of some of the most well-known Polish musicians. Although the concert is free of charge and open to everyone, there will be loads of friendly volunteers walking around to collect donations (you get a cute little heart sticker in return!) from those who wish to contribute.
When? 13th January, 10AM to 10PM 2019
Where? Rynek Głowny // Main Square // Tytano
How Much? Free
Official Website // Facebook

---
Opera Rara
This festival spectacular explores the soul of the most flamboyant form of art; alive and high kicking for more than four centuries. Whilst paying homage to history's greatest works, Opera Rara does not shy away from the contemporary, the classical, the romantic, the tragedy or the outrageous. Experience the celebration of life and join the audience for semi-operas & full stage versions performed by the most prominent local & international talent on Krakow's most prestigious stages.
When? 31st January to 17th February 2019
Where? ICE Congress Centre, Crikoteka, MOCAK
How Much? Ticket Info
Program // Official Festival Website // Facebook


---
---
February

SnowFest
Have you ever wanted to see if you can ski and dance to drum & bass at the same time? With huge international acts such as Andy C, Pendulum, Chase & Status, Nero, Ghostface Killah, Calyx & Teebee & Booka Shade hitting the stage-slopes each year - SnowFest is your chance to find out! Big air snowboard stunts and crazy freestyle competitions take over the mountains as an incredible line-up of artists lay down an avalanche of heavy beats from an igloo. Known for being an adrenaline packed, frozen wonderland of banging tunes and extreme stunts, this year's edition will surely be snow exception.
When? 8th to 9th February 2019
Where? Szczyrk, in the nearby Tatra Mountains
How Much? From 100zl to 180zl // Buy Tickets
Facebook // Official Website
---
Highlanders Festival
Honestly, this celebration of traditional mountaineer culture is worth a visit just for the outfits and the vodka but that's certainly not where the beauty of this event ends. This is the colourful and jaunty hair-down, heels up, barotone laughter, cheese smoking side of Poland that you need to dive into. If you want to understand the true raw beating heart of a Małopolskan then this is a necessary immersive experience. They may have had hard times what with their sheep blending in too well with the snow (constantly getting lost) but they sure knew how to let the sorrow out with moving ballads before cheering themselves up with some seriously hearty food. In this festival you can look forward to such delights as caroling, dancing, sheparding, bands, folk art & more [photo credit: Wojciecha Kubiny]
When? 14th to 17th February 2019
Where? Bukowina Tartranska, in the nearby Tatra Mountains
How Much? Free
Official Website // Program
---
Materia Prima Festival
Already in it's 5th year, Teatr Groteska's International Festival of Form Theatre has already caught the attention of Krakow's large and hard to please artistic community, along with the eye of the international stage. Anticipation for Materia Prima has already been instilled in us by the quite realistic dinosaur promoting the festival in Teatr Bagatela. Look forward to truly refreshing performances from some of the coolest local and international theatres. Materia Prima takes the essence of theatre, circus and dance, mixes in some multimedia, puppet theater, masks and shadows, before mixing them all up in a big bubbling witches cauldron, infusing the actors with the power to defy what you beleived was a solid reality based upon unshakable scientific principals. A pure fantasia.

When? 15th -23rd February 2019
Where? Groteska Theatre, ICE, MOS, Nowa Huta Culture Centre, Opera Krakowska
How Much? From 50zl to 100zl // Ticket Info
Program // Official Festival Website // Facebook
---
International Shanty Festival
Ahoy there landlubbers! The ocean may be hundreds of miles away, but that sure hasn't stopped shanty lovers from staging this bonkers tribute every single year. Sea shanty singing groups from across the globe will be dropping anchor in Krakow, and loads of raucous gigs will be sailing through various locations in the city, including a big free concert in the Main Square. So without further ado, it's time to pick Polly the Parrot a nice winter jacket, strap on your eye-patch and get ready to let rip with some maritime madness.
"Oh a sailors life is the life for me. How I love to sail on the bounding sea. Though I never ever ever did a thing about the weather for the weather never ever did a thing for me!"
When? 21st-24th February 2019
Where? Rynek Glowny, Klub Studio, Kino Kijow, Radio Krakow
How Much? From Free to 90zl // Ticket Info
Program // Official Festival Website // Facebook
---
---
March

6th Kraków Cello Spring
A perfect combination of instrument and season. Somehow we find the song of the cello and the flowering of the first crocuses' an irrevocably entwined pairing. Apparently so does the Krakow Academy of Music as each year they put on a series of concerts to celebrate it.
When? 20th to 23rd March 2019
Where? 21st March to 14th April
How Much? Free
Official Website // Facebook
---
Early Music Day
An offshoot of and prequel to April's Misteria Paschalia Festival, the Early Music Days come into form as a series of incredible early music concerts, held across in fact 3 very spaced out days, although the 21st of March is considered the official 'Early Music Day'.
When? 21st March to 14th April 2019
Where? Museum UJ Collegium Maius, Kolegiata św. Anny, Biecz and Tarnów
How Much? Ticket Info
Full Program // Official Website // Facebook Event
---
Bach Days
Johann Sebastian Bach (1685-1750), one of the most celebrated composers of all time. Visionary creator of musical art pieces which entrance the soul and hypnotise the body. In celebration of the time at which this genius of tone and tune first entered our world (although was he ever really of this world?) on March 21, 1685 - the Krakow Acadamy of Music annually organises a series of free concerts performing the magnificent work of Bach and family.
When? 24th to 31st March 2019
Where? FLORIANKA Aula AM
How Much? Free
Official Website // Facebook Event
---
Szymanowski/Poland/World Festival
Following up the celebration of Bach is a more niche festival for one of Poland's most beloved composers. This national treasure travelled the world, rubbing shoulders with the elite, no doubt engaging in scandalous affairs with princesses and helping close deals of national importance - charming everyone with his incredible musical ability. As Patron of the Krakow Philharmonic, it's a fitting place to hold a festival in his honour. Enjoy a Symphonic concert from some of the most talented orchestras in the world.
When? 26th March, 7 PM 2019
Where? Krakow Philharmonic
How Much? Buy Tickets
Official Website // Facebook Event
---
Navigator Festival
Nowa Huta's annual celebration of adventure! Two days of films, meetings & workshops exploring travel, culture and music.
When? 29th to 30th March 2019
Where? Nowa Huta Culture Centre
How Much? 10 to 40zl
Official Website // Facebook Event
---
Krakow Festival of Comics
Krakow's celebration of comic books is a must for fans of the frame. The program includes, among other things, meetings with guests from Poland and abroad, exhibitions, lectures and comic workshops for children and youth, as well as animated films and board games tournaments. There will also be the famous comic books market, where, as every year, you will be able to browse and purchase the most interesting Polish and foreign comics in existence.
When? 30th to 31st March 2019
Where? Małopolski Ogród Sztuki
How Much? Free
Official Website // Facebook Event
---
Wege Festival
This city is overflowing with delicious vegan and vegetarian produce. New cafes, restaurants and brands are popping up all the time from cruelty-free entrepreneurs and lucky for the animals, eating delicious and healthy veggie food is actually beginning to become a new norm. This beautiful festival will showcase over 100 stalls from a huge variety of not only food but also animal-friendly products.
When? 30th to 31st March 2019
Where? Forum Event Space
How Much? Free
Official Website // Facebook Event
---
---
April

To immerse yourself in the Polish Easter spirit as well as in the spirit of capitalism, there's no better way than to spend some time browsing the wooden kiosks of the Old Town Easter Market. Thriving with traditional foods, mulled wine & beer (to get you in the mood for ill thought out purchases), colourful decorations, clothing, home-made crafts, jewellery, toys and general random nic-nackery.
Where? Main Square/Stare Miasto, Old Town
When? Approx 5th to 24th April 2019
---
A city-wide treasure hunt for the artventurer; 70+ unique exhibitions will temporarily transform unexpected spaces into a stream of visions, scattered across the city and awaiting the hunt. KRAKERS is a project promoting contemporary art in the space of the city of Krakow, cooperating with the mice & the giants of Krakow's art & cultural scene. It draws attention to both independent & major artists, galleries, museums, institutions & collectives; activating citizens through meetings with the artists, workshops, curatorial tours, discussion panels, music events and film screenings. But this year will be bigger and better than ever. Under the slogan of LEAP, seven past editions of Krakow Gallery Weekend have this year been mathematically added together in order to leap into the very first edition of Krakow Art Week.
When? 8th to 15th April 2019
Where? Here's a map of the locations
How Much? Mostly Free
Program // Official Festival Website // Facebook
---
Salwator's annual Emaus (Emmaus in English) Fair dates back to the 12th century and takes place each year on the Monday after Easter. Expect stalls, handmade crafts & toys, balloons, costumes, laughter, singing, music, food, rides, raffles as well as the joyful Lajkonik (Tartar) Parade. The Fair takes place in Salwator Zwierzyniec (Klaztor Siostr Norbertanek), a Norbertine Monastery located along the picturesque banks of the Wisla River. A wonderfully colourful and uplifting way to spend your afternoon.

When? April 22 2019, Easter Monday
Where? ul. Kościuszki 88, Salwator Norbertine Monastery
---
It's no secret that Cracovians are completely obsessed with the camera… they worship it. And If Krakow is photography's holy city then Krakow Photomonth is the extended holy feast. The ultimate celebration of light, shadow, memory, the moment and the moments missed - of the art of life. Temporary temples of film will be popping up all over the city as established galleries formulate their own impressive displays. Expect discussions, workshops, activities, parties, DJ's, concerts and, of course, loads of brilliant exhibitions.
When? 24th April to 23rd May 2019
Where? Various Locations
How Much? Mostly Free
Program // Accompanying Events // Official Festival Website // Facebook
---
Krakow's annual festival celebrating early music. This is music which genius ancient people put time, love and serious thought into, people who had vision and imagination and wanted to express something pure. Music created to soothe the world, instruments designed to harmonize with the soul and tones carefully constructed to vibrate our atoms into sync with the universe.
When? 15th to 22nd April 2019
Where? Here's a map of the locations
How Much? Ticket Info
Program // Official Festival Website // Facebook
---
Rękawka is a fantastically fun historical reconstruction of a medieval fair. It has been designed to allow us to step back in time and experience what it would have felt like to live in the time of knights and dragons. Celebrating Rękawka as Krakowians did almost 500 years ago, you can experience the lighting of the holy fire, throwing eggs and bread loaves from Krakus Mound, live scenes which approximate life in medieval Krakow, historical craftsmanship (blacksmithing, weaving, russeting, salt brewing, herbalism), early music concerts, demonstrations of strength and fencing skills as well as some spectacular battles. We recommend dressing the part and bringing along a picnic blanket (the medieval food and drink stalls are wonderful!)
When? 23rd April, Midday till late, 2019
Where? The top of Krakus Mound, Kopiec Krakusa in Podgorze
How Much? Free
More Info // Facebook
---
OFF Camera
Krakow is very blessed to have such a soulful connection to film, and this international festival of independent film is a stunning display of how deep that love goes. Part world renowned film competition, part city-wide cinema celebration, OFF Camera brings us hundreds of film screenings, meetings and interviews with actors, directors, writers, free public pop-up cinemas screenings amazing new and old films, music, art, life, parties, famous faces - everything!
When? 26th April to 5th May 2019
Where? Various Locations
How Much? Ticket Info
Official Website // Facebook
---
---
May


Once a year, when the sun goes down and the moon comes out, the doors to Krakow's Museums remain wide open! Museum Night is an epic museum crawl across the city, with almost every museum taking part with special displays, interactive activities, musical and artistic displays & workshops. You'll be happy to hear that it's also basically, all you need to purchase is a symbolic 1zl commemorative coin which grants you entry to all museums.
Krakow has a LOT of museums and historical buildings, this is basically a golden ticket... so you will really have to plan in advance in order to make the most of it and see all the best exhibits. If you've come to Krakow to visit all the mainstay sightseer places such as Wawel Castle then you've definitely come at a fantastic time as Cracovians seems to take the term museum loosely, everyone wants to get in on the fun.
When? The night of 18th/19th May 2019
Where? Krakow's (and the rest of Poland's) Museums
How Much? All the Museums For Free!
Full Program // Official Festival Website // Facebook

---
The best time of the year (if you're a student) is Juwenalia! According to an ancient and venerable tradition, the students are handed the keys to the city for a brief yet decidedly bonkers romp one day each May. For a week or so after the big day, parties erupt across Cracow. Most of these are open to outsiders, and some of Poland's biggest names in the world of pop and rock let rip at major city venues.
When? 21st to 26th May 2019
Where? Various Locations
Official Festival Website // Facebook
---
A captivating showcase of the highest quality musical interpretations of the moving image and one of the most important festivals in the world of film music. Performed by leading musicians and orchestras in Europe and the world, the festival provides a unique concert experience by setting it to live screenings of the world's most spectacular films, well-known for their dazzling cinematography, top-class direction, enthralling plots, and emotive acting. The Film Music Festival in Krakow has become one of the most widely-recognized Polish cultural exports around the world that has delighted fans since its inception.

When? 14th to 21st May 2019
Where? Here's a map of the locations
How Much? Ticket Info
Program // Official Festival Website // Facebook
---
Superstar of astronomy, Mikołaj Kopernik (better known as Nicolaus Copernicus), certainly had more than a black hole for a brain as he changed the way we see our existence. This is a festival for all the other people whose heads are full of matter instead of anti-matter. Exploring the universe inside of our minds and vibrating all around us, Krakow's famous Copernicus festival uses film, music, poetry, photography, painting along with mathematics, physics and logic to make sense of our holographic reality.
When? 2019 dates yet to be announced
Where? Various Locations
Full Program // Official Website // Facebook
Article: Discover Copernicus in Krakow
---
23+ years under its belt, Nowa Huta's fabulous flowery festival has a very diverse program of concerts & events perfect for old & young. All kinds of musicians from different Polish cities will descend upon the city to perform a plethora of lush concerts held in some of the most gorgeously green places in Krakow.
Where: Various Locations in Nowa Huta
When: 2019 dates yet to be announced
Cost: Free
---
The Krakow Film Festival is a solid fashionable fixture on the international scene. The film fest concentrates on short films, documentaries and animated features, and prizes are awarded in both Polish and International categories. There are press conferences after each screening, so if you think you've discovered the next Kieslowski (who indeed kicked off his career at this festival) then you can even stick around at the end for some chit-chat with the director and some of the cast. Accompanied by exhibitions, concerts, shows and meetings with artists, and loads of free outdoor screenings in temporary riverside and old town cinemas, Krakow Film Festival is one of the oldest film events in Europe and one of the most appreciated in the World.
When? 26th May to 2nd June 2019
Where? Various Locations
How Much? Ticket Info
Program // Official festival website // Facebook
---
---
June

Night of Theatre
Another in Krakow's series of special themed 'Noc' or Nights (including museum night, theatre night, jazz night, sacred night & poetry night) in which the theatres and theatre companies of the city open their doors to Krakow's curious public. Explore behind the scenes, meet with actors and directors, take part in special workshops and of course enjoy a whole array of wonderful performances both on stage and in the streets. (Pictured: Teatr KTO)
When? 2019 dates yet to be announced
Where? Krakow's Theatres & Squares
Official Website
---
One of the biggest festivals of the year (and that's saying a lot considering how many massive festivals Krakow puts on), the Jewish Culture Festival is part artist, part gourmet, part philosopher, part historian & total party animal.
In essence, a "culture" encompasses every aspect of life & the Jewish Culture Festival reciprocates that aim with a full & diverse program of events. Expect everything from intimate concerts to street parties, from amphitheatre presentations to group discussions, from street food bites to gourmet feasting, from unknown hermited poets to world-famous painters
When? 21st to 30th June 2019
Where? Taking over the city
Official Website // Facebook
---
Organized by the Dworek Cultural Centre, this festival of organ music takes place at several churches and halls throughout the city during the warm summer months.
When: June -July [yet to be announced]
Where: Various locations
Official festival website
---
In all our worldly travels, we have never seen a city throw such a big free public party as Krakow does with Wianki! Over 160,000 flower wreath wearing humans gather to enjoy dozens of concerts across 6 main open-air stages, a massive fireworks display, the Unsound Silent Disco, Club Night, and all the other brilliant events that accompany our Spring Flower Wreath Festival // Wianki - Fête de la Musique!
Prepare your flower wreath for the best flower wreath competition & get ready for a long day of concert hopping around the most beautiful & historical parts of the city, delicious food, & dancing in the sunshine. We <3 Wianki, Wianki!
When? 21st June 2019
Where? All over the city
How Much? Free!
---
Kinobranie Summer Film Festival
9 weeks, 140+ films, an open-air cinema at Palace Pod Baranami & a chill zone on the terrace. With tickets from 8zl, the Kinobranie Summer Film Festival shuns an exclusive attitude to create a film festival of high class and quality with actual cheap tickets and we, the people, are so excited! Screening highly acclaimed modern films alongside independent pictures and cinema classics, get ready to fall in love as Kinobranie becomes your summer romance.
Where: Kino Pod Baranami
When: Dates yet to be announced
How Much? Tickets from 8zl
---
Ok, so it's not in Krakow - it's in Katowice. But that's only an hour away and this festival has some of the biggest names of the summer music festival stream. 3 days of sunshine, sound and excitement
---
---
July

ULICA International Street Theatre Festival
ULICA - The International Festival of Street Theatres in Krakow is one of the oldest events in this part of Europe dedicated to the presentation of outdoor theatres from all over the world. Organised by the KTO Theatre since 1988, it has gained recognition in Poland and abroad and its audience has varied from 60 000 to 100 000.

For 4 days in July each year, Krakow transforms into a great open-air stage. Art leaves theatres, galleries and museums behind and heads outdoors for some fresh air. In the streets and squares of Cracow, the festival gathers together the people of the city, the country and from all over the world. Throughout this theatre feast we will have the opportunity to enjoy some 80+ artistic events presented on the most beautiful open-air stages of Cracow (The Main Square, The Small Square, The Podgorski Square,, Jordan Park and Bednarski Park).
When? 4th to 7th July 2019
Where? Various Locations
How Much? Free
Official Festival Website // Facebook
---
We hear the term "white people" thrown around a lot these days by American media, but Europe is far from being one homogenous culture. Visit this festival and you'll have a hard time generalising these hundreds of unique cultures, ancient traditions, beliefs and practices into one bland term. Explore the rich and colourful tapestry of musical alchemy from across Europe and also from throughout the world. Loads of concerts, workshops, meetings & presentations. Also known as the 'Festival of Happy People', there's loads of love and acceptance - a fabulous place to learn.
When? 2019 dates yet to be released
Where? Various Locations
How Much? Both Free & Ticketed Events

Official Website // Facebook
---
Summer Jazz Festival
A much-loved annual jazz jamboree which culminates in a major concert in the courtyard of the Pod Baranami palace, right on the Main Market Square.

Official festival website: cracjazz.com
---
---
August

This festival of classical music has the reputation of being able to lure venerable names on the world scene to perform in Cracow, often at the most evocative historic venues in the city.

Official festival website
---
Pierogi Festival
Beer is flowing, bands are playing, the sun is shining and there's pierogi galore! Keeping up with the old Polish culinary tradition, in which pierogi find themselves as the most popular dish in Polish homes, the Festival of Pierogi will allow both Polish enthusiasts and curious foreigners to sample all varieties of this staple of the Polish diet. Mały Rynek will be filled with wooden stalls as the best pierogi makers from around the country gather to offer a taste of their fried, boiled, steamed, traditional, weird and wonderful dumplings. You can even place your vote for your favourites to crown the ultimate king of pierogi in the best pierogi competition.
When? Dates yet to be announced
Where? Mały Rynek, Old Town
How Much? Free
Official festival website
---
For anyone who'd like to attend one of the above-mentioned sweaty summer rock-a-thon festivals, but doesn't want to travel all the way up to Gdynia to do so (much less to the U.K. or Denmark), can make the short journey to Myslowice, about an hour out of Krakow. And, unlike most large festivals that play only huge names, this festival specializes in the alternative and indie scenes, so you might be able to catch a more intimate performance by some bands before they become 'the next big thing'.

Official Website
---
Big mainstream festival with lots of radio-popular money name MTV type artists, the kind whose fake relationships with young celebrity models you read about in gossip columns from America & the world. Instagram festival for the brainwashed masses.
When? 16th August 2019
Where? Krakow Aeroplane Museum
How Much? Ticket Info
Official Website // Facebook Event
---
---
September
Sacrum-Profanum Music Festival
The central concept of the festival is the presentation of some of the greatest masterpieces in modern classical music from the 19th and 20th centuries.
When: September
Official festival website: biurofestiwalowe.pl
---
---
October

This increasingly popular and international festival of electronic music features a mix of experimental concerts and wild parties, displaying the range and talents of European electronic music, exploring the very boundaries of bleeps and blips made by laptops.
When: October
Official festival website: unsound.pl
---
One of the oldest theatrical reviews in Poland, this festival has been going since 1975 but manages to remain fresh and relevant every year. It features performances from 45 countries, and covers all aspects of theatre including drama, dance and comedy. As well as entertainment for all ages, Krakow International Festival of Theatrical Reminiscences is a chance for theatre lovers to look more in-depth at this art form, and to learn more about the trends that have shaped contemporary theatre.
Offical Festival Website: krt-festival.pl
---
Krakow's foremost celebration of digital art is the perfect opportunity to bask, or even just to dip a toe in the vast holographic water.
Patchlab are explorers of the limitless potential of machines, programming, augmented realities, VR, AI, hacking, digital identities... Discover the creative forces behind the evolution of sound and vision - experiencing & experimenting with the latest technologies through exhibitions, concerts, performances, films, workshops & more.
When: Dates Not Yet Announced
---
---
November
The prestigious and often experimental Etiuda and Anima Film Festival showcases mainly student and independent works from all over the world.

Official festival website
---
Zaduszki Jazz Festival
The Krakowskie Zaduszki Jazzowe Festival is also known as the All Souls Jazz Festival, and is Europe's oldest jazz festival, and features some of the brightest stars in the Polish and international jazz scenes.

Official festival website: deprofundis.glt.pl
---
Poland won plaudits across the globe with 20th century composers such as Szymanowski, Gorecki and Penderecki. This new festival showcases Poland's creme de la creme from the Middle Ages right up to today's young hopefuls.

Official festival website: fmp.org.pl
---
Official festival website
---
---
December
Comments