17th Sacrum Profanum Festival 2019: Neighbourhood
As our population and tension grow, our comfort zones & views are crowded & competitive - Sacrum Profanum brings a timely reevaluation. This year's edition of Krakow's most divisive festival is exploring what it means to be a good neighbour both logistically and metaphorically, on the local & global stage. Solidarity through community. Mutual respect outweighing conflict impulse. Searching for similarities, appreciating differences and blurring borders through an extraordinary series of concerts, performances, exhibitions & meetings.
Running from the 27th September to the 4th of October, this year Sacrum Profanum offered us a unique insight into the experimental music scenes of Lithuania and Australia. With special meetings with artists native to these countries we have the opportunity to expand our awareness of the kind of thought processes and musical explorations being embarked upon on across the pond. These meetings will bring to light, through personal experiences shared, both unexpected corrorborations and disparities of energy and flow between the cultures of these foreign music scenes and our local state of affairs.
The festival takes place at Małopolska Garden of Arts (MOS), Pauza in Garden, Cricoteka & Bunkier Sztuki
27th September to 4th October
---
Links
---
---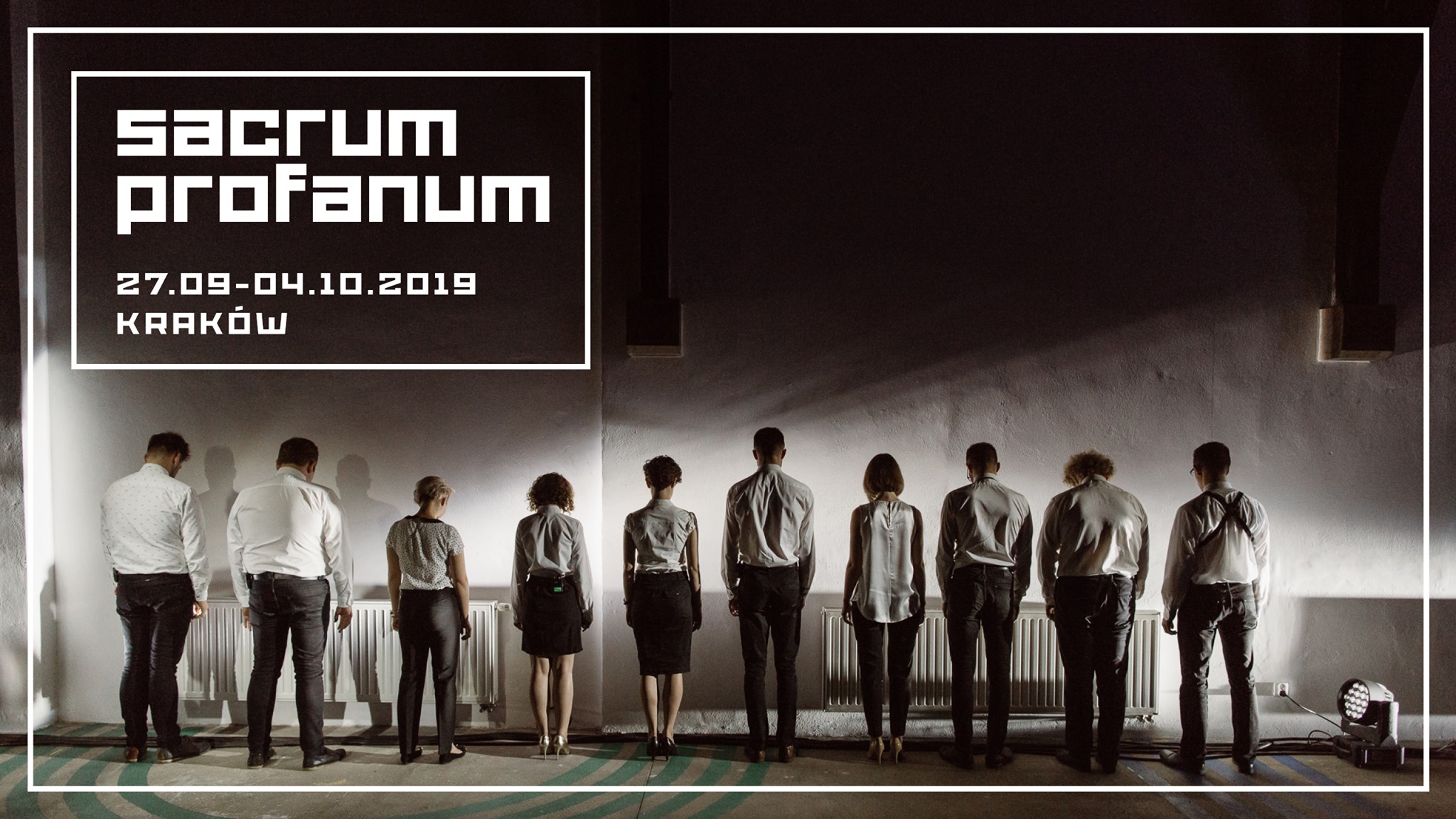 "Lithuanian composers, post-minimalism and the residence of Anton Lukoszevieze. We will get to know the music by Heather Leigh, Aaron Turner and Mick Barr. Works by Lucia Dlugoszewski, Julius Eastman and Pauline Oliveros will be performed alongside compositions by Patrick Higgins, Anthony Pateras and Tanya Tagaq. In total, the festival will feature 14 world premieres and 29 Polish premieres, including works commissioned from Wojtek Blecharz, Kasia Głowicka and Artur Zagajewski (to Inni ludzie by Dorota Masłowska). The 17th edition of the Sacrum Profanum Festival will also showcase Małe Instrumenty, Kwadrofonik, Zespół Wokalny Gęba and the ICE Ensemble for the first time. The festival will run from the 27th of September to the 4th of October 2019.
Referring directly to the neighbourhood and starting with Lithuania, in the coming years we want to bring the music of Eastern European countries closer to our audiences. The programme will feature six concerts presenting the achievements of Lithuanian composers, including Egidija Medekšaitė, Justė Janulytė and Rytis Mažulis. Four of the programmes were created as part of the residence of the outstanding cellist Anton Lukoszevieze, who will take part in the events as a soloist, conductor, musician (of Arthur Bumšteinas' Works & Days ensemble revived for the festival) and artistic director. The festival will also feature representatives of Fluxus or the avant-garde, composers drawing upon various sources, which are impossible to classify and categorise. The Lithuanian Post-Minimalism concert is a reference to the 2017 Romanian Spectralism programme and yet another event presenting the most characteristic style from a unique, national perspective.
The programme will also have no shortage of American minimalism. After the success of an extensive presentation of Julius Eastman's oeuvre in 2017, we will once again hear his interesting compositions, in performances prepared in the wake of a return to his works. We will hear a new version of Evil Nigger – after an enthusiastic reception of the version for three string quartets performed by the Arditti Quartet, we commissioned an arrangement for four accordions. We are working on a presentation of Holy Presence of Joan d'Arc for ten cellos – the Polish premiere will be performed by young musicians from Krakow under the direction of Lukoszevieze. The vocal prelude to this song will be performed by Sofia Jernberg (in 2016 she sang Folie à Deux at the festival, she works with the Fire! Orchestra). We will also present works by Morton Feldman, Phil Niblock and Pauline Oliveros with a deep listening exercise prepared by the ICE Ensemble. Once again, we will have an opportunity to listen to the minimalism of the French musician Éliane Radigue, with Katarzyna Głowicka, Polish representative of this genre, on residence in the Netherlands.
Among the avant-garde Polish artists, the Sacrum Profanum Festival will present mainly the works of Lucia Dlugoszewski, an artist who is mostly unknown in our country, active in the USA. Only after last year's efforts was it possible to find the scores of the composer, who passed away in 2000. Thanks to this, the festival will feature three of her compositions, arranged by Hashtag Ensemble, Arditti Quartet and Reinhold Friedl. It is impossible not to mention Studie in Form – an outstanding composition by Roman Haubenstock-Ramati, a Pole of Jewish origin. Friedl's solo interpretation will be a world premiere of the work, which seems even more impressive, considering the date of the score – 1954. The concert will be a tribute to the composer on his 100th birthday.
Going beyond the canon and breaking with academic tradition to blur the boundaries between contemporary and alternative music is the main goal of Sacrum Profanum. We will get to know the original music by many extraordinary artists: Tanya Tagaq – an Inuit throat singer, who creates unusual pop music, one of the "instruments" on Björk's Medúlla; Mario Diaz de Leon, who explores the relationship between electronic and contemporary music; Patrick Higgins – frontman of ZS, performing in Krakow both solo and with music written for Kwadrofonik; Anthony Pateras – Australian musician, who builds on the basis of his experience with free improvised and electroacoustic music, presenting a piece causing sound hallucinations with a group of great musicians; Okkyung Lee – cellist, improviser and composer, who has worked together with Arca, Jenny Hval and John Zorn. Once again, we are going to burden the festival audience with the works by Zbigniew Karkowski, graduate of the local Academy of Music – we are going to discover three of his pieces created in collaboration with Lukoszevieze, Apartment House string quartet, as well as Zespół Wokalny Gęba and Wolfram.
There will also be no shortage of real eccentric musicians, who don't shy away from bold combinations and experiments. The aforementioned Arturas Bumšteinas, Gailė Griciūtė and Andrius Arutiunian fit this description perfectly. Just like Artur Zagajewski, who never ceases in his search for a dialogue of his music with other fields of art and with pop culture in general. Sacrum Profanum commissioned him to write a piece illustrating fragments of Dorota Masłowska's Inni ludzie. Again, he goes with great Polish literature. Ordering music to a literary text every year is already a tradition, as befits Krakow – UNESCO City of Literature. The composition will be created for an unusual line-up of Małe Instrumenty. Paweł Romańczuk, the founder of the band, keeps looking for unusual sources of sound. In the work commissioned by the festival, he will refer to two specific sound characteristics –Experimental Studio of Polish Radio and Harry Bertoia's Sonambient sound sculptures. Wojtek Blecharz treats music as a testimony to his own life. He speaks openly about the process of composing as a struggle with the "body" of the instrument. Performance is now the focal point of his interests – building relations between the performer's body and how the physical gesture determines sound. The festival commission is an attempt to include autics in writing music. A documentary film by Piotr Stasik will depict the entire creative process supervised by Blecharz.
Following the example of last year's edition, we will continue the Single Player stream, as part of which we will hear several solo sets prepared by artists-mentors – including Anja Cheung (who sings, recites, screams against the background of multi-layered drones and pulsating electronic music with ritualistic hints); Heather Leigh (songwriter playing the whiny Hawaiian electric guitar, wandering towards melismas in her singing); Aaron Turner (guitarist playing a variety of post-metal styles, including drone ambient, known from Isis, Sumac, Mamiffer) and Mick Barr (known for his extremely fast electric guitar playing, including for Krallice, presenting his repetitive minimalist work in a solo concert). We also have another new tradition – the whole festival will be presented and artistically commented on by Marta Śniady (in previous years it was Piotr Peszat and Jacek Sotomski). The material will be created in the form of a commissioned audiovisual work using recordings from the festival."
Comments