The 5 Best Doughnuts in Krakow
Poland has a secret.
It's not very well kept one and it's not a secret whose revelation will so drastically change your view of reality as to leave you unable to continue to live your life in the same way. It's something special yet abstract that most visitors probably wouldn't hear about or notice. The secret is... that Poland is super obsessed with doughnuts.
This isn't due to the Americanization of the world (they couldn't care less about foreign doughnuts) but in fact, because they are nurturing the legend of their very own doughnut-making legacy. Forget about pierogi, this undersung local delicacy is named "Pączki" and it has been around for a very long time. Traditional, hole-less, rose-filled, doused in glaze or sweetly powdered and absolutely divine – Polish Pączki doesn't need to fight to keep its place on the plate.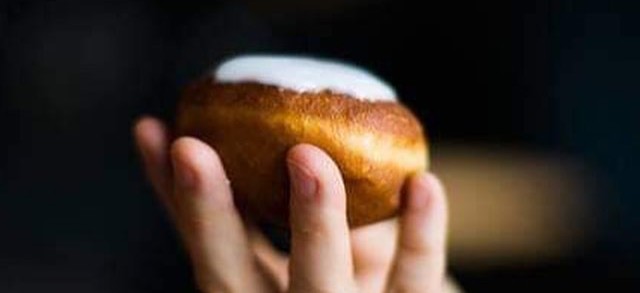 The best way to learn about these crispy, succulent balls is to gobble them down. The best time to do this is Tłusty Czwartek aka Fat Thursday aka the special day whereupon every Cukiernia (patisserie) in the country makes a million doughnuts and everyone tries to eat as many as they can. It's such a high stakes occasion that some of the celebrity doughnuteers have resorted to accepting only advance reservation orders & only in bulk.
Tasty Side Note: Pączki has a sister snack in the much-beloved twisty doughnut bow named "Faworki" or "Chrust". Prepared by frying dough scraps and powdering with that magic sugar dust, it's particularly popular around Eastertime.
Notable Mention: Pracownia Cukiernicza Roman Cyran for their unique savoury Jewish doughnuts – filled with potato & cheese and Cukiernia Michałek for some equally good doughnuts as those in the list. Wish we could do a top 100 doughnuts in Krakow article instead, but we will get diabetes.
---
---
---
VIDEO-2019-02-21-15-00-43
Jozef Wilk
Might be a bit biased on this one because it's our local, but we just adore Wilk's authentic existence in Podgorze's former ghetto area. Seated in an absolutely unassuming position as guardian of a massive intersection, this crossroad cukiernia hits that sweet spot of 'all the Grandma's shop here'. With Podgorze's large population of Babcias, they are always busy. Not trendy nor trying to be, Wilk has rather continued a classic and timeless patisserie experience, offering old-ladies-in-the-know quality and discerning-aunt worthy cakes, biscuits and, of course, Pączki, at very friendly prices. They also sell chrust, which you'll only find in more traditional cukiernias. The small simple interior has a distinctly sparse 70's communist-style.
Let's get down to those doughnuts. Cukiernia Jozef Wilk usually sells only the 2 most classic and traditional versions of Pączki: glazed (our fave) and sugar powdered. The skin of these small round pillows is as crispy as autumn leaves, bite down and you come to the chewy but perfectly spongey dough (when pressed, a good pączki should bounce back to its original shape). In the middle of this moist fantasy mouthful, you will arrive at a small blob of perfectly tempered rose filling and finally give way to your bliss, closing your eyes and praying to the spirit of Pan Jozef Wilk.
Price: 2.50zl
Limanowskiego 30a // 122 922 591 // Website // Facebook
---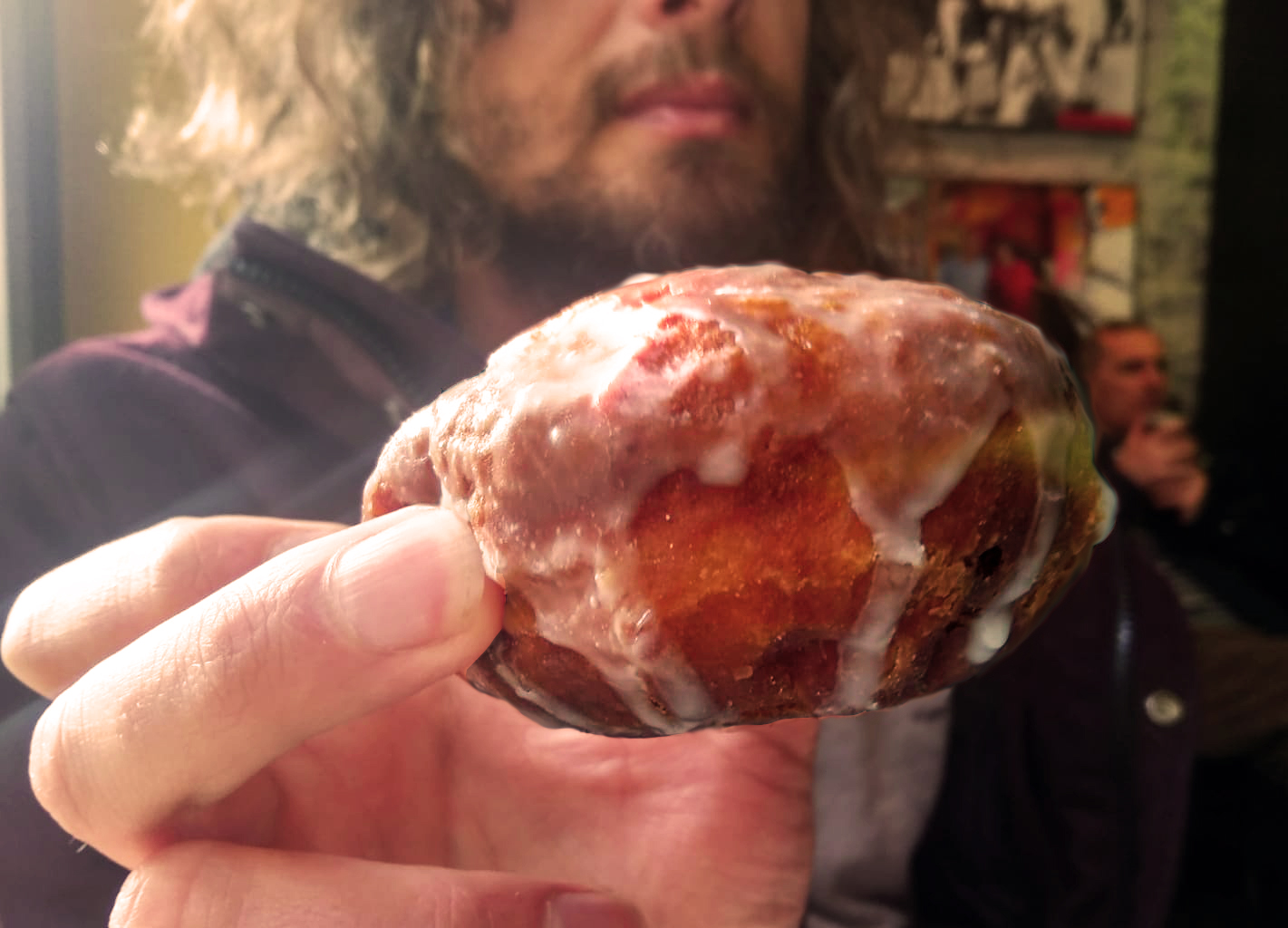 Starowicz
The best way we can describe this 1951 Cukiernia is suburban Viennese cake shop kitsch meets Chinese restaurant picture menu. Crazy old school in both history and sci-fi Happy Days interior design, Starowicz have made some fresh moves with their doughnuts and for once we aren't complaining about the modern influence. The first thing we saw when we arrived was the sign on the door advertising 'Mała Pączki' for 1zl. It might sound crazy and it might be breaking all the rules of the Pączki game but we're totally into it since their mini doughnuts were SO moist and addictive. Aside from a very Polish plum flavoured pączki, this cukiernia also offer the rose-filled, traditional glazed and powdered varieties.
Cukiernia Starowicz's traditional pączki are some of the biggest we've come across. It's a satisfying feeling to stretch your mouth around these voluptuous mounds. An edible neck pillow alternative for your next train journey. The dough is not quite as moist as some of the others due to its size, I would compare it to famous local Jewish bread, Challah. However, it's still got a decent crisp and luxury is waiting in the centre with a pure oasis of rose jam to swim around in.
Price: 3zl
Św. Wawrzyńca 32 // 602 289 586 // Website // Facebook
---
---
video-1551182569
Hungry for more?
Join Eataway's Fat Thursday Doughnate action!
Would you like to eat doughnuts and help people at the same time?
On Friday 14th, you will have the opportunity to learn the most important life skill you can have: how to make doughnuts! Join Eataway's doughnut-making workshop to learn the art of traditional Polish pączki, while supporting a really good cause.
On the morning of Thursday 20th, it's time to eat! The Eataway team and the kids of Parkowa Children's Home will have just pulled their annual all-nighter, cooking 2000 (!!) scrumptious doughnuts for hungry people to order on Tłusty Cwartek aka Fat Thursday. You can order boxes of these crispy clouds in advance, picking them up from Parkowa 12, or, via free delivery. Keep an eye on Eataway's Facebook page for live streaming of the pączki parade!
All money raised from the Doughnate action goes towards building an orchard for a local children's home, a great addition to the vegetable garden they built during a past Doughnate action. An orchard will enable these kids not only to learn a wonderful skill (we already taught them how to make doughnuts!) but also to stay healthy, eating loads of organic fruit that they grew themselves.

You can take part in two ways:
1. Order a box of fresh and delicious doughnuts
2. Join a doughnut workshop and learn a life skill
Either way, you get to eat pączki while helping kids to grow fruit!
Doughnut Workshop // Fresh Doughnut Delivery // Official Website // Facebook Event
---
---

Starowislna 83
Now this place is super special and once again very famous and somehow also yet unknown. It's been designed by some serious lifehackers who cracked the code for running the smoothest business ever. It's so simple that it only sells two products and doesn't even have a name. A plain brown sign just states the facts: "PĄCZKI" and in smaller print "Tradycyjna receptura". Just a tiny, nondescript hole-in-the-wall shop which sells only one kind of ice cream in the warm months and one kind of doughnut throughout the colder ones. That's it. No one seems to know this place when you ask… but wouldn't you know it, almost every damn day of the year this logical locale has a huge line of fans extending halfway down the street.
So, about that traditional recipe doughnut. It's fabulous. Of course. To get away with making only one single thing – you've gotta make it something special. These juicy big nuggets with their thick yellow stripe belted around the fat waist and their evenly distributed glaze. On the outside, this is a beautiful, supermodel pączki but what you find on the inside is most surprising of all. The dough is much more savoury than your usual pączki… it gives you almost a gingerbread-like sensation of homeliness and warmth. Of mitten knitting families snuggled around fireplaces in little forest villages. The folks behind these doughnuts are switched right on and with just a bite of their pączki you too can plug right in.

Price: 2.80zl
Starowislna 83 // Facebook (non-official fan page)
---

Cukiernia Pod Arkadami
Tooting their own horn, one of the first things you see when you follow the arches to this cukiernia is a clipping from Polish Newspaper 'Gazeta Wyborcza' which proudly proclaims Pod Arkadami as cooking up the best doughnuts in town. Enter the intimidating wrought-iron doorway and it's a rather lavish affair compared to the sparsity of many others. Welcome to Miss Havisham's parlour. Back outside this sleepy historical arcade is draped with the graffiti of an ever disgruntled next-generation... will this cukiernia still be around and making these pączki in 100 yrs from now? Who knows, but we hope so.
With Pod Arkadami's antique red velvet chairs, you have no choice but to sit and relax with one of their frothy cappuccinos. Their chrust is light and soft and perfect for dipping in coffee. The doughnuts certainly don't disappoint either - we gave them a solid 8.5/10 (and a place in this list, after all). They offer the traditional options: rose jam with your choice of glaze or powder, medium size, nice consistency.
Price: 2.40zl
Krakowska 5 // 12 422 39 73 // Website // Facebook
---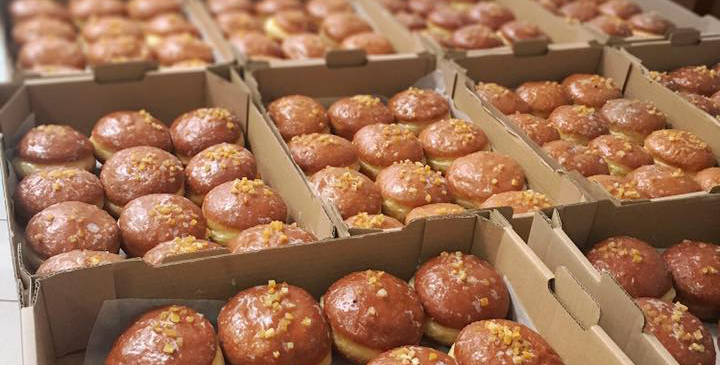 Stara Pączkarnia
Now, this one is going to be controversial but what can we say, we can't help the way our tastebuds feel. We go here pretty often and love it every time so it would be some real bulls**t if we didn't include it. The pączki crowd in Krakow are very conservative (seriously, you should hear the discussions) and they don't like it when fancy new doughnut slingers mess up the status quo with their big ideas for change. We love the traditional pączki, don't get us wrong, but Stara Pączkarnia (est. 1989 but relatively new to KRK) is one of the only shops dedicated wholly to doughnuts all year long and they whip up a freakin' delicious jumbo-sized pączki variety hour with their modern experimentality.
You'll find a giant version of the traditional rose-filled doughnuts along with a variously powdered, glazed, sprinkled selection of juiced up pączki. This includes a huge rotating list of jam-filled: plum, blueberry, cherry, apricot, banana, etc. and creme-filled: chocolate, advocaat, Raffaello, caramel, marzipan, poppyseed... and so on and so forth, forever and ever. The point is that there is a lot to choose from and we, as the youth of today, are already spoiled with a taste for flexibility. Stara perfectly satisfies our daily shifting tastes and provides us with all-day hot doughnuts while still maintaining the integrity of the true pączki spirit.
Price: 3.50zl to 4zl
Stradomska 18 // +48 506958890 // Website // Facebook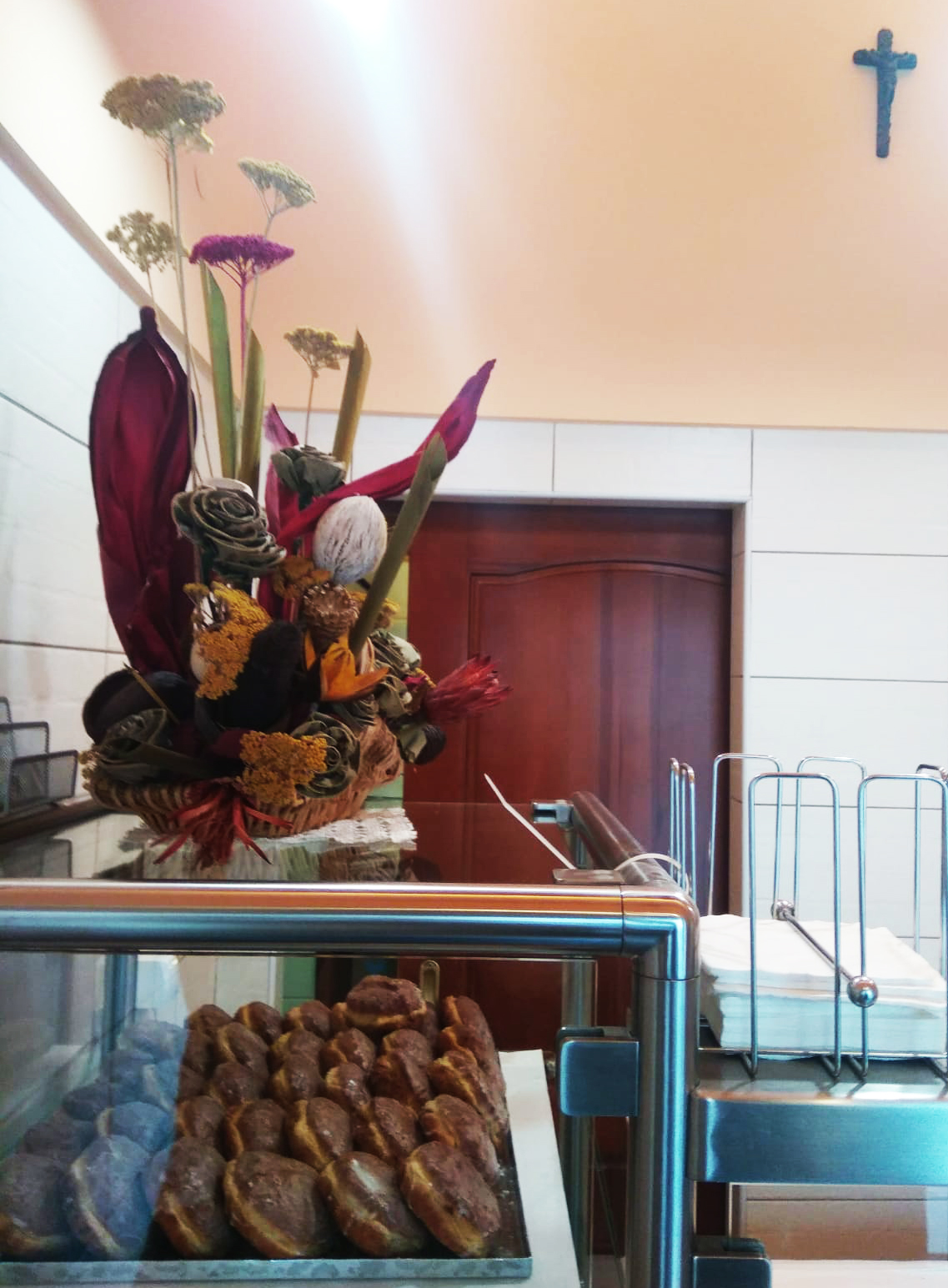 Did this article taste good?
Sample another & discover Krakow's most delicious places.
- Krakow's 10 Freshest New Cafes, Bars & Restaurants
- 25+ Krakow's Best Vegetarian & Vegan Food
- Poland's Celebration of Fermentation
- The 5 Best Indian Restaurants in Krakow

Comments