Off Festival
When Poland first made its entry on the summer European music festival scene, it started with Heineken Open'er Festival in the north. And while Open'er continues to be a hit, some have found it to be a bit too commercial, a bit too poppy, a bit too... far from Krakow. Luckily, a little-known festival called 'Off' started quietly in 2006, and by its third edition has managed to become one of the best European festivals, with a line-up most would envy, all while retaining its independence - and affordable tickets.
And it all takes place in a small town called Myslowice (fittingly home of one of Poland's most famous rock bands, Myslovitz), which is luckily just a hop and a skip away!

Getting to Myslowice
From Krakow
Myslowice is only an hour and 20 minutes from Krakow by train, or just over an hour away by car. As it's so close to town, many festival-goes stay in Krakow and commute to Myslowice each day for the festival, but we only recommend that if you can make it through the train ride without sleeping through your stop - or if you have a designated driver! Once in Myslowice, there are signs posted throughout the city pointing towards the festival grounds and official festival parking. And if you still can't find it, just follow your ears!

From other cities
Since Poland has a very well-connected rail network (albeit sometimes on the slow side), getting to Myslowice from Warsaw, Wroclaw, Poznan, or other large cities is relatively easy by train. The journey takes about 3.5 hours from Warsaw, 3 hours from Wroclaw, 6 hours from Poznan, and 10 hours from Gdansk. If you plan on travelling from cities further away than Krakow, we recommend booking a hotel in Myslowice for the weekend of the festival early, as beds go fast once the line-up is announced, and you don't want to be stuck spending the night on a train - or worse, at the train station!
Alternatively, for those who can stand to not shower for three days, camping is available on the festival grounds, and you can buy a camping pass when you buy your ticket.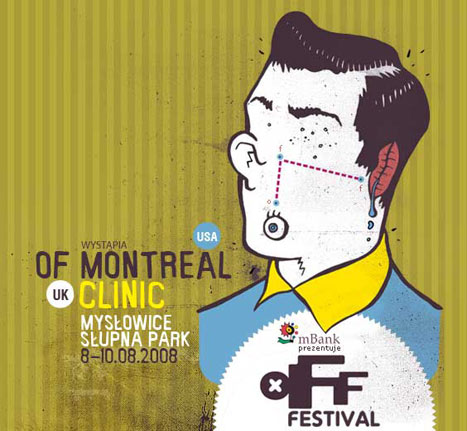 Off Festival 2008
The 2008 edition of the Off Festival will take place August 8-10 2008 at Slupa Park in Myslowice. This year's expected artists include Of Montreal (USA), Clinic (UK), British Sea Power (UK), Jens Lekman (Sweden), Vashti Bunyan (UK), plus many more.
For complete information and tickets, please visit the official Off Festival website: off-festival.pl
Comments
British Sea Power just announced that they're playing the fest - brilliant!! It's amazing that they've managed such a great line-up this year (though last year was good too, with Architecture in Helsinki, iLiketrains, Port-Royal playing) - this is one of the best-kept festival secrets in Europe, I can't wait til August!
Reply