Annual Festivals in Krakow
When some people hear the word "festival," they picture sweaty crowds of youngsters listening to music on a huge grassy field, downing brewskies as their favourite rock band plays on a massive stage several hundred metres away. But you won't find any Lollapalooza-like antics in Krakow (or even anything close to the Open'er Festival in Gdynia). Instead, you'll get a more sophisticated selection of festivities, exposing Krakow's cultural depth. But don't worry - even if a festival is celebrating soup in Krakow, the piwo will still be a'flowing, and likely for the whole night! And as for music on massive stages - you don't have to look for a field in the middle of nowhere to catch some big acts - many of them will be playing on giant stages constructed in the middle of the Market Square or on Plac Nowy in Kazimierz throughout the spring and summer months. So check our list of festivals to see what's going on when you're here, and be sure to also check our events calendar for more specific information.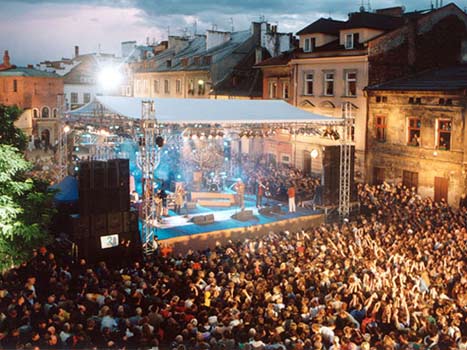 International Shanty Festival
Cracow is proud to host the biggest shanty festival of the year, so be sure to have your parrots and eye-patches at the ready for a barmy weekend that you won't forget.
When: February
Official festival website: shanties.pl
Tolerance Festival
Though being gay in Krakow is not the easiest thing in the world, things are looking up, as each year's tolerance festival seems to be more and more ...tolerant. The festival features several days of film screenings, discussions, and meetings, all cumulating in a march through the city in support of tolerance for all.
When: April
Official festival website: tolerancja.org.pl
Photomonth in Krakow
Krakow's annual Month of Photography brings dozens of exhibitions to the city throughout the month, from displays in various bars and cafes to more unusual venues like the old Okocim brewery or Shindler's Factory.
When: May
Official festival website: photomonth.com

Krakow Theatrical Reminiscences
One of the oldest theatrical reviews in Poland, this festival has been going since 1975 but manages to remain fresh and relevant every year. It features performances from 45 countries, and covers all aspects of theatre including drama, dance and comedy. As well as entertainment for all ages, Krakow International Festival of Theatrical Reminiscences is a chance for theatre lovers to look more in-depth at this art form, and to learn more about the trends that have shaped contemporary theatre.
When: October
Juwenalia
The best time of the year (if you're a student) is Juwenalia! According to an ancient and venerable tradition, the students are handed the keys to the city for a brief yet decidedly bonkers romp one day each May. For a week or so after the big day, parties erupt across Cracow. Most of these are open to outsiders, and some of Poland's biggest names in the world of pop and rock let rip at major city venues.
When: May
Official festival website: juwenalia.pl
International Soup Festival
A much-loved feature in Cracow's spring calendar, this festival features dozens of chefs from across the region competing for the crown of soupmeister extraordinaire. The action takes place down in mellow Kazimierz on Plac Nowy, and the guzzling is usually accompanied by live music from a number of enthusiastic bands. Best of all, everyone is a judge, as the soups are all free to be sampled - until they run out!
When: May
Official festival website: teatrkto.pl
Krakow Film Festival
The Krakow Film Festival is becoming an increasingly fashionable fixture on the international scene. The film fest concentrates on short films, documentaries and animated features, and prizes are awarded in both Polish and International categories. The standard form is that there will be a press conference after each screening, so if you think you've discovered the next Kieslowski (who indeed kicked off his career at the festival) then stick around at the end for some chit-chat with the director and some of the cast.
When: May-June
Official festival website: kff.com.pl
International Festival of Military Bands
Fans of marching music won't want to miss this festival of military bands at their best.
When: June

Jewish Culture Festival
The historic Jewish district of Kazimierz reverberates with a week of musical magic. Visitors from around the globe attend this yearly festival, which has been drawing greater acclaim with each passing year. Besides concerts by a medley of international stars on the Klezmer scene, travellers can enjoy films, exhibitions, book launches, lectures and even a spot of Jewish cuisine. The end of festival party on Szeroka Street (pictured above) is a glorious shindig that's not to be missed.
When: June-July
Official festival website: jewishfestival.pl
International Summer Organ Concert Festival
Organized by the Dzwonek Cultural Centre, this festival of organ music takes place at several churches and halls throughout the city.
When: June-July
Official festival website: dworek.krakow.pl
International Street Theatre Festival
Street Theatre has been a colourful facet in Cracovian life since time immemorial, and actors, circus artists, comedians and musicians are all expected, as well as a host of special effects.
When: July
Official festival website: teatrkto.pl
Crossroads Festival of Traditional Music
A festival of traditional and folk music of Poland and wider Europe that has been pleasing crowds for years.
When: July
Official festival website: rozstaje.pl
New Music Festival
The New Music Festival (Festiwal "Nowa Muzyka") tries to introduce new faces to the festival circuit in a variety of genres. The festival also includes workshops and special events tied to music and music production. It takes place in the city of Cieszyn, right on the Czech border and 140 km from Krakow.
When: July
Official festival website: festiwal.nowamuzyka.pl
Summer Jazz Festival
A much-loved annual jazz jamboree which culminates in a major concert in the courtyard of the Pod Baranami palace, right on the Main Market Square.
When: July-August
Official festival website: cracjazz.com
Festival of Music in Old Cracow
This festival of classical music has the reputation of being able to lure venerable names on the world scene to perform in Cracow, often at the most evocative historic venues in the city.
When: August
Official festival website: capellacracoviensis.pl
Pierogi Festival
Keeping up with the old Polish culinary tradition, in which pierogi find themselves as the most popular dish in Polish homes, the Festival of Pierogi will allow both Polish enthusiasts and curious foreigners to sample all varieties of this staple of the Polish diet.
When: August
Official festival website: biurofestiwalowe.pl
Off Festival
For anyone who'd like to attend one of the above-mentioned sweaty summer rock-a-thon festivals, but doesn't want to travel all the way up to Gdynia to do so (much less to the U.K. or Denmark), can make the short journey to Myslowice, about an hour out of Krakow. And, unlike most large festivals that play only huge names, this festival specializes in the alternative and indie scenes, so you might be able to catch a more intimate performance by some bands before they become 'the next big thing'.
When: August
Official festival website: off-festival.pl
Coke Live Music Festival
The soft drink giant Coca-Cola is the organizer of a festival that's as poppy as its sodas.
When: August
Official festival website: livefestival.pl
Sacrum-Profanum Music Festival
The central concept of the festival is the presentation of some of the greatest masterpieces in modern classical music from the 19th and 20th centuries.
When: September
Official festival website: biurofestiwalowe.pl
Unsound Festival
This increasingly popular and international festival of electronic music features a mix of experimental concerts and wild parties, displaying the range and talents of European electronic music, exploring the very boundaries of bleeps and blips made by laptops.
When: October
Official festival website: unsound.pl
International Festival of Early Music
Another staple of Krakow's classical music scene.
When: October
Etiuda & Anima Film Festival
The prestigious and often experimental Etiuda and Anima Film Festival showcases mainly student and independent works from all over the world.
When: November
Official festival website: etiudaandanima.com
Zaduszki Jazz Festival
The Krakowskie Zaduszki Jazzowe Festival is also known as the All Souls Jazz Festival, and is Europe's oldest jazz festival, and features some of the brightest stars in the Polish and international jazz scenes.
When: November
Official festival website: deprofundis.glt.pl
Festival of Polish Music
Poland won plaudits across the globe with 20th century composers such as Szymanowski, Gorecki and Penderecki. This new festival showcases Poland's creme de la creme from the Middle Ages right up to today's young hopefuls.
When: November
Official festival website: fmp.org.pl
Audio Art Festival
This innovative festival has been combining the audio with the visual for over a decade, creating an experimental music experience for all the senses.
When: November
Official festival website: audio.art.pl
Opera Viva Festival
The Opera Viva Festival takes place in the beautiful Slowacki Theatre every year, and features special performances of some of the most famous operas.
When: December
Official festival website: opera.krakow.pl
Art Boom Festival
The Grolsch ArtBoom Visual Arts Festivalis the largest event presenting art in the public space in Krakow. It is interdisciplinary and international in nature ― projects combine contemporary art, performance and happenings with music and social activities. The festival's landmarks are site-specific projects, carried out by invited artists, curators and activists, closely related to the specificity of various spaces of the city of Krakow.
When: June
Official festival website:artboomfestival.pl/en
Comments
Alan Benson from United Kingdom Reply Nov 16th, 2016
What are the actual dates of the street theatre festival in July 2017 in order for me to plan my visit
Sarah from United Kingdom Reply Oct 22nd, 2015
Please can someone tell me when in June 2016 the Festival of Military Bands is held? I cannot find the exact dates anywhere. Thank you.
Editor from Poland Oct 23rd, 2015
They don't seem to have been announced yet, try browsing for 'festiwal orkiestr wojskowych 2016 krakow' some time in Jan-Feb, maybe this helps. Cheers!
kayum khan from India Reply Jun 30th, 2015
Dear sir, At presant i am in poland with my kids folk dance and music group. we stay in poland till 12 july 2015. If you have any opportunity for our rajasthani folk group. 2012 one of our group artist bachu khan also performed in krakow . so let me inform about any shows Thanks kayum khan
Besika from Georgia Reply Jan 14th, 2015
hello i'm looking for folklore festivals and events in Krakow, can someone help me? Thanks
Katie from United Kingdom Reply Dec 3rd, 2013
An amazing city with so much going on!
fulya seyken from Turkey Reply Nov 21st, 2012
is there any folk dance festivals in Krokow?
Kris Van de Velde from Belgium Reply Aug 1st, 2012
Hey guys, I play in a hardcore band called Suspected Concussion,and we're planning a tour through Europe in september.We also would love to do Krakow.We're available on the 9th,10th,13th and 14th of september.Could somebody here please help us out to found some locations.Thanx and please check us out.GRTZ Suspected Concussion
Marty from United States Reply Nov 21st, 2011
There is always so much going on in Krakow I love this city!
Marcin from United States Reply Feb 14th, 2010
We invite you to our Krakow Tango Festival Apr 30 to May 02, 2010. Visit our web site at http://www.festiwal.tangokrakow.com
Robert Frankling from Canada Reply Oct 29th, 2009
Does anyone have information about a Bugle Festival in Cracow, June 3 every year?
cindy from United States Reply Oct 17th, 2009
What activities are available in mid January?
chris from Burma Reply Aug 18th, 2008
ûenada - spis nieaktualizowany od lat...
Jude from United States Reply Apr 8th, 2008
Krakow is a city of amazing festivals! Photomonth and the Jewish festival are my favourites
Halina from Poland Reply Nov 17th, 2007
czy jest przewidywany miêdzynarodowy festywal sztuk teatralnych w jêzyku angielskim