Money advice - Vilnius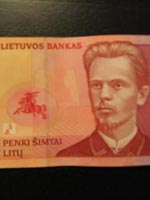 Again, it should be plain-sailing with credit cards, especially in the Old Town. Of course, if you try and buy a single doughnut with your flexible friend, you may not be treated as a great hero. But all in all, Vilnius is a modern city and you shouldn't have many problems with your plastic.
Lithuania leapt into the EU in May 2004, and if all goes to plan, the Euro itself will be introduced on 1st January 2007. If so, Lithuania will join Slovenia on that morn as the first two former Eastern bloc countries to adopt the new currency
Until then, the coins that will be jingling in your pockets will be litai and centai, or if you've lost all but one, a litas or a centas. These come adorned with Pogon, the jolly sword-wielding knight that is the ancient symbol of Lithuania. There are 100 centai to 1 litas. And at present, there are about 3.5 litai to the Euro, just to jumble your minds with more statistics....
Notes come in 10s, 20s, 50s, 100s, 200s, and - for all you playboys out there - 500s, which come adorned with the 'Bell of Freedom'. The latter - which come in at about 100 pounds a go - would buy you enough pink champagne to fill a bath-tub
ATMS (Cash Machines)
No need to worry on this front. Cash-points are ubiquitous in Vilnius, so you won't have to wander far to track one down. You'll also find an ATM at the airport. However, most banks will charge a small fee for withdrawing cash overseas. The key thing now is to remember your number - it's funny how it can vanish from your mind just when you least expect it - or are we just incredibly stupid....?
Cheques
You might as well leave your chequebook at home - Lithuania is not a fan of this form of payment.
Bureaux de Change (Kantor)
Exchange rates can vary drastically even on the same block - so keep your eyes peeled. Avoid the bureaux de change on the tourist trails, and watch out for commissions or sneaky zeros slipped in to the rate.
Comments