Travelling to Vilnius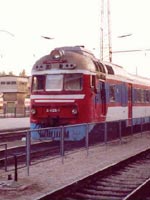 Above: Robot disguised as a train


Below: Unidentified hanging object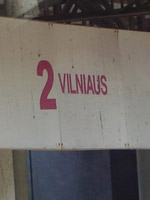 By Air
Although one disgruntled journalist said he'd 'seen more impressive bus-stations', the diminutive Vilnius Airport has plenty of fans, and it has the added bonus of being just 6 km from the city itself. So bear in mind that if your jolly taxi driver spends an hour escorting you to the city centre, you're being taken for more than a 'ride' (10-12 litas is a fair price). But to start from the start, it's now possible to fly to the Lithuanian capital with several leading airlines, including British Airways, Lufthansa, Dutch KLM, Polish LOT and of course Lithuanian Airlines. Budget airlines such as Wizz are also getting in on the act, but some services arrive at nearby Kaunas (in which case there are shuttle buses to the capital).
By Rail
Again, Vilnius has a very pleasant train station that manages to exude an immensely laid back air. It also works, which is a handy bonus. On the negative side, train services may be plentiful within Lithuania itself, but travel connections between Vilnius and the major European capitals are few and far between. Indeed, they seem to be shrinking rather than growing. The most used service is the Warsaw-Vilnius connection, which leaves bright and early every day, arriving the same evening. However, this involves changing at Sestokai.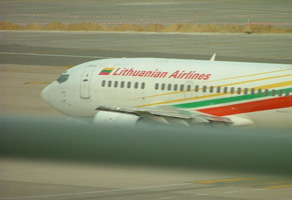 By Bus
If you're backpacking round Europe, this is definitely your cheapest option, short of thumbing a lift with a moustachioed lorry-driver with a marked taste for vodka. Again, Poland is the main springboard (for both), and there is even a service that runs from Rome to Vilnius, stopping at Vienna, Cracow, Warsaw and Kaunas on the way. See Eurolines for more details. Connections to Lithuania's other neighbors can also be made from the bus station.
By Car
We may no longer be in the golden age of the motorcar, a time when you could cruise for miles, cigar in hand, and barely meet another driver at all. All the same, there's no doubting that for the serious adventurer, being behind the wheel of your own vehicle opens up all kinds of possibilities. This is the way to really grasp the flavour of the country. Basics to bear in mind are the zero tolerance law on alcohol, and speeding - cameras have now been installed on many major roads. Also bear in mind that neighbouring Poland has the worst accident rate in Europe, and road conditions are not always pristine. Oh, and have fun parking in the centre...
Comments