The Vilnius Castle Complex: Worse for Wear
Like any proper medieval capital city, Vilnius too once boasted a regal seat of royalty, replete with palaces and hilltop castles. When the city of Vilnius was founded at the confluence of the Neris and Vilnia Rivers, a major defensive, cultural and religious 'complex' began developing, which would continue to change, for better and worse, between the 10th and 18th centuries. This complex, which stood beside and incorporated the Cathedral, also consisted of three (count 'em - three!) castles: the Upper, the Lower, and the Crooked and was surrounded by a defensive wall. Repelling several attacks over the centuries - and suffering severe damage - the entire complex was finally captured by the Russians (surprise-surprise) in 1655 and after its subsequent recapture was abandoned and not rebuilt, laying largely in ruin today. Only Gediminas Tower - the symbol of the city of Vilnius - remains of the Upper Castle. The Lower Castle and Royal Palace are currently the site of the largest archaeological excavation in Europe. Reconstruction is slated to be complete by 2009 when Vilnius celebrates the millennial anniversary of its first mention in written documents and its designation as a European Capital of Culture, but count us among the skeptical toward its timely completion. As for the ill-conceived and ill-fated 'Crooked Castle' which stood on 'Bleak Hill' (today the Hill of Three Crosses), it was destroyed by the Teutonic Knights in 1390 and that was that.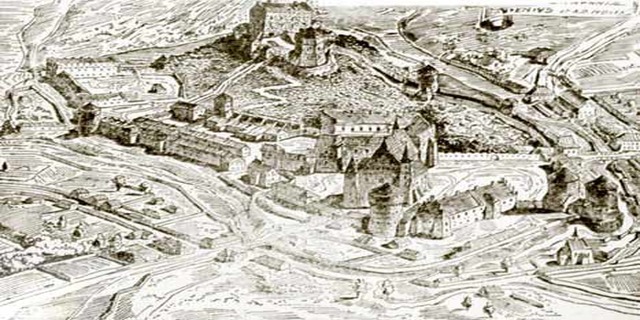 The Vilnius Castle Complex as it would have looked around 1530

Vilnius most outstanding castle is certainly 14th century Trakai Castle, one of Lithuania's prime tourist destinations. Destroyed during the war with the Russians (17th century), it was painstakingly rebuilt starting in 1955 and today is not only a gorgeous eyeful, but one of Lithuania's most holy sites. A museum tracing its history and significance tells you why. To get to Trakai catch a bus from the main bus station; they depart about every half hour.
Comments